There's no denying Sean Couturier's defensive skill, but his offensive game is developing more slowly. After a late-season surge last year, Flyers fans hoped that he'd take a step forward in 2016-17. Couturier scored eight points in the first 20 games this year, but he missed the next month due to injury. With two games remaining this season, he has 13 goals, just shy of his current career high of 15.
Couturier was the eighth-overall draft pick in 2011, and fans expect more production—especially considering the 96 points he put up in each of his last two seasons in juniors. Some are even ready to move on from him. But if the last few weeks are any indication, Ron Hextall would be wise to hang on to Couturier for a bit longer.
Benefiting From Improved Depth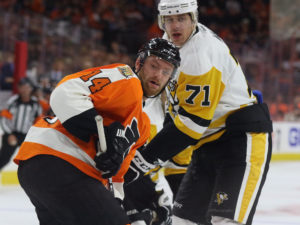 It's clear that the Flyers have had trouble scoring this year. In fact, their goals-per-game average has fallen each year since 2011-12, Couturier's rookie year. This year, they're on pace for about 210, four fewer than in 2015-16. To address the issue, the Flyers called up Jordan Weal and traded for Valtteri Filppula at the deadline. Since then, the Flyers have averaged 2.72 goals per game, up from 2.49 before then. This injection of a bit more offense has also helped Couturier's game.
Even though he was moved down to the third line to make room for Filppula, Couturier has 14 points and an NHL-best +15 since March 1—all while playing the role of shutdown center. He's also earned more minutes despite being bumped down.
But for Couturier, the greatest benefit of this more-balanced offense is his new linemates. For much of 2016-17, he played with Matt Read, Dale Weise and Michael Raffl. Those three have combined for 42 points. Since March, he has usually played with Brayden Schenn (54 points) on his wing, and Couturier has taken full advantage of the upgrade.
In addition to Couturier having 13 pts (4G, 9A) in last 13 games, Schenn has 10 pts (4G, 6A) in last 10. Weise has 7 Pts (4G, 3A) in last 9.

— Bill Meltzer (@billmeltzer) March 31, 2017
The Best Is Yet to Come
Critics will argue that Couturier showed similar flashes at the end of last year that didn't carry over into this season. But fans need to keep in mind that he's only 24, and the 6'3" center is just now entering his physical prime. Not many 24-year-olds have six years of NHL experience under their belt.
It's hard to be patient, especially when fans are accustomed to success: this is only the fourth time since 1994-95 that the Flyers have missed the playoffs. But Hextall is taking the time to build what could be a perennial Cup contender, and Couturier will be an important part of the core.