The Columbus Blue Jackets hoped that Tuesday would bring them one step closer to home-ice advantage in the first round of the playoffs. Instead, Tuesday brought more questions than answers when it comes to the Blue Jackets' struggling offense.
They scored just one goal for the fifth time in their last seven games.
Many wonder if it's time to panic. They've gone almost the season without this kind of hiccup. Now they've lost four straight for the first time all season and have scored five goals in their last four games. Home-ice advantage seems like it's gone too.
There's no question the Blue Jackets are in a funk. They haven't been able to finish like they did earlier in the season. I went back and watched the tape of their last four games to see if anything stood out. I have an eyebrow raised, but I'm not panicking, at least yet.
The tape was actually somewhat encouraging given how their recent performances have gone. I went into those viewings thinking they were over-matched and totally dominated. The fact is the Blue Jackets have had good moments in there. The biggest difference now is that their scorers aren't finishing. I'd worry if the opportunities to score weren't there. But they are there.
Blue Jackets Getting Chances
Just to give you some perspective on this, I've included links to the site hockeystats.ca. They do a wonderful job of tracking scoring chances among many other things. You can view the Carolina, Chicago, Washington and Pittsburgh games by clicking on the team link.
In the Blue Jackets' last three games against the NHL's best, take a look at the shot attempts from each game. They were Chicago 61-40, Washington 68-46, and Pittsburgh 70-43. The Blue Jackets led in all three games.
https://twitter.com/307x/status/849604806020927489
Was it score effects? Maybe to a point. In Chicago, the score was 2-1 most of the game until a late empty-net goal. Washington was up 3-0 before the Blue Jackets stormed back to almost tie it. In Pittsburgh, the Blue Jackets took control after the score was 1-0 and then accelerated further once it was 3-0. Regardless, those chances for and against suggest the Blue Jackets aren't playing as bad as many seem to think.
This is a matter of the opposing goaltender having a hand in the Blue Jackets' struggles. Cam Ward, Corey Crawford, Braden Holtby and Matt Murray all played well. They didn't allow many second chances. What chances the Blue Jackets did have either went wide or were stopped.
The Blue Jackets are at their best when they pressure and generate second chances. Especially Tuesday in Pittsburgh, Murray didn't have to face many second chances. The Blue Jackets have to find a way to get back to their identity and get multiple chances.
Fatigue a Factor
Consider for a moment the Blue Jackets' recent schedule. They just completed four games in six nights with three of those on the road. Also consider that three of those teams are at the top of the league standings. When you combine the emotional output of playing those teams with the energy spent during those games, fatigue will play a role to some degree.
The Blue Jackets were originally scheduled for a Wednesday practice. The team canceled their practice after the Penguins' game ended. You have to wonder if the team needed the rest day to recover. They have another three games in four nights to end the season.
Coach John Tortorella hinted at this possibility in his postgame presser. He said that some guys were going down the wrong road of bad habits. That's a good sign of fatigue.
Once the Toronto game ends on Sunday, the Blue Jackets will have a minimum of two days off before their first playoff game. If coming off their bye was any indication, the Blue Jackets should be ready for their first game after a couple of days off. They'll have gone from Mar 28 to the end of the season without a two-day break.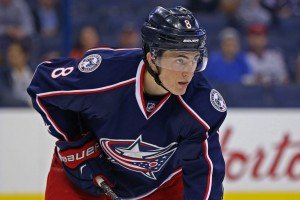 Rest of Game in Good Shape
I'd be worried if the rest of the Blue Jackets' game went down with their offense. For the most part, the defense and goaltending has remained steady. Losing Zach Werenski for the Pittsburgh game definitely hurt.
You can't blame Sergei Bobrovsky for the recent goals against. Puck luck and bad turnovers in front of him cost the team. The tying goal in Carolina was a deflection that Joonas Korpisalo had no chance on. The 2-1 goal in Chicago resulted from a turnover that resulted in a 2-on-1. The 1-0 goal in Pittsburgh was a bad turnover. Then the Penguins got help from Cam Atkinson's skate. But when you're not scoring yourself, these bad breaks hurt more.
Defensively, the Blue Jackets have limited the Blackhawks, Capitals and Penguins to under 46 shot attempts for the game. That's about as good as you can ask for.
Tortorella has said repeatedly that there have been good minutes played by the team. But he did acknowledge they're in an offensive funk with their top guys not producing. This funk can work itself out if the Blue Jackets start finishing their chances.
Timing is everything. It's easy to worry about the Blue Jackets given the timing of this slump. However there is evidence to suggest that they will snap out of this. They must hope it happens before they're eliminated from the playoffs.
This is a bad slump, but not all is lost. The Blue Jackets must get to work and find their way out of this slump. If they continue to get chances at the rate they're getting them, it's just a matter of time before they break out of it.