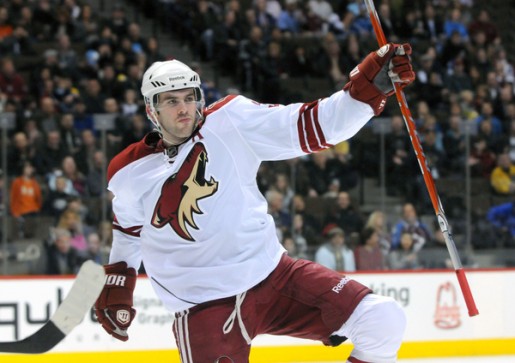 Oh how the mighty have fallen
It took one extra game and a lucky escape from a forty-minute, all-out assault on their defensive zone, but it's official. The Phoenix Coyotes have completed the 2012 wholesale change of teams that make up the Western Conference elite. Gone are the perennial contenders and heavyweights – The Detroit Red Wings, San Jose Sharks and Vancouver Canucks all summarily eliminated this year in five games. The Chicago Blackhawks hung on for a sixth game, but they too joined their former elite colleagues last night, outplayed and outclassed by the Coyotes. Into the semi-finals now goes a motley crew of former troubled franchises and also-rans: The St. Louis Blues, Nashville Predators, Phoenix Coyotes and Los Angeles Kings.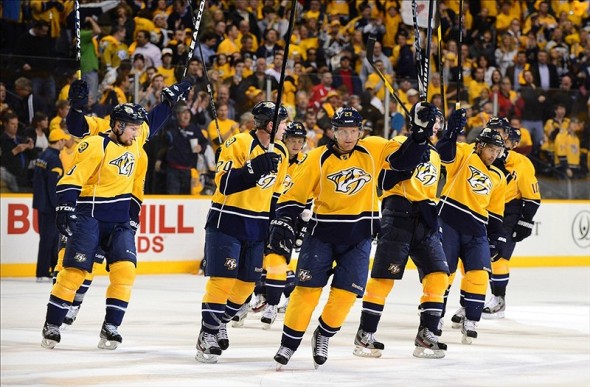 All of these teams, with the exception of L.A, have for several years dealt with uncertainty over their ownership situations, shoestring budgets, spotty attendance, and the inability of their increasingly promising rosters to accomplish anything major. Not any more. Now, at least two of these four teams are now going to make it to the Conference Final, and one to the Stanley Cup.
And even though two unlucky ones will not see past this 2nd round euphoria, this represents radical change. The surprising outcomes of the four first round matchups have, of course, the same end result as nail-biters that end with game 7 OT winners: advancing to the next round. But the quick settling of the first round in the West means the four teams that had everything to prove have already proved plenty.
The Kings' suffocating checking and stringent defence all but shut down the Canucks' reliable and flashy marquee offence. After coughing up a rough double OT loss to the playoff-veteran Sharks, St. Louis' went back to their game of team-first defence and goal tending-led poise and had the rest of answers for the San Jose squad. Detroit, with its roster full of Hall of Fame names which evoke the team's endless successful playoffs of yore, looked old and tired for the first time against powerhouse Nashville. They still managed to be competitive and tenacious but were killed by their own pop-gun offence and back-breaking goals let in by Jimmy Howard, both very uncharacteristic for that team.
The four series defined what works in the Western Conference now and what doesn't. All four victors are headed by tight-lipped coaches who preach fierce discipline and implement team systems that make everyone accountable. And all four teams were fired up by emotion: the feelings of ferociousness and us-against-the-world-ism that come with being a young outfit whose time has come. In hindsight, that this trumped older groups who had already achieved success is a no-brainer.
Of course the defeated teams will say they gave it their best shot, but complacency and diminishing skills inevitably set in over time; some acknowledge this, while others are still in denial. And hindsight is 20/20; no one saw it coming that these defeated teams and their heavily decorated stars would fail as they did. Yet there they were in all four series, these still-excellent players, the Kanes, the Thorntons, the Zetterbergs, the Sedins, the Datsyuks, and we could go on all night, failing to steal series or even games and instead hitting walls of team-first, system-commitment solidarity. Suddenly the "experience" that commentators gravely warn is so essential to playoff success at the trade deadline every year seems expendable.
In no series was this more evident than Phoenix-Chicago. The razor thin margins of victory in the first five games did not allow confidence in predicting of the series outcome. With the dagger of past failure hanging over head, most people tuned into game 6 with a few grains of salt at their side before imagining what the 'Yotes could do at the United Center, including yours truly. The stakes could not have been higher, or the outcome more uncertain.
What happened? No other Western Conference semi-finalist or any sports team in recent memory put as crushing a stamp on those doubts as these Phoenix did last night. Sure, Giroux's massive hit and goal in the first 30 seconds game 6 against Pittsburgh were the toast of the town and will go down as one of, if not the banner individual effort in these playoffs. But who can remember a team getting outshot 26-6 on the road, in the United Center no less, and going on to win 4-0?
My colleague Justin Glock called Giroux's play Messier-like. If that was the individual difference maker of these playoffs, this game 6 win was the team one. When has a team pulled out a win with this much chutzpah? If it were a later round, it could be termed the Miracle on Madison by the Phoenix faithful. In true Phoenix Coyotes style, it was not some one-man wrecking crew who scored a hat trick and turned this game around. It was a group of players who were total greenhorns, as far as the NHL playoffs are concerned.
Oliver Ekman-Larsson got things started with his first career playoff goal that stood as the game winner, a beautiful cannon from the point on the PP that was straight out of the Chris Pronger back catalogue. Gilbert Brûlé, the former 6th overall first round draft choice who didn't do much of anything for the Columbus Blue Jackets, who drafted him, or for the Edmonton Oilers, who ironically traded Raffi Torres to Columbus for him, chipped in a goal and an assist, both due to excellent work around the Chicago net. And there was his linemate Kyle Chipchura, the former highly promising centre passed on by Montreal and Anaheim, icing the game with his first career play off goal and chipping in an assist of his own.
All that was spectacular. What put this game into the unbelievable category was the 39 save performance by Mike Smith, who told the world that he's ready to pull a Tim Thomas of his own this spring, picking up a Conn Smythe to go with the Vezina he might win. Everything unremarkable about his career up to now was negated by his first career playoff shutout. How many goaltenders have clinched a series with that accomplishment?
The Coyotes can enjoy their first round success, but not for long. They know that their challenges have just begun and now face a formidable opponent in the Nashville Predators. But they deserve a pat on the back for getting the longest active series-winless streak off their backs and a rest, before assessing the keys to success and challenges of a 2nd round that promises to be anything but easy.
Christopher Lackey has been a student and grand amateur of the game of hockey since the age of 6. He covers the Pheonix Coyotes and Hockey History for thehockeywriters.com, and blogs about politics and economics with plenty of hockey analogies at lackingcredentials.com