It was a milestone night for Derick Brassard on Monday. The Arizona Coyotes forward recorded his 300th career assist in the team's 4-2 loss to the Vegas Golden Knights. Brassard's helper was of the secondary variety and it came on Nick Schmaltz' power-play goal in the second period.
Brassard is off to a strong start in his first season in the desert. He is tied for second on the Coyotes in scoring with three points, all assists. The team signed Brassard to a one-year contract in late December and thus far, that acquisition is paying dividends. 
The 33-year-old spent last season with the New York Islanders. He scored 10 goals and added 22 assists during his lone season on the island. Brassard has bounced around the NHL since his first call up in 2008, spending parts of six seasons with the Columbus Blue Jackets before joining the New York Rangers. After three and a half seasons in New York City, Brassard skated as a member the Ottawa Senators, Pittsburgh Penguins, Florida Panthers, and Colorado Avalanche, before joining the Isles. Although he has played for several clubs, he has always been a contributor.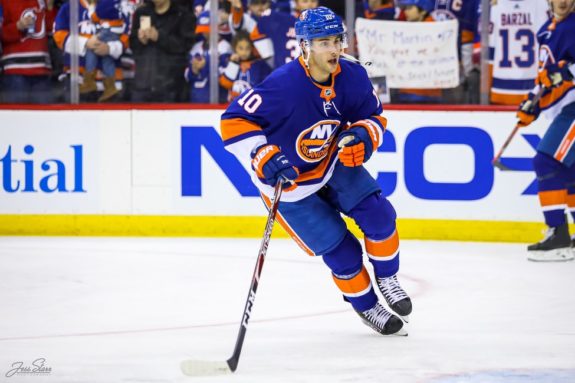 Including Monday's assist, Brassard now has 186 goals and 300 assists for 486 career points. 
In the 2015-16 campaign with the Rangers, Brassard scored a career-high 27 goals. His best assist output was 41 in the season before, also with the Rangers. The Quebec City product has recorded over 40-points in six different seasons. 
Providing a Boost Off the Bench
Arizona is hoping Brassard can help the club this season, not just on the stat sheet, but also in the dressing room. He has played in 117 postseason games. He was part of the Ottawa group that made the Eastern Conference Final in 2017. Brassard's Rangers went all the way to the Stanley Cup Final in 2014 and then returned to the Eastern Conference Final the following season.   
Brassard can bring experience and intangibles to the current Arizona squad. So far, his play off the bench has been solid. Production from reserves is something Coyotes head coach Rick Tocchet is demanding.
"They've really dialed in to our concepts," Tocchet said during a media session following Tuesday morning's skate in Vegas. "I know there are no moral victories, but in possession time, we've won all three times, and we were not good last year. I challenged them that. If you continue winning possession time, you have a chance of winning"
Now that the Coyotes seem to have a grasp on controlling the puck, they need to start hitting the back of the net more often. 
"You got to start getting those goals where we're slinging pucks on net and they go off of people's backs," Tocchet said. "That's the one thing when I watch Vegas, You've got to learn from them. They throw a lot of pucks on net. They get lucky. We can do that, too. You can't always look for a perfect play. Hitting the net and slinging some pucks with people in front. Those are the two things. We need to graduate to the majors and do that, too."
The Coyotes can learn from accomplished opponents, like the Golden Knights, from afar and from savvy veterans, like Brassard, in house. "We're still not there yet," said Tocchet.  "As coaches, we have to keep on our players to be able to get those two elements into our game. Those two elements are the difference between winning and losing."
A Playoff Atmosphere
With the odd COVID-19 schedule, not only are the Coyotes only playing seven teams throughout the regular season, they are playing teams multiple times in a row. Monday's game marked the first of four straight for Arizona against Vegas.  
"This is like a playoff series to us," Tocchet said. "We lost game one. How do we respond? Do we come back with energy?"
Brassard has provided lots of energy for the Coyotes off of the bench. That's exactly what the game plan calls for.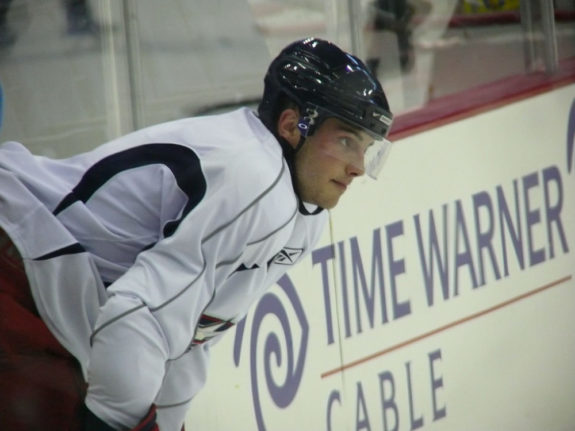 "High energy and use the bench," Tocchet said. "We need everybody on the bench to play. We need everybody to take minutes. Our identity is a bench where everybody contributes. Our tracking has been outstanding and that drives our denials. Our identity is a high energy team that plays as five and uses the bench. We've got to hit the net. We've got to bury those goals. That's part of identity."
The 1-1-1 Coyotes skate at Vegas Wednesday night. Arizona hopes to rebound following their first regulation loss of the year. Meantime, a wily Coyote named Brassard hopes to keep providing that much needed spark of the bench.
---
---