Maybe this is about timing, perhaps intuition and even a little luck. Whenever lines and defensive parings are constructed, most are put together for a reason, but still others are assembled based upon certain conditions.
While the game is the same among players, the formation of lines and defensive units may be more of a challenge than perceived. Coaches like to put players together who complement one another. In some circumstances, conditions, such as an injury, forces a coach's hand and creates a usual combination of players.
In this regard, Arizona Coyotes coach Dave Tippett started the season with what he considered three pairs of defensemen which balance one another. Tippett sought the proper combination with strength and power on one side and energy with creativity on the other. When the bell rang, Tippett put veteran Nicklas Grossmann, rugged and demanding along the boards, with Connor Murphy, quick, creative and resourceful. Also, he placed Zbynek Michalek, known for blocking shots and strong defensive play around the net, with Klas Dahlbeck, energetic and more dynamic with the puck. As well, Tippett put Michael Stone, with a strong shot from the blue line, with Oliver Ekman-Larsson, one of the elite defenseman in the game.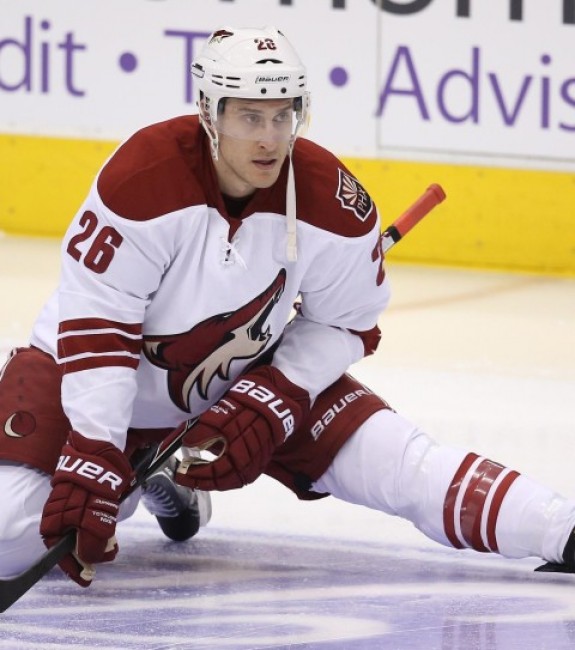 In the early stage of the season, these pairings served well. Over the past weeks, injuries forced Tippett to rethink his defensive units. Coming into Tuesday night's home game against the Leafs, Michalek has missed the past three games and is doubtful against Toronto. Plus, Tippett received limited offensive production from Murphy in recent games. Since returning from an injury on Oct. 30 at home against Vancouver, Murphy has picked up two goals and just two assists in his last 19 games. So marginal was his recent play, that Tippett benched Murphy for three games between Dec. 4 and Dec. 11 against the Sabres, Hurricanes and Blues.
Still, the need, or perhaps the desire, to shake up a unit tends to be dictated by conditions. From a player's perspective, there is a period of transition to a new face at the blue line.
"It's all about chemistry," Grossmann said after practice Monday afternoon in the Gila River Arena. "When you play with the same guy, you learn his habits and how he plays the game. When you're paired with a new guy, it's a matter of getting to know each other and yes, there is a period of adjustment."
With Michalek now in-and-out of the lineup because of injury, Tippet's hand was forced. Here, Stefan Elliott, obtained from Colorado at the start of training camp for defenseman Brandon Gormley, has stepped forward, and is paired with Dahlbeck. For a player considered a seventh defenseman, Elliott has played in seven of the past 10 Arizona games.
While a player's continuity may be disrupted, there is little difference among the style of play. That was the observation of Stone, who has settled into a dependable force around the net and delivers a laser from the right point.
"The structure of the game is the same," he said. "This comes down to a difference in style. Sure, you pick up on some little things, but essentially everyone plays the same game."
For now, Tippett is watching the medical charts and monitoring performance. These two conditions, he points out, dictate changes in the forward line as well as defensive pairings. Then again, there could be some over-thinking at work here.
"There are several conditions you, as a coach, consider," Tippett said. "There's the injury factor, match-up against certain lines or players on the other team and how a player is playing at a certain time. It's also about chemistry between players. Maybe, coaches tinker too much."
If a line is to be changed and a defensive pairing altered, these changes are nearly self-explanatory. Poor play and injuries tend to result in changes. Then again, if the players execute and produce at a level they is expected, coaches may not have this conversation.
Mark Brown is a former sports editor for daily newspapers in the Philadelphia and Cincinnati markets. He was named Best Sports Columnist, honorable mention 2004 by the Associated Press Society of Ohio. He is a contributor to major daily newspapers, including the Chicago Sun Times, Philadelphia Inquirer, Honolulu Star-Bulletin, Milwaukee Journal, Arizona Republic, Nashville Tennessean and the Associated Press. He was a Featured Columnist for bleacherreport.com and covered the Arizona Coyotes.