With the Flyers recent dedication to drafting and developing prospects, there has been an increased interest from fans in the World Junior Championship tournament. Last year, the Flyers saw prospects Samuel Morin, Oskar Lindblom, and Robert Hagg in the tournament, while future prospects like Ivan Provorov and David Kase took part. This year, the Flyers are expecting to have as many as seven prospects participating in the tournament.
If all seven players make their respective teams (4 of whom have been officially announced), it will make them one of the most well-represented organizations at the tournament.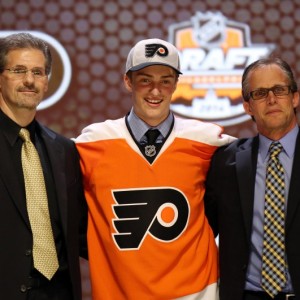 Canada: Travis and Travis
Earlier this week, Hockey Canada announced their roster for the tournament and it included two Flyers prospects: Travis Sanheim and Travis Konecny.
Sanheim, the Flyers top pick in the 2014 NHL Draft (17th overall) is one of the highest scoring defensemen in the WHL this season, having earned 31 points (8G, 23A) in 24 games. He was close to making the Canadian squad last year, but ended up being one of the teams last cuts as an 18 year old. This year, Sanheim will likely be given a heavy load of both even strength and on the power play responsibilites. He has turned himself into a great all-around defenseman and could really make a name for himself at this tournament.
Konecny, the right winger that the Flyers traded up for at the 2015 NHL Draft (from 29th to 24th), has had a fantastic year in the OHL so far. His 45 points (7G, 38A) in 29 games have put him into the top 10 in OHL scoring and he earned 17 points in his final eight games prior to leaving for the Canadian camp. Konecny may be overshadowed by forwards like Jake Virtanen, Dylan Strome, and Mitchell Marner, but opponents who sleep on Konecny's speed and skill will surely get burned.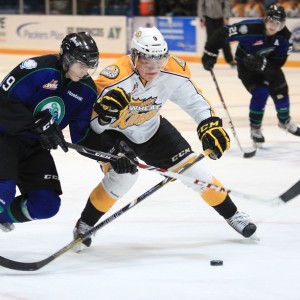 Russia: Provorov and Fazleev
Today, Russia announced their roster for the 2015 WJC. It included the Flyers sixth round pick in the 2014 NHL Draft, center/left winger Radel Fazleev (168th overall) and their top pick in 2015, defenseman Ivan Provorov (7th overall).
Fazleev, who is a teammate of Travis Sanheim in the WHL, is in the midst of a break out season. After two WHL seasons of averaging under a point per game, Fazleev now has 42 points (14G, 28A) in 33 games. He is one of the top 15 scorers in the WHL and has shown an ability to be a solid penalty killer. He has multiple shorthanded goals this season and should be a tremendous help to the Russian team.
Ivan Provorov, who is widely considered to be one of the Flyers top prospects (if not their top prospect), will be playing in his second U20 WJC tournament. He played last season as a 17 year old, earning one assist in the seven games that Russia played. This season he has 28 points (7G, 21A) in 30 WHL games and has been honing his skills at both ends of the ice. Due to his skill level and experience, he will be relied upon for heavy minutes and should take on a leadership role among the Russian group.
Sweden: Lindblom and Sandstrom
Although Sweden has not yet announced their official World Junior lineup, there is little reason to believe that the final roster will not include two Flyers prospects: goaltender Felix Sandstrom and left winger Oskar Lindblom.
Sandstrom has been invited to the Swedish World Junior camp and is competing for one of two spots. He is competing against New York Islanders prospect Linus Soderstrom and Arizona Coyotes prospect Erik Kallgren. Both goalies are older than Sandstrom, but neither goalie is playing regularly in the SHL this season. Sandstrom has been a regular in the SHL, splitting time with Bernhard Starkbaum. Sandstrom has a .905 save percentage in 11 SHL games.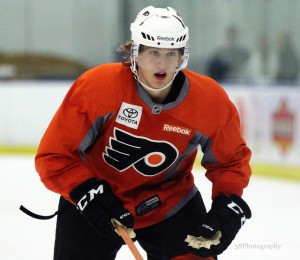 Lindblom is a virtual lock to be on the Swedish team. He was a key piece to the Swedish team last season as an 18 year old, earning nine points (4G, 5A) in seven games. Other veterans like William Nylander, Adrian Kempe, and Axel Holmstrom will be back, along with players draft eligible players like Alex Nylander. So far this season, Lindblom has 18 points (5G, 13A) in 27 SHL games. As a whole, the Swedish team will be very competitive and should be looking to Lindblom as one of the players who can lead the way.
Czech Republic: David Kase
Like Sweden, the Czech Republic has not yet announced their tournament roster. However, Flyers forward prospect David Kase was part of the team last year and has not given the Czech Republic any reason not to bring him back.
In four World Junior Championship games last year Kase registered one point, an assist. This year, playing alongside players like Pavel Zacha and Jakub Zboril, Kase should be able to improve his points totals and his overall play. The Flyers were able to snag Kase in the 5th round of the 2015 NHL Draft (128th overall), and the early returns have been good. He has 10 points (6G, 4A) in 13 games at the Czech minor league level and one goal in 15 games at their highest professional level. For a 5'11", 18 year old, those numbers are impressive.
Gone are the years in which Flyers fans neglect prospect tournaments. This year, with an anticipated seven prospects playing the World Junior Championships, there is a lot to be excited about!