With 2014 in the history books, the Arizona Coyotes now turn their attention to the 2015 portion of their season. January brings some tough challenges as the Coyotes will be going up against some of the best teams in the Western Conference. Arizona will also have to deal with a long road trip after spending their first six games of 2015 at at Gila River Arena. Here is a look at some of the competition that the Coyotes will face to begin the New Year.
January 6 vs. St. Louis
The Central Division has not been kind to Arizona this season. The Coyotes enter January without a win against the Central in 10 games (0-7-3), while being outscored 42-17 in those contests. Four of those seven regulation defeats have been by four goals or more, including a 6-1 thumping by the St. Louis Blues in Glendale on October 18. In that game, Vladimir Tarasenko picked up three assists for St. Louis. The 23-year-old Russian forward has 22 goals on the season, trailing only Tyler Seguin (25) and Rick Nash (23) for the league lead, and has played a key role in St. Louis putting together another strong season so far.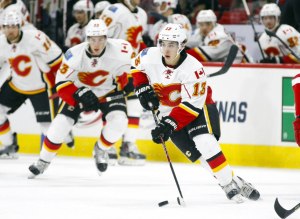 January 15 vs. Calgary
Arizona wraps up their six-game homestand against the Calgary Flames, which will mark the last time the Coyotes will play in Glendale until February 5. The Central has not been the only problem spot in the West for the Coyotes during this campaign. The Flames have dominated Arizona this season, winning the first three meetings in regulation. Calgary is the only team that Arizona has struggled against in their own division as the Coyotes hold a 10-4-0 record against the other five Pacific teams. Rookie forward Johnny Gaudreau has been having a stellar season for Calgary with 12 goals and 30 points, including a goal and three assists against Arizona.
January 20 at Chicago
The last game before the All-Star Break pits the Coyotes against the current Central Division leaders, the Chicago Blackhawks. Arizona has not played Chicago yet this season and recent history suggests that this could be a chance for the Coyotes to reverse their fortunes against the Central. Including the 2012 postseason, the Coyotes are 8-1-2 at the United Center under head coach Dave Tippett. However, Chicago is one of the NHL's elite teams and their one-two punch of Patrick Kane (18 goals and 41 points) and Jonathan Toews (13 goals and 32 points) will make it difficult for the Coyotes to defeat the Blackhawks.
Charles Woodall-Pike is a journalist who writes about the Arizona Coyotes for The Hockey Writers.