It was the fall of 2020, when Lyndsey Fry was out rollerblading and a question came to mind. "What could I do with rollerblading that would be impactful?" Fry asked herself. The former U.S. Women's Hockey Olympic star and current Arizona Coyotes radio broadcaster followed that query up with another one. "How long would it take for me to get to all of the rinks in Arizona?" Fry wondered. The answers to those questions would lead Fry and the Coyotes organization on a path toward a very unique fundraiser in memory of a very courageous little girl.
After much planning and adjusting, Skatin' For Leighton will take place on February 21 in Arizona. Fry will be rollerblading 96 miles across the Valley to raise $49,000 in memory of Leighton Accardo. Leighton, a Coyotes superfan, battled Stage 4 cancer since early 2019. She died in 2020, at just 9 years-old.
"Initially the thought was to do this as an awareness building for the Coyotes season starting back up in January," Fry told The Hockey Writers. "We wanted to bring fans, partners, and the youth hockey community together, and a component of it would also be to do a fundraiser in honor of Leighton. I was going to push her in one of those marathon strollers. She was going to be a part of this whole thing. And we were going to raise money for Phoenix Children's Hospital."
But, just as quickly as Fry and Coyotes staff came up with the rollerblading idea, Leighton's condition worsened.  
"When we found out how sick she really was and that she was running out of time pretty quickly, I said we have to change this entire thing," said Fry. "This is now all for her. We still hoped and prayed that she'd be able to be there for the actual event. She unfortunately passed away so quickly after we found out the end was near."
When little Leighton died, she left a void for so many. The entire Coyotes club was devastated. With Leighton gone, the commitment to keep her memory alive strengthened tenfold. 
All For Leighton
"The day after she passed away, everything pivoted toward the scholarship fund," said Fry. "Her parents loved the idea of other little girls like Leighton being supported and given the opportunity to play hockey. So, it evolved over time. We are trying to do everything we can to take a horrible situation and bring some positivity to it."
The Leighton Accardo Scholarship Fund will provide financial assistance to girls interested in playing hockey in Arizona. The perfect sentiment considering how much Leighton loved hockey.
"I was doing a clinic in Leighton's hometown of Gilbert," said Fry. "Leighton's brother was enrolled, but she came along one day. The cutest, little blonde-haired kid. Her dad asked if she could jump out, too. I wasn't going to say no. Little 4-year old Leighton could barely skate, but she loved being out there. You don't forget a kid like that. I caught up with her mom two years later. Since she runs a baseball organization, we started up our girls hockey organization shortly after that. Leighton would come out to clinics. She was awesome."
Leighton would keep developing as a hockey player over the next couple of years. Then out of nowhere, tragedy struck.
"She was out on the ice dominating kids a head taller than her and then the next day she was in the hospital with Stage 4 cancer," Fry said. 
When Leighton was diagnosed, Fry and the Coyotes stepped up with a power play of all power plays.
"We did everything we could to keep her spirits up," said Fry.  "Player and coach appearances. Signing her as an honorary Coyote in 2019 as part of Hockey Fights Cancer Night. We wanted to give her experiences that she would never forget. We wanted her family to just have one night to forget all of the bad things for a moment and let their kid be a kid."
Skate Hard, Have Fun
 The day Leighton passed away, over a dozen Coyotes players on their own time, came out to support her family by playing street hockey with her siblings. "It was incredible," Fry said. "She meant a lot to a lot of people."
She still does.
Leighton's words have become a rallying cry for the Coyotes. 'Skate Hard, Have Fun', Leighton would say. Those words are now everywhere in Coyote nation, from their dressing room to their social media account bios. Leighton continues to inspire the team. Grown men are fueled by the fighting spirit of an amazing little girl. 
 "Leighton provided such an incredible amount of perspective," said Fry. "It made us all realize what actually matters in life. The impact we could have through this little girl whether you're a player, a coach, or a ticket salesperson-this is the power of sports. Bringing this little kid in and making her dreams come true to the best of our ability led to her inspiring all of us."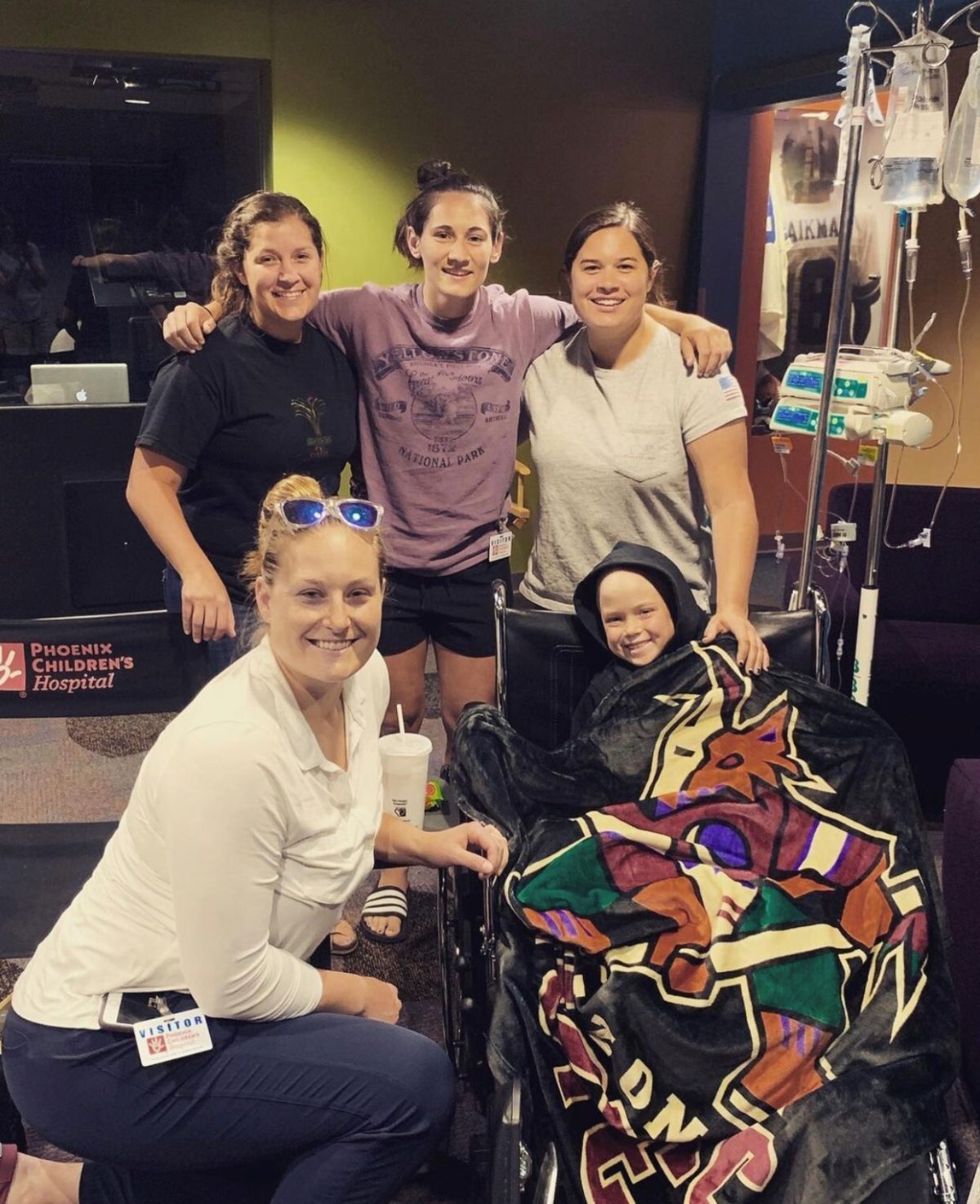 Athletes on any level are often hard on themselves. Pro athletes are particularly unforgiving of miscues. Those who were fortunate enough to know Leighton, may be a bit more even keel. 
"The biggest thing I ever learned from Leighton was she never wanted to be treated differently," Fry said. "She was such a little power athlete. She taught us all that we can do hard things and we can do it with a smile on our face. That was Leighton to a tee. She just was always positive even going through the most horrible of circumstances. For our players who may be frustrated after a loss or after being left off the first line or after dealing with an injury, when you stop and think about Leighton, all of those struggles go away and you just stay focused on being the best you can." 
There is still an opportunity to get involved in Skatin' For Leighton. Donations are being accepted online. "Every bit of this is going toward girls hockey scholarships. The Learn To Play program normally costs 250 dollars, but through our Little Leightons initiative it will only cost 49 dollars." Leighton wore jersey #49. 
 Patrons who give over $49 will receive a special Leighton shirt. "It's been amazing to see how many people have contributed at that level," Fry said. 
Along with her color commentary duties, Fry is also an Arizona Coyotes ambassador. She will be representing the club extremely well later this month. Fry's trans-Valley skate of 96 miles will start at Phoenix Children's Hospital, head southeast toward AZ Ice Gilbert, and then turn north toward Ice Den Scottsdale. Fry will then roll westward to AZ Ice in Peoria, before finishing at the Yotes home, Gila River Arena. All of the ice rinks in Arizona will be hit along the way, just as Fry envisioned last year. The ambitious goal is to raise $49,000. Every cent will count. 
Leighton Accardo is no longer with us physically, but there is no denying she is absolutely here. Leighton is an Arizona Coyote. As the team puts it- 'She will forever be a part of our Pack'. Everyone who knew Leighton is richer for that experience. She lives on in the Coyotes organization. She will live on through every child who benefits from her scholarship fund. 
Later this month, Skatin' For Leighton will feature a grueling 96-mile journey across the desert. But don't worry, Fry can handle it. After all, she'll be skating hard and having fun. Just the way Leighton would want it.    
---
---
Kevin is an accomplished writer, broadcaster, and radio/TV host. He serves as the play-by-play and/or public address announcer for several college and professional teams. He is also a professional wrestling and boxing ring announcer. Kevin has interviewed several U.S. Presidents, multiple hall of fame athletes, and countless others. Kevin is also a three-sport varsity high school coach and a specialist for youth sports camps. Both of his children play hockey. Kevin loves dogs and Pepsi. He is a strong advocate for the return of the Quebec Nordiques to the NHL. Kevin is a fan of the Chicago Blackhawks and all things hockey. He covers the Arizona Coyotes for The Hockey Writers.