The Arizona Coyotes continued to play solid hockey last week, but they also continued to be plagued by the injury bug, as the team lost starting goaltender Antti Raanta to an upper-body injury on Wednesday against the San Jose Sharks.
A .500 Week for the Coyotes
Coming off of consecutive victories over the Montreal Canadiens and Ottawa Senators, the Coyotes headed to Toronto for a matchup at the Air Canada Center against Auston Matthews and the Maple Leafs on Monday night. The Coyotes held a 2-1 lead late in the game but appeared to relinquish the lead when Matthews scored with 3:50 left in regulation. However, head coach Rick Tocchet challenged the call and was able to get the goal overturned due to goaltender interference. Following the review, Arizona scored two empty-netters to pick up a 4-1 victory in Ontario.
Following their win at the 'ACC', the 'Yotes returned home and got a three-game homestand started against the San Jose Sharks. Things went downhill early on, though, as Antti Raanta left the game with an upper-body injury in the first period. The Sharks proceeded to quickly take advantage of a cold Scott Wedgewood, as they scored five seconds after the backup netminder entered the game. San Jose added another goal in the second period and Martin Jones locked things down the rest of the way, as he stopped all but one of the 27 shots he faced in a 3-1 San Jose victory.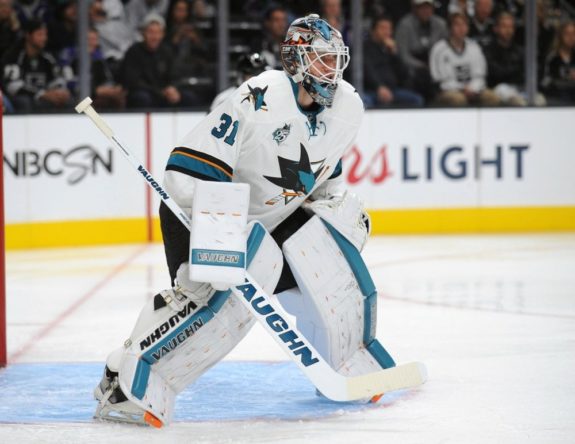 After enjoying the Thanksgiving holiday on Thursday, the Coyotes got back to work on Friday against the rival Los Angeles Kings. After a rough outing on Wednesday, Wedgewood was in net again for the Coyotes and played well, as he stopped 23 of the 25 shots he faced in regulation and overtime before Christian Fischer scored this game-winner winner on Kings' netminder Darcy Kuemper:
Anybody else just watching this @CFish61 goal over and over again?#YOTES | @EASportsNHL pic.twitter.com/yABlLcgGOi

— Arizona Coyotes (@ArizonaCoyotes) November 25, 2017
The 'Yotes were back in action again on Saturday against the Vegas Golden Knights, and Wedgewood again got the start in goal. He played well in the first period, but things rapidly fell apart in the second frame – Tomas Nosek scored a shorthanded goal at 7:23, and William Karlsson followed that up with his 13th goal of the season just 31 seconds later to give the Knights a 2-0 lead. Vegas wasn't done there, though, as Erik Haula scored a power-play marker at 9:05 to chase Wedgewood and boost the lead to three goals. Marek Langhamer came on and stabilized things a bit, but the Coyotes were unable to come all the way back from the deficit despite two third-period goals and lost, 4-2.
Visiting Mike Smith in Calgary
Following their loss on Saturday night against the Golden Knights, the Coyotes will make their way up to Edmonton for their fourth-consecutive intradivisional matchup against the Oilers. Connor McDavid's squad is off to a bit of a slow start this season – they're just 9-13-2 overall and are 2-4-0 in their last six contests and the Coyotes will be looking to kick their division rivals when they're down. Puck drop is scheduled for 7:00 P.M. at Rogers Place.
The Coyotes will remain in Alberta until Thursday, when they'll take on the Calgary Flames. It should be an interesting night in the Stampede City, as the Coyotes will likely face goaltender Mike Smith for the first time since trading him to Calgary on June 17. Puck drop is scheduled for 7:00 P.M. at the Saddledome.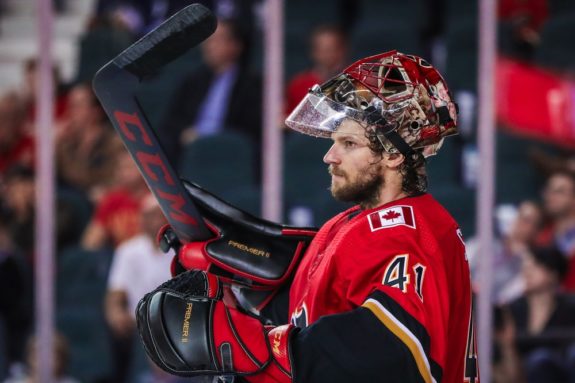 After a brief two-game roadie in Canada, the Coyotes will return home to Phoenix and will host the New Jersey Devils on Saturday night at Gila River Arena. Buoyed by outstanding goaltending from Cory Schneider and Keith Kinkaid, the Devils are one of the league's better teams this season – they're 14-5-4 and are the leaders in the NHL's Metropolitan Division. Puck drop is scheduled for 6:00 P.M. in Glendale.
The Coyotes will then wrap up their week in Las Vegas with a Sunday night matchup against the Golden Knights. Arizona's first visit to T-Mobile Arena didn't go so well, as the Knights jumped out to a 4-0 first-period lead and cruised to a 5-2 victory in the franchise's first-ever regular-season home game on Oct. 10. Puck drop is scheduled for 5:00 P.M in Sin City (6:00 P.M. in Arizona).
Pacific Division Roundup
We're nearly two months into the season, and the Vegas Golden Knights continue to reign supreme in the Pacific Division. They're in the midst of their second five-game winning streak this season and are starting to get healthy at the goaltending position. Here's how Arizona's other division rivals fared last week:
Anaheim Ducks (10-9-4, 24 points)
Last week: 1-2-1 (3-2 SOW at SJ, 4-2 L vs VGK, 4-1 L vs WPG, 2-1 SOL at LAK)
Analysis: The week started off well enough for the Ducks, as they picked up a nine-round shootout victory over the San Jose Sharks on Monday. However, they followed that up by blowing a 2-0 lead against the Golden Knights on Wednesday before laying an egg against the Jets on Black Friday. The Kings then happily poured salt in the wound on Saturday night at the Staples Center as Dustin Brown scored a late equalizer and Trevor Lewis won it in a shootout. Next up for the Anaheim: a five-game road trip.
Player of the week: Corey Perry – Goal, 2 assists, 1 busted chin
This week: Mon at CHI, Wed at STL, Fri at CBJ, Sat at NSH
Calgary Flames (13-9-1, 27 points)
Last week: 2-1-1 (4-1 W at WSH, 1-0 OTL at CBJ, 6-4 L at DAL, 3-2 W at COL)
Analysis: The Flames picked up two wins last week, but it was likely the two losses they also sustained were the games that had Calgarians talking last week. The Flames got an outstanding performance from Mike Smith on Wednesday against Columbus but were shut out in a 1-0 overtime loss. On Friday against Dallas, the Calgary's offense responded with four goals, but Smith allowed five himself as the Stars defeated the Flames by a 6-4 score. With three home games on tap this week, head coach Glen Gulutzan is undoubtedly looking for a few complete performances from his club.
Player of the week: Sean Monahan – 3 goals, 3 assists, +2, 10 shots
This week: Tue vs TOR, Thu vs AZ, Sat vs EDM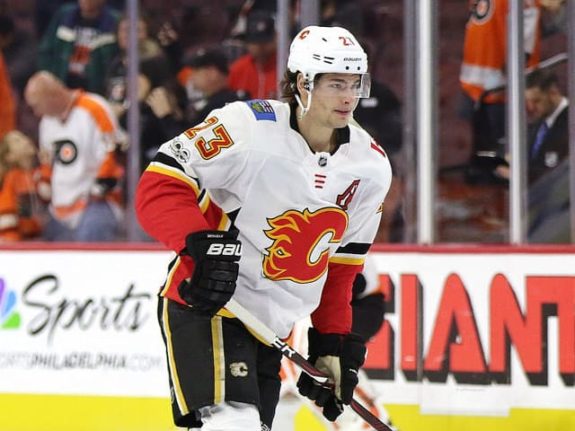 Edmonton Oilers (9-13-2, 20 points)
Last week: 2-2-0 (8-3 L at STL, 6-2 W at DET, 3-1 L at BUF, 4-2 W at BOS)
Analysis: The Oilers continue to hang around in the Western Conference, but it's going to be difficult for them to move up in the standings if they continue their inconsistent play. They've won consecutive games just once this season and are 2-4-0 in their last six. They need to get things figured out before trade rumors regarding Ryan Nugent-Hopkins begin to gather more steam.
Player of the week: Leon Draisaitl – 2 goals, 3 assists
This week: Tue vs AZ, Thu vs TOR, Sat at CGY
Los Angeles Kings (13-8-3, 29 points)
Last week: 1-1-1 (2-1 L vs WPG, 3-2 OTL at AZ, 2-1 SOW vs ANA)
Analysis: It took a bit of time, but it looks as if the Kings are really starting to feel the loss of Jeff Carter, who suffered a skate cut to his leg on Oct. 18. Los Angeles averaged 3.4 goals per game during their 11-2-2 start, but they're averaging a paltry 1.78 goals per game since Nov. 9, and, unsurprisingly, are 2-6-1 over that span. The return of Marian Gaborik will help, but the Kings need guys like Adrian Kempe and Tyler Toffoli to heat up again.
Players of the week: Jonathan Quick – 1-1-0 record, 50 saves on 53 shots (.943 SV%), 3 saves on 4 shootout attempts
This week: Tue at DET, Thu at WSH, Fri at STL, Sun at CHI
San Jose Sharks (12-8-2, 26 points)
Last week: 2-0-2 (3-2 SOL vs ANA, 3-1 W at AZ, 5-4 OTL at VGK, 4-0 W vs WPG)
Analysis: The Sharks got points in all four games they played last week, and goaltender Martin Jones was a big reason for their success. He stopped all but six shots he faced in four appearances and was arguably the best netminder in the Western Conference during Thanksgiving week.
Player of the week: Martin Jones – 2-0-1 record, 103 saves on 109 shots (.945 SV%), 5 saves on 9 shootout attempts, 1 shutout
This week: Tue at PHI, Fri at FLA, Sat at TB
Vancouver Canucks (11-9-4, 26 points)
Last week: 2-1-1 (5-2 W at PHI, 5-2 W at PIT, 3-2 L at NJ, 4-3 SOL at NYR)
Analysis: The Canucks have remained competitive this season for one reason, and one reason only – their play on the road. Vancouver's eight road wins are tied for the most in the league, but their 3-5-3 home record leaves a lot to be desired. If Travis Green's squad can figure out how to win in front of their home crowd, they'll easily make the playoffs this season.
Players of the week: Brock Boeser – 4 goals, assist, 10 shots
This week: Tue at NYI, Thu at NSH, Sat vs TOR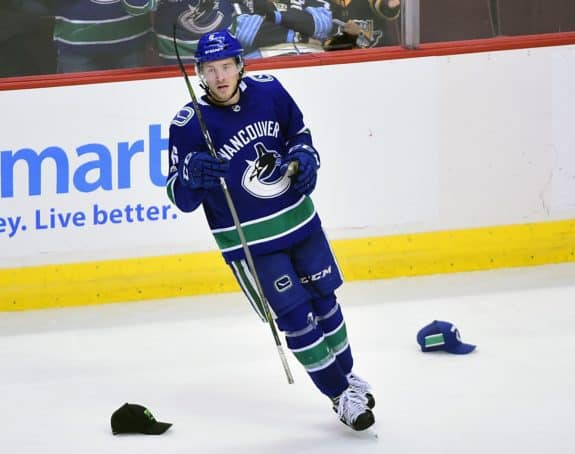 Vegas Golden Knights (15-6-1, 31 points)
Last week: 3-0-0 (4-2 W at ANA, 5-4 OTW vs SJ, 4-2 W at AZ)
Analysis: The Golden Knights continue to be the league's best story – they own the league's fourth-best record and are starting to get healthy at the right time. They could run away with the Pacific Division in their first year of existence.
Players of the week: Jonathan Marchessault – 3 goals, 6 assists, +5, 13 shots
This week: Tue vs DAL, Thu at MIN, Fri at WPG, Sun vs AZ
After two wins in four games last week, the Coyotes have another four games scheduled for this week. Can they overcome the loss of Antti Raanta and continue to play competitive hockey?