With each new NHL season, goaltenders debut new lines of leg pads, gloves, and blockers from the top goaltending equipment manufacturers. The gear is customized to match team colors and show a little bit of goalies' often odd personalities.
Because goalies can be very specific about their equipment style, the unveiling of new setups has turned into the NHL's version of a fall fashion event. Which goalie went bold with his new gear? Which stayed conservative? And with so many goalies changing teams this offseason, there was a substantial amount of equipment to review.
But which netminder's gear is the best of them all?
Let's count down the top ten goalie pad setups in the NHL in terms of creativity and style. Helmets are excluded from the rankings since each goalie has their own individual design. Only leg pads, gloves, and blockers are taken into account with respect to team colors.
Honorable Mention: Eddie Lack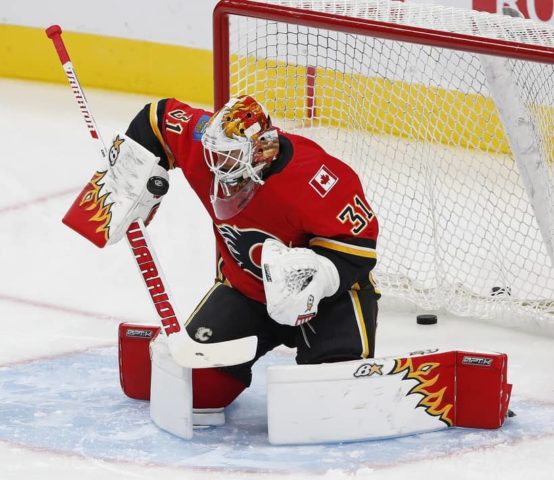 While not presently in the NHL, Eddie Lack's Brian's OPTIK gear with the flame design deserves some recognition. Hopefully, the Swedish goaltender will be back with his NHL team in short order after being assigned to the AHL.
10. Ryan Miller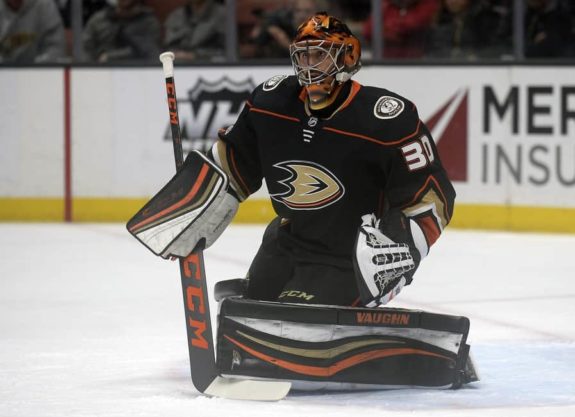 Now in Anaheim after a quick stint with the Vancouver Canucks, Ryan Miller is rocking a sweet combo of leg pads and gloves for the Ducks. Miller's Vaughn Velocity V7 XR leg pads (and catching glove) emphasize Anaheim's minor orange color. His CCM Premier Pro blocker also pushes dark colors over the traditional white used by most goalies.
9. Oscar Dansk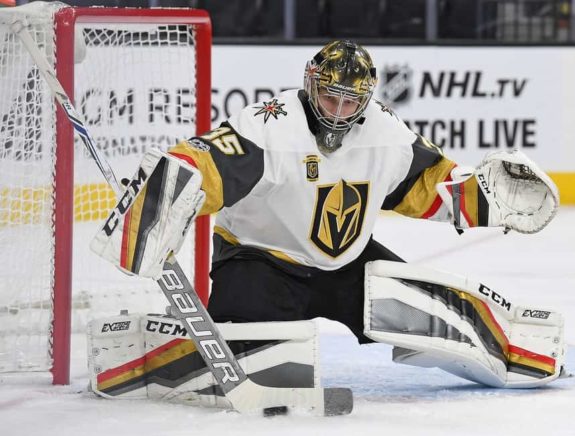 "Oscar, what Golden Knights team colors do you want to feature on your pads?"
"All of them."
"Say no more."
Somehow, Oscar Dansk has managed to include all of Vegas' five colors on his equipment and make them look good too. His CCM Extreme Flex III setup features white, black, gold, silver, and red without a single color looking out of place.
8. Carey Price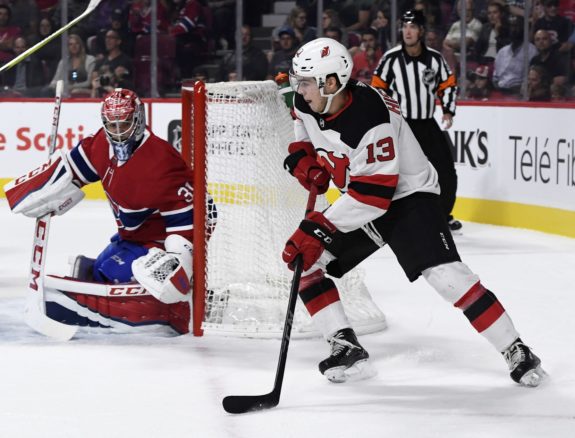 While nothing about Carey Price's equipment is over-the-top, the same can also be said about his superb goaltending. His CCM Extreme Flex III pads appear to be mostly white from the front, but from the back and side appear to be completely colored in. This "reverse" style of his pads is not typically seen around the NHL.
7. Jake Allen
After switching to a throwback look for last year's Stadium Series game, Jake Allen continued to don the vintage gear through the end of the season and into this year's campaign. His current Vaughn setup is certainly unique with the blue, yellow, and white layout.
6. Jimmy Howard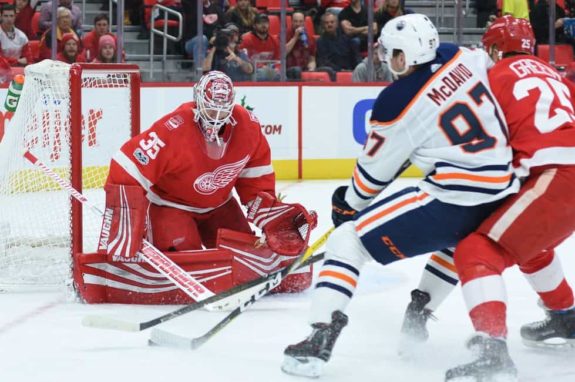 Through most of his career, Jimmy Howard wore predominantly white pads with streaks of red throughout. Last season, he traded in his usual style for an all-red setup. This year, he did the same with his mostly red Vaughn Ventus SLR equipment and has the exact reverse of his backup, Petr Mrazek.
5. Anders Nilsson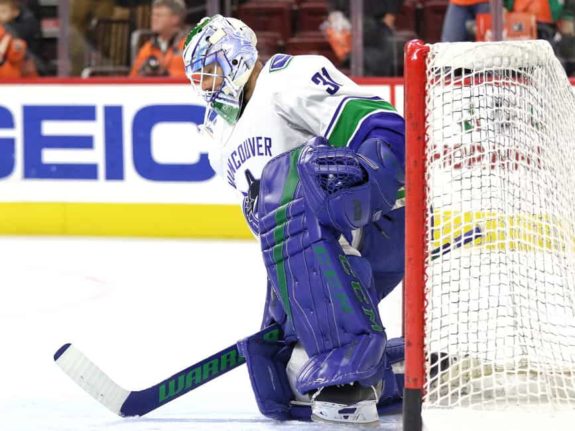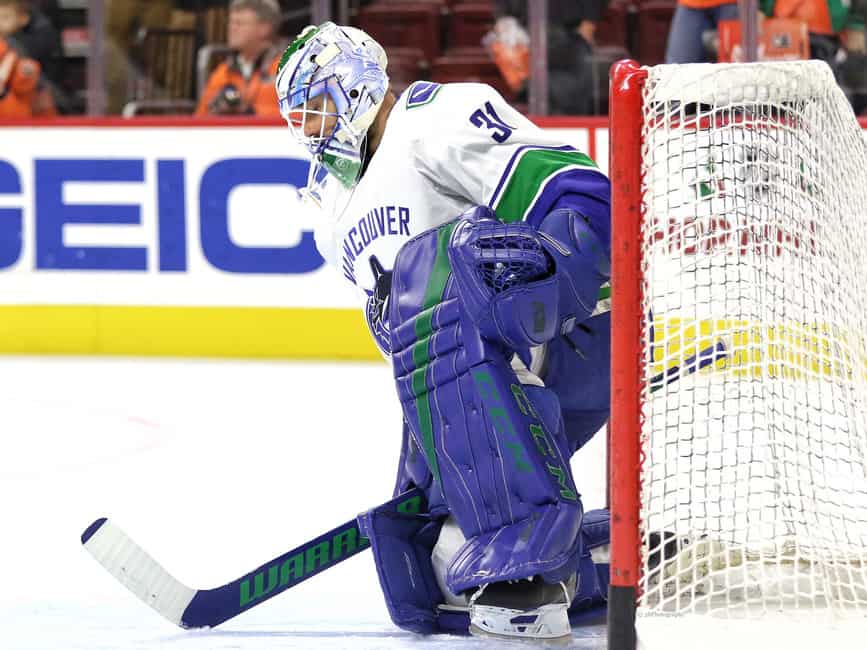 Goaltender Anders Nilsson arrived in Vancouver looking to make a splash after subpar seasons with the Sabres and Islanders. His game has been almost as spectacular as his CCM Extreme Flex III pads. For road games especially, Nilsson's blue and green setup perfectly compliments Vancouver's jerseys.
4. Corey Crawford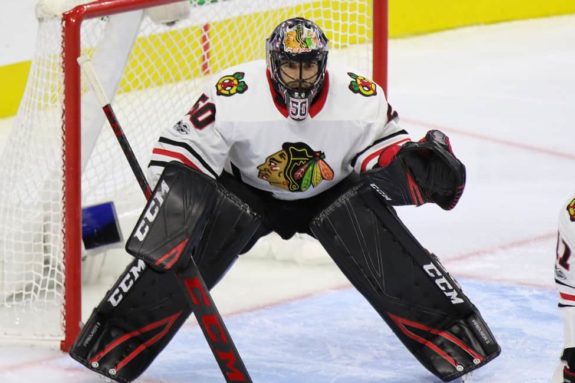 Black may be slimming, but Corey Crawford has been a brick wall with his signature nearly all-black gear. Despite the common thought that white pads make goalies look bigger in net, Crawford has managed top-three numbers in terms of goals-against average and save percentage. The subtle red outline on Crawford's CCM setup is a nice added touch.
3. Henrik Lundqvist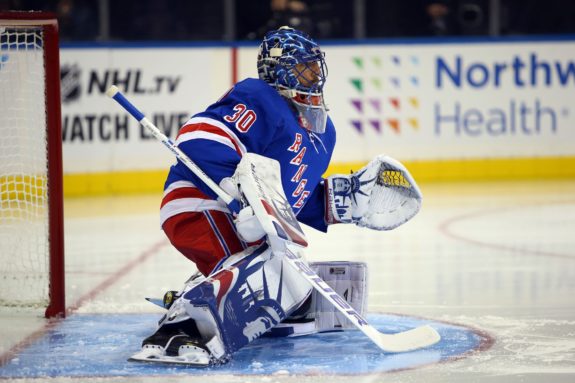 "The King" has looked regal this year with his customized Bauer Supreme 1S OD1N equipment. His Statue of Liberty design is reminiscent of past Brian's designs from other goaltenders, but is the same Bauer brand that he's used since switching from TPS.
2. Scott Darling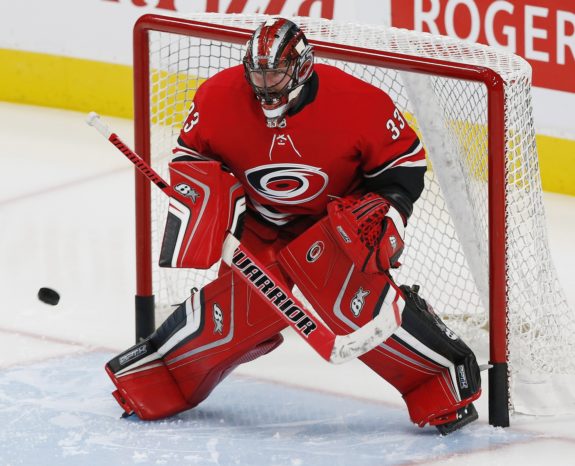 Now in Carolina as the anointed starting goalie, Scott Darling continues to don impressive Brian's gear. This year's design for the Brian's OPTIK line meshes well with the Hurricanes' jersey and pants, plus Darling chose the right colors for the right places on his equipment.
1. Mike Smith (Home)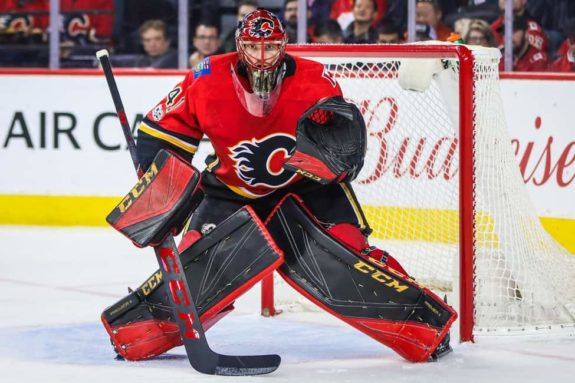 While in Arizona, Mike Smith had some pretty creative looks for his equipment. But after being traded to Calgary, the towering netminder adopted a fantastic CCM Extreme Flex III setup for home games. The red, black, and small accents of yellow flow brilliantly with Calgary home uniforms.
The debate over white or dark pads has definite results for Smith though, as his away numbers are substantially better than those at home. At least his home gear looks good!
Which NHL goaltender has the best equipment? Comment below with your choice.