Don't look now folks, but the Arizona Coyotes are heating up once again.
With rookie Adin Hill in net, the 'Yotes have won four consecutive games – all in regulation – while outscoring the opposition 15-5.
The streak has the Coyotes once again within striking distance of the playoffs – will they be able to continue having success and establish themselves as legitimate contenders in the Pacific Division?
Coyotes Week in Review
After their huge come-from-behind victory over the Minnesota Wild back on Nov. 27, the Coyotes got back on the ice on Thursday in the Music City against the Nashville Predators. Starting goaltender Antti Raanta suffered an injury during the win over the Wild, so AHL call-up Adin Hill got the start against Nashville. Playing in just his seventh career NHL game, Hill dominated the Western Conference-leading Predators – he stopped all 29 shots thrown his direction en route to a 3-0 victory and his first career shutout.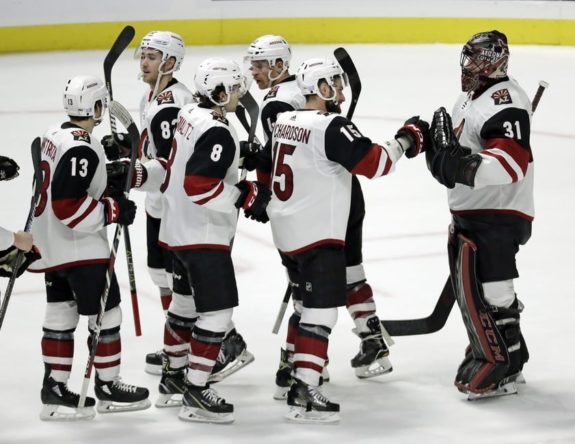 The victorious Coyotes returned home on Saturday night to take on yet another Central Division opponent – the St. Louis Blues. It's been a struggle for the Blues this season, and the Coyotes quickly added to their woes, as St. Louis native Clayton Keller recorded three points on the night, including an assist of the year candidate, to lead the 'Yotes to an easy 6-1 victory.
Wanna learn how to make a sweet pass?

Let @ClaytonKeller37 show you the ropes. pic.twitter.com/SOsgIVzu68

— NHL (@NHL) December 2, 2018
Arizona then traveled to Los Angeles to take on the rival Kings for the first time this season. The Coyotes took the lead early on a Lawson Crouse shorthanded goal – the team's 11th shorty of the season – and doubled their lead later on when Nick Schmaltz scored on the power play. Alec Martinez scored late to make things interesting, but the Coyotes were able to hold on and came away with a hard-fought 2-1 triumph at the Staples Center.
A Look Ahead
Following their victory over the Kings in Los Angeles, the Coyotes will return to Glendale and will host the defending Stanley Cup Champion Washington Capitals for the only time this season on Thursday night. Arizona will be looking to complete the season sweep in this one, as the 'Yotes picked up a 4-1 road victory at Capital One Arena back on Nov. 11. The Coyotes typically play well against the Caps in the desert – they're 6-0-1 in their last seven home games against Alex Ovechkin's squad and haven't lost in regulation on home ice against Washington since Ovi scored this still-unbelievable goal back on Jan. 16, 2006. Puck drop is scheduled for 7:00 P.M. at Gila River Arena.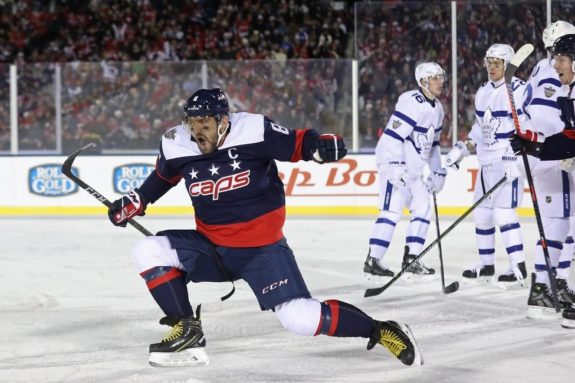 The Coyotes will then finish out a short two-game homestand on Saturday evening against Erik Karlsson and the San Jose Sharks. Peter DeBoer's squad has had some issues playing away from home this season – the Sharks are just 5-7-3 on the road in 2018-19, and the Coyotes will definitely be looking to add to their rivals' suffering on Saturday night at Gila River Arena. This one will get started at 6:00 P.M. in Glendale.
After completing their homestand, the Coyotes will head back out on the road for a four-game Eastern Conference road trip. The 'Coyote Roadie' will get started on Tuesday night in Boston against the Bruins. Arizona will once again be looking to end a lengthy losing streak in this one – they've lost 13 straight games to the Bruins dating back to Oct. 10, 2010. Will they finally put an end Boston's domination? Puck drop is scheduled for 7:00 P.M. local time (5:00 P.M. in Arizona) at TD Garden.
Pacific Division Roundup
We're just over a third of the way through the 2018-19 season, and we're at last starting to see some separation in the Pacific Division. The Calgary Flames have been nearly untouchable over the past six weeks, while the Anaheim Ducks have risen from the absolute dead to climb all the way up to second place. Here's a look at how Arizona's divisional foes performed last week:
Anaheim Ducks (14-10-5, 33 points)
Last week: 3-0-0 (3-2 W at FLA, 2-1 OTW at CAR, 6-5 W at WSH)
Analysis: The Ducks have now won six of their last seven, but the win that could catapult them to an outstanding season was a four-goal comeback on Sunday in Washington. Down 5-1 to the defending champs after Nic Dowd scored at 13:30 of the second period, Anaheim roared back with five unanswered goals to win in regulation, 6-5. That's the type of win that can lift a team to new heights.
Player of the week: Ryan Getzlaf – 2 goals, 3 assists, +3, 10 shots
This week: Wed vs CHI, Fri vs CAR, Sun vs NJ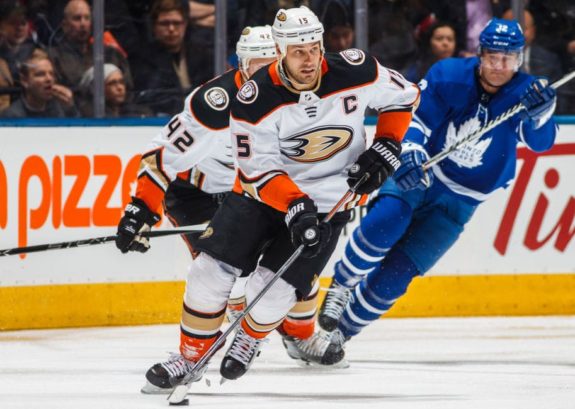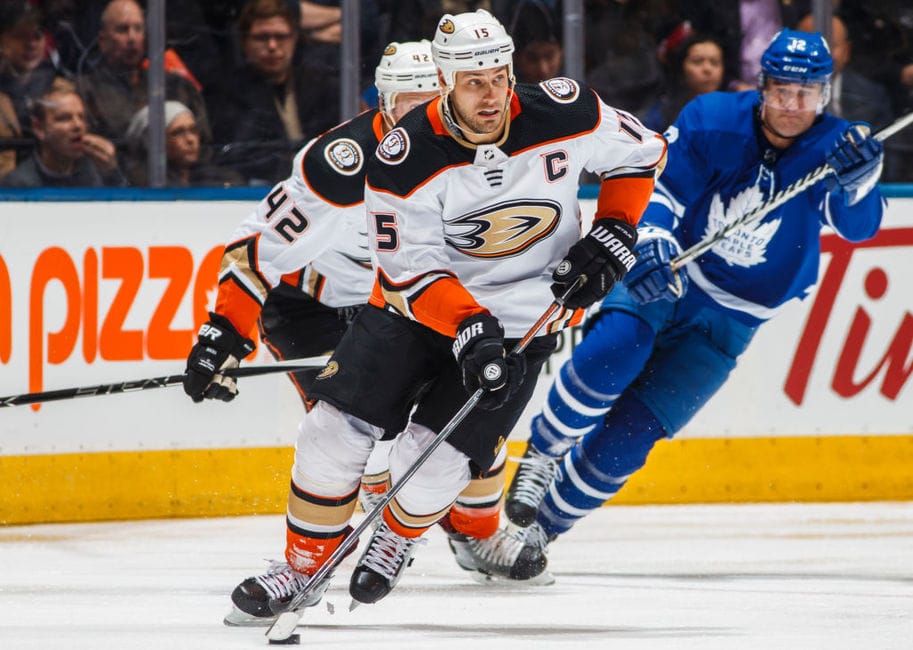 Calgary Flames (17-9-2, 36 points)
Last week: 3-0-1 (4-3 OTL vs DAL, 4-1 W vs LA, 3-2 W at CHI, 9-6 W at CBJ)
Analysis: Since a 9-1 loss to the Pittsburgh Penguins back on Oct. 25, the Flames have looked like world-beaters – they're 12-4-2 in 18 games since that embarrassing home defeat and look to be the favorites in the Pacific as a result.
Player of the week: Johnny Gaudreau – 4 goals, 4 assists, 13 shots
This week: Thu vs MIN, Sat vs NSH, Sun at EDM
Edmonton Oilers (13-12-2, 28 points)
Last week: 2-1-0 (3-2 W vs LA, 2-1 W vs VGK, 4-1 L at DAL)
Analysis: The Oilers won their first two of the week with solid defensive performances, but, with Connor McDavid out of the lineup with an illness, Edmonton was easily dispatched by the Dallas Stars in the final game of the week on Monday evening. McDavid should return to the lineup quickly, but Monday's loss served as a reminder of just how top-heavy this team is.
Player of the week: Oscar Klefbom – Goal, 2 assists
This week: Wed at STL, Fri vs MIN, Sun vs CGY, Tue at COL
Los Angeles Kings (10-17-1, 21 points)
Last week: 1-3-0 (3-2 L at EDM, 4-1 L at CGY, 2-0 W vs CAR, 2-1 L vs AZ)
Analysis: With each passing week, the Kings fall further and further below the .500 mark. Los Angeles is now 11 points out of a playoff spot and it appears as if the Kings will be sellers at the deadline for the first time in quite a while. Will they embrace the tank and 'Lose for Hughes'?
Player of the week: Jonathan Quick – 1-2-0 record, 83 saves on 88 shots (.943 SV%, 1.69 GAA), 1 shutout
This week: Thu vs NJ, Sat vs VGK, Mon at DET, Tue at BUF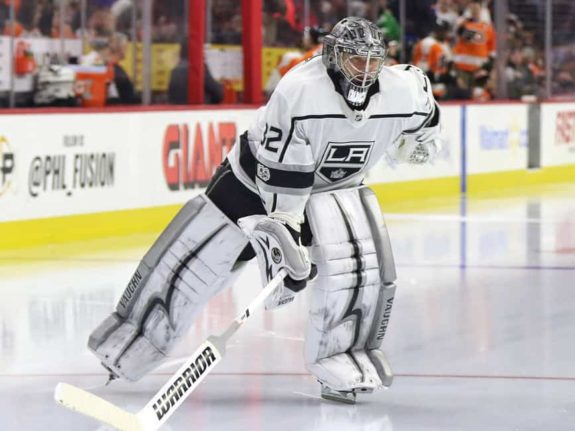 San Jose Sharks (13-10-5, 31 points)
Last week: 1-2-0 (5-3 L at TOR, 6-2 L at OTT, 3-1 W at MTL)
Analysis: The Sharks recently completed a five-game road trip, but, disappointingly, they were blown out twice and picked up only a single victory en route to a 1-3-1 record. I think it's safe to say that the Brent Burns and Erik Karlsson experience is still very much a work in progress.
Player of the week: Joe Pavelski – 2 goals, 2 assists
This week: Wed vs CAR, Fri at DAL, Sat at AZ, Mon vs NJ
Vancouver Canucks (11-16-3, 25 points)
Last week: 0-3-0 (4-3 L vs VGK, 2-1 L vs DAL, 3-2 L vs MIN)
Analysis: Vancouver's free fall down the standings continued last week – the Canucks have just one win in their last 13 games and have looked nothing like the team we saw in October. There's still time to recover, but it's rapidly running out.
Player of the week: Brock Boeser – 2 goals, assist, +3
This week: Thu vs NSH, Sun at STL, Tue at CBJ
Vegas Golden Knights (15-13-1, 31 points)
Last week: 2-1-0 (4-3 W at VAN, 2-1 L at EDM, 5-3 W vs WSH)
Analysis: Another week, another four points for the Golden Knights. They're now 7-2-0 in December and are very much a factor out West once again. And since they're exempt from the 2021 Expansion Draft, Vegas is set up nicely to contend in future seasons.
Player of the week: Nate Schmidt – 2 goals, assist, +2
This week: Thu vs CHI, Sat at LA, Sun vs DAL
A lifelong Phoenix resident, Louis has been following hockey since 2010, has covered the Arizona Coyotes since 2015, and has been playing hockey since 2020. So far, Louis has visited eight NHL cities, and one of his personal goals is to eventually make it to all 31 NHL arenas. For any questions or concerns, contact the writer via Twitter @LouisPannone.