The Arizona Coyotes have just concluded a lengthy stint in Glendale's Gila River Arena, and will now hit the road, where 16 of their next 20 contests will take place. Let's take a look back at the action which occurred since our last look at the 'Yotes:
Coyotes Embarrassed Twice by Avalanche
Two days after completing the second of two miraculous comebacks against the Anaheim Ducks, the Coyotes were back in action against the Colorado Avalanche at Gila River Arena for a two-game set on Friday, Feb. 26, and Saturday, Feb. 27.
The pair of games were the first meetings between these teams since Colorado annihilated Arizona in a playoff series back in August 2020 in the Edmonton playoff bubble, and we saw more of the same in Glendale last weekend – in Game 1 on Friday, the Coyotes played lifeless hockey for the first 51 minutes, as they fell behind 3-0 and registered just 13 shots in the process.
They managed to improve the optics a bit with a barrage of late shots on Avs' third-string netminder Hunter Miska, scoring twice to give themselves a puncher's chance at another improbable comeback, but the magic was not there on this night, as Colorado held on for a 3-2 victory, their fifth over Arizona in their last six tries, dating back to last season's playoffs.
On Saturday, we saw more of the same, but things got more out of hand this time. Nathan MacKinnon opened the scoring in what was a relatively even first period, but Colorado took over as soon as the puck dropped in the second, generating 10 shots before the four-minute mark of the period, and 20 total for the 20 minutes of action. Coyotes' goaltender Antti Raanta stood tall in net, though, surrendering only a single goal, but, once the third period began, it became clear that this would not be his night.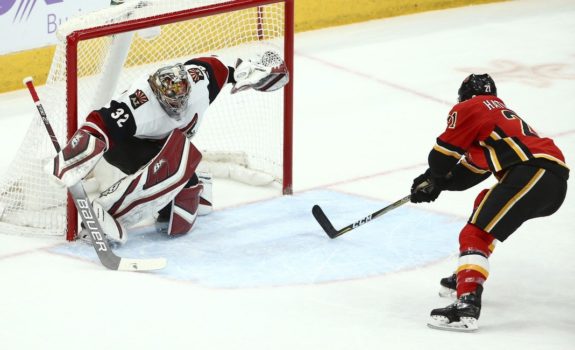 The Avs' Gabriel Landeskog scored a power-play goal less than two minutes into Period No. 3, and, from there, the rout was on – Colorado scored three further goals over the game's final eight minutes, and there was very little the Coyotes could do to push back as they went down by a 6-2 score.
Coyotes Win in Los Angeles
Following the back-to-back debacles at the hands of the Avalanche, the Coyotes headed out to LA and looked to atone for their sins in a Wednesday night battle against the Los Angeles Kings at the Staples Center.
This one was relatively uneventful until the second period, when a considerable amount of action took place in a short amount of time. First, Clayton Keller beat Jonathan Quick at the 9:26 mark for a power-play goal – Jordan Oesterle fed Keller with a nice cross-ice pass, and Keller made no mistake in burying his seventh of the year to put Arizona up 1-0. Drew Doughty answered with a one-time blast for a power-play goal of his own less than two minutes later, though, to make the score 1-1.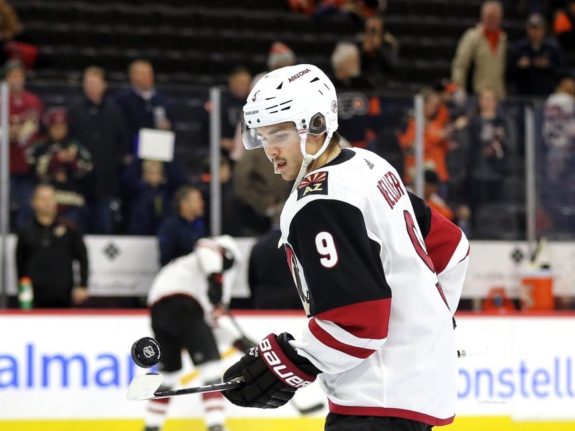 From there, the 'Yotes struck for two quick ones to break the game open – first, Nick Schmaltz rifled home another power-play goal from the right faceoff dot at the 12:40 mark, for the game's third goal in just over three minutes. Then, just a few seconds later, Kings defenseman Olli Maatta threw an ill-advised pass up the middle of the ice to forward Michael Amadio, who was unable to handle it. The puck came right to Johan Larsson in the slot, who gathered it and beat Quick five-hole for the Coyotes' second goal in a 13-second span of action.
Despite the 3-1 deficit, the Kings dominated the third period, outshooting the Coyotes 18-4. They cut the Arizona lead to 3-2 at the 13:47 mark, when Gabe Vilardi scored his second goal against the Coyotes in as many games, but LA would get no closer, as Antti Raanta's 40-save performance gave the Coyotes just enough to escape from LA with a 3-2 victory, which was their 10th win of the season.
Coyotes, Wild Split in Glendale
The Coyotes returned to Glendale with two points under their belts, but they were unable to keep the good times rolling on Friday evening with the Minnesota Wild in town. "Minny" entered with points in seven of their last eight games (6-1-1) and wasted no time in getting on the board in this one, as they scored three times in the opening period to open up a comfortable lead after 20 minutes.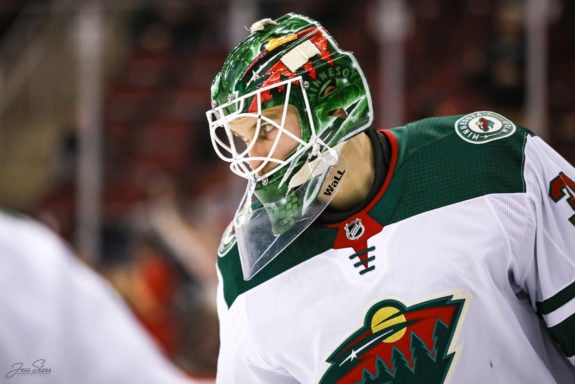 The Coyotes were better in the second period, but they still couldn't get on the scoreboard, and they still couldn't keep Minnesota off of it, as Jordan Greenway scored his fourth of the season five minutes into the action to put the Wild up 4-0 heading into the third period. The Coyotes broke goaltender Kaapo Kahkonen's shutout bid less than five minutes into Period No. 3, but that's as close as they'd get, as a late Kevin Fiala breakaway goal provided the final nail in the coffin for Arizona, who went down to defeat by a 5-1 score.
Less than 20 hours later, the 'Yotes and Wild were back in action once again in Glendale for Game No. 2 of their back-to-back. With the previous night's blowout fresh in everyone's minds, the Wild again dominated the first period of this one, scoring twice in a 52-second span to open up a 2-0 lead. At one point, the Coyotes were sitting on just three shots on goal, while the Wild had already found the back of the net twice.
An unfavorable game script was developing for Arizona, but they were able to reverse some bad trends with a hot start to the second period – Lawson Crouse potted his first of the year at the 1:25 mark, and Jakob Chychrun tied the game about 12 minutes later when he ripped one from the ladies tees past a scrambling Minnesota defense.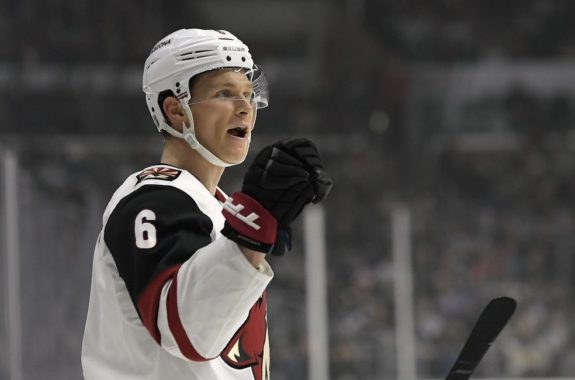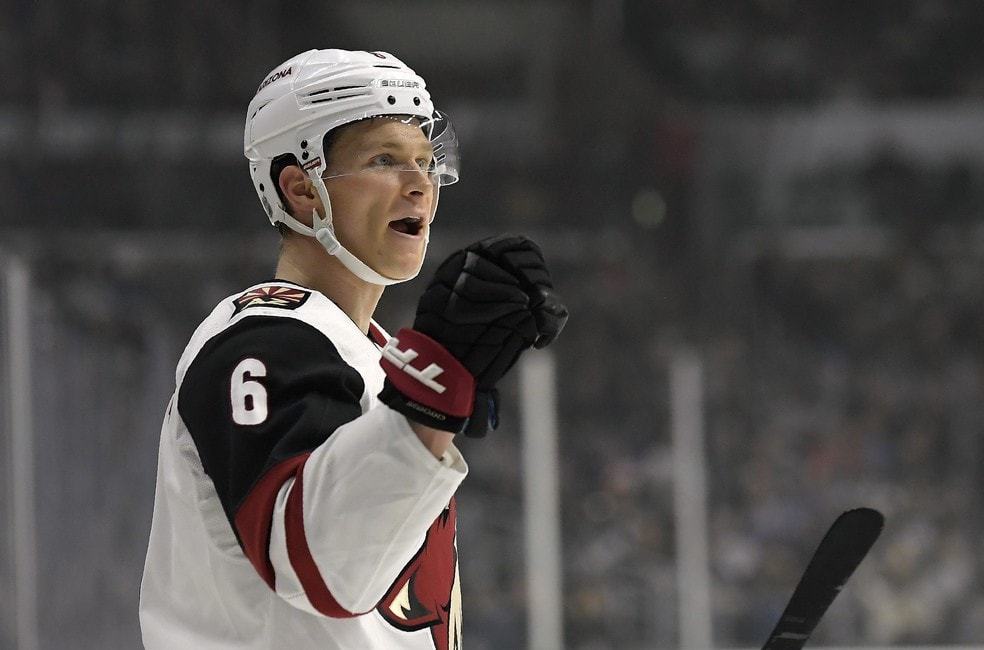 The Coyotes were the recipients of some good fortune, as multiple Wild scoring chances went harmlessly off of the post, and they continued to take advantage in the third period. With Arizona on a power play early in the action, Conor Garland found some quiet ice in front of goaltender Cam Talbot and wristed his eighth of the season into the net to give the 'Yotes the 3-2 advantage. A few minutes later, the Coyotes doubled their lead on a Tyler Pitlick deflection – Niklas Hjalmarsson had fired it on net, and Pitlick provided the tip that beat Talbot to make it a 4-2 game.
The Wild hit a few more posts down the stretch, but they could not solve either the iron or goaltender Darcy Kuemper the rest of the way. Following a lengthy stretch of 6-on-5 Wild pressure with the goalie pulled, the Coyotes finally got the puck clear, and Pitlick deposited his second of the night into the empty net to give Arizona the 5-2 victory, and their first win in the new Retro Reverse sweaters.
What's Next?
The Coyotes have now completed 24 games, and they've played all seven of their division rivals in the process, meaning every game from here on out will be a repeat. They'll get started with a seven-game road trip on Monday afternoon in Denver against the Avalanche, with the second game in the series taking place on Wednesday.
Both games are set for a 7:00 P.M. puck drop – here's hoping we see a better effort from Arizona than we saw in Glendale on Feb. 26-27, when the Avalanche absolutely destroyed the 'Yotes across six periods of action.
Here's a look at this week's schedule and start times:
Monday, March 8 at Avalanche, 7:00 P.M.
Wednesday, March 10 at Avalanche, 7:00 P.M.
West Division Roundup
The top four teams are starting to separate themselves from the rest of the pack in the West Division – here's a look at the Coyotes' competition for a playoff spot:
Anaheim Ducks (7-12-6, 20 pts, 7th place)
Last week: 1-2-2 (3-2 OTL vs VGK, 5-4 L vs STL, 3-2 L vs STL, 3-2 OTL at COL, 5-4 OTW at COL)
Analysis: The Ducks entered the weekend on a nine-game losing streak, and found themselves staring at a 4-2 deficit late in the third period on Saturday in Colorado, but they managed to tie the game in the final seven minutes before captain Ryan Getzlaf scored his third of the season to win it in overtime for Anaheim's first victory since Feb. 11. This team needs to learn how to close out games – their last six losses all came by one goal.
Player of the week: Rickard Rakell – 3 goals, 6 assists, +3, 20 SOG
This week: Mon vs LA, Wed vs LA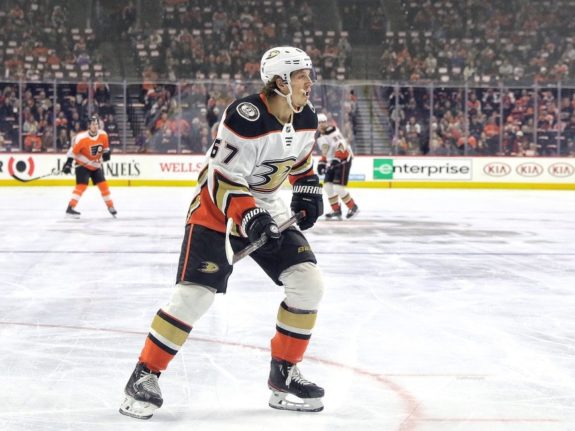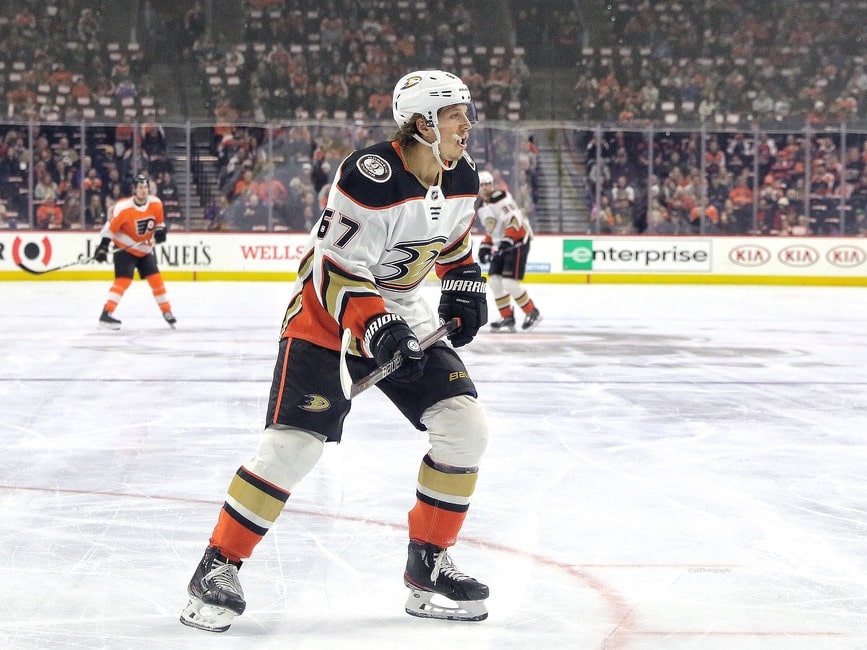 Colorado Avalanche (13-7-2, 28 pts, 3rd place)
Last week: 4-1-1 (3-2 W at AZ, 6-2 W at AZ, 6-2 L at SJ, 4-0 W at SJ, 3-2 OTW vs ANA, 5-4 OTL vs ANA)
Analysis: Colorado had lost three of five from Feb. 14 to Feb. 24 in their return to play after a lengthy break due to COVID-19, but they seem to have once again hit their stride – they picked up 9 of a possible 12 points over their last six games and are now one of just two West Division teams with a positive goal differential in the double digits. The blown 4-2 lead to the Ducks on home ice will sting, as will the blowout at the hands of the Sharks at the SAP Center on Mar. 1, but you have to imagine head coach Jared Bednar will take a 4-1-1 record for any stretch of six games at any time in the year.
Player of the week: Mikko Rantanen – 5 goals, 5 assists, +5, 20 SOG
This week: Mon vs AZ, Wed vs AZ
Los Angeles Kings (10-8-5, 25 pts, 5th place)
Last week: 1-2-2 (3-1 L at MIN, 4-3 OTL at MIN, 3-2 L vs AZ, 3-2 OTL vs STL, 4-3 OTW vs STL)
Analysis: The outstanding goaltending that the Kings had been getting during their six-game winning streak from Feb. 11-24 has since evaporated, and LA has only one win in their last five games as a result. They're still in good shape in the West Division, though, and the rebuild is definitely proceeding ahead of schedule thanks to continued production from the veteran leaders.
Player of the week: Anze Kopitar – 2 goals, 5 assists, 11 SOG
This week: Mon at ANA, Wed at ANA
Minnesota Wild (13-8-1, 27 pts, 4th place)
Last week: 3-2-1 (3-1 W vs LA, 4-3 OTW vs LA, 5-4 OTL at VGK, 5-1 L at VGK, 5-1 W at AZ, 5-2 L at AZ)
Analysis: The Wild won six straight from Feb. 18-27 to climb back into contention in the West Division, but they've cooled off since then with a 1-2-1 record since the calendar flipped to March, including blowout losses in two of their last three contests.
Player of the week: Jordan Greenway – 3 goals, 4 assists, +1, 17 SOG
This week: Mon vs VGK, Wed vs VGK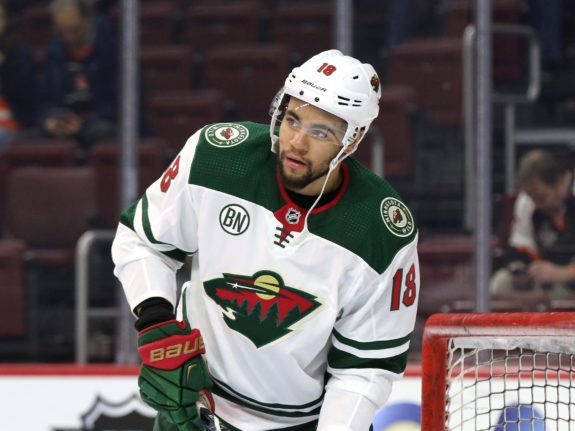 San Jose Sharks (8-11-3, 19 pts, last place)
Last week: 1-3-1 (7-6 L vs STL, 6-2 W vs COL, 4-0 L vs COL, 5-4 OTL vs VGK, 4-0 L vs VGK)
Analysis: Goaltending continues to be a massive problem for the Sharks, as they lost a game in regulation after scoring six goals on Feb. 27, and lost another one in overtime on March 5 after a four-goal outburst from the offense. Will general manager Doug Wilson receive an opportunity to fix the problem, or will the task of getting this team back on track fall to another executive?
Player of the week: Timo Meier – 2 goals, 5 assists, +1
This week: Mon vs STL
St. Louis Blues (14-8-3, 31 pts, 2nd place)
Last week: 4-0-1 (7-6 W at SJ, 5-4 W at ANA, 3-2 W at ANA, 3-2 OTW at LA, 4-3 OTL at LA)
Analysis: The Blues faltered a bit in February, with three consecutive losses to California teams from Feb. 20-24, but they've rebounded nicely since then – they're 4-0-1 in their last five games and have regained a comfortable cushion over their competition in the West Division.
Player of the week: Ryan O'Reilly – 2 goals, 5 assists, +3, 57.4 faceoff percentage
This week: Mon at SJ
Vegas Golden Knights (16-4-1, 33 pts, 1st place)
Last week: 5-0-0 (3-2 OTW at ANA, 5-4 OTW vs MIN, 5-1 W vs MIN, 5-4 OTW at SJ, 4-0 W at SJ)
Analysis: The Golden Knights have been a top-five club in the league all season, but they now have a legitimate claim as the top team overall – they haven't lost since Feb. 20, and they've lost only one game by multiple goals all season. They're getting outstanding goaltending from Marc-Andre Fleury, great team defense, and consistent offensive production from a deep, skilled lineup.
Player of the week: Mark Stone – 2 goals, 8 assists, +7
This week: Mon at MIN, Wed at MIN
---
---
A lifelong Phoenix resident, Louis has been following hockey since 2010, has covered the Arizona Coyotes since 2015, and has been playing hockey since 2020. So far, Louis has visited eight NHL cities, and one of his personal goals is to eventually make it to all 31 NHL arenas. For any questions or concerns, contact the writer via Twitter @LouisPannone.