They say that a two-goal lead is the worst lead in hockey, but, after two wild games against the Arizona Coyotes last week, the Anaheim Ducks might beg to differ. Let's jump right into a recap of four games of action:
Coyotes' Comeback Bid Comes Up Short
After wrapping up their seven-game series against the St. Louis Blues with a 1-0 win back on Feb. 15, the Coyotes returned to game action on Feb. 18, when the Los Angeles Kings came to town for a two-game set. In Arizona's first game against a club other than St. Louis in exactly 21 days, the 'Yotes got out to a slow start, perhaps stunned by the sudden appearance of a different opponent on the ice.
Los Angeles struck for a quick one, as Dustin Brown, who is in the midst of a career renaissance, buried his eighth of the season after a defensive lapse from Arizona. Kings captain Anze Kopitar had the puck along the near boards, and the Coyotes were most decidedly puck watching, with all four skaters in the area situated to the outside of the faceoff dot. Brown recognized the opportunity and cut to the net, where Kopitar found him with a pass. Brown essentially had a breakaway on Darcy Kuemper and made no mistake, putting one into the upper corner just 4:21 in to give LA the lead.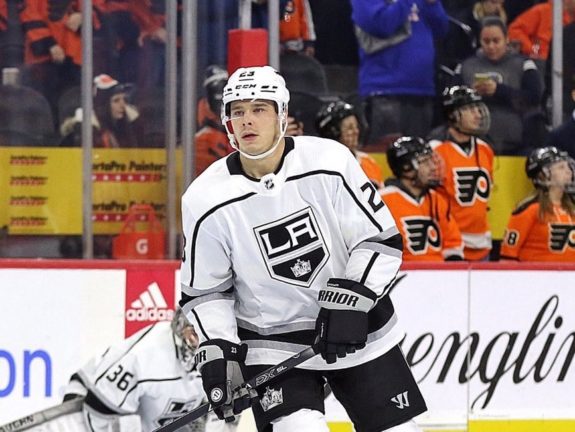 The Kings continued to control the play following Brown's goal, killing a Coyotes power-play opportunity before doubling their lead at the 11:50 mark. Veteran Jeff Carter had a glorious chance out front, but Kuemper was able to keep the puck out of the net for the moment. However, the puck rolled out from under Darcy's left skate and settled directly on the goal line. LA's Adrian Kempe attempted to guide it the remaining few inches into the net, but he could not get a stick on it. Kuemper, though, who likely had no idea the puck was directly on the goal line behind him, swiped his leg in an attempt to freeze the play and inadvertently kicked it over the line. The officials on the ice immediately waved it off, but the play was reviewed and the call was changed to a good goal, giving Carter his third of the year, and extending the Los Angeles lead to 2-0.
The Coyotes were outshot 14-8 and outscored 2-0 in the opening period, but they quickly recovered from their slow start once the second period began – exactly a minute into the action, Conor Garland ripped a wrister from the slot that deflected off of Los Angeles' Alex Iafallo and through Jonathan Quick's five-hole to cut the Kings' lead to 2-1. The play started with Nick Schmaltz, who carried the puck into the zone, and ended in a goal thanks to Schmaltz's screening of Quick.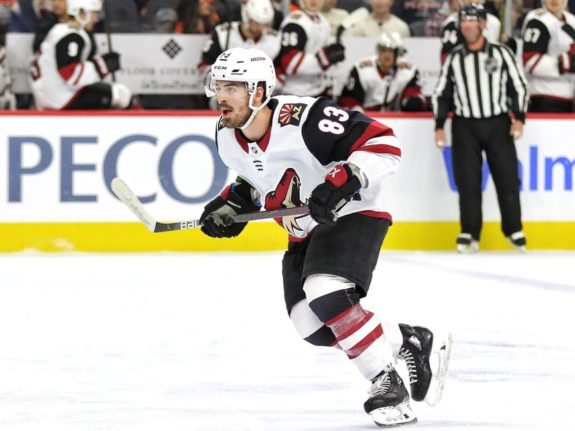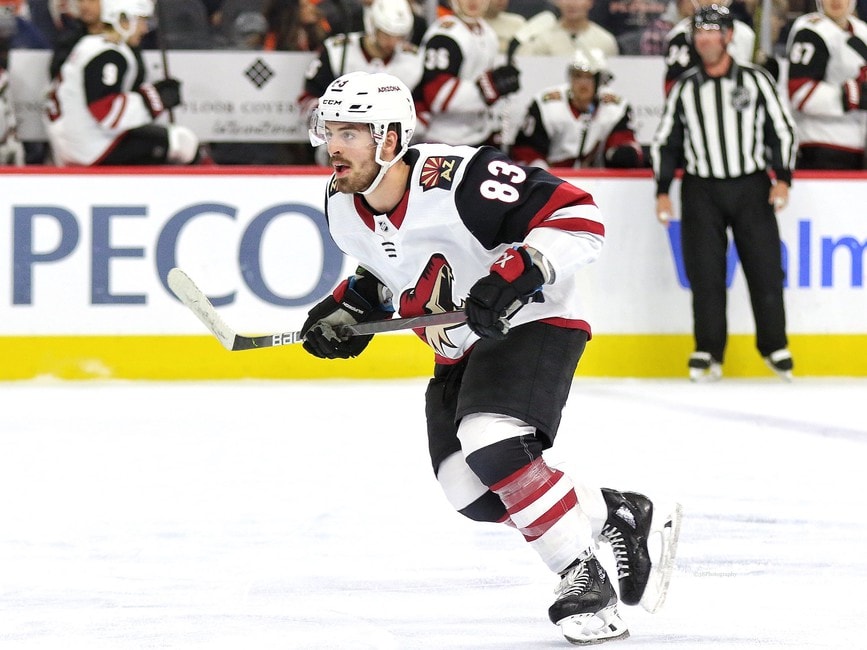 A few moments later, the Coyotes struck again for a power-play goal – Arizona kept the puck in the zone after a Carter hooking penalty expired, and they were able to cash in before he had a chance to rejoin the play. Phil Kessel threw the puck toward Tyler Pitlick at the goalmouth, but he was well-defended and was unable to get the puck past Quick. However, Kessel had gone right to the net after his pass, and was there to put home the rebound to tie the game, for his first goal in more than four weeks.
Things slowed down following Kessel's goal – after the teams combined to score four times in the game's opening 26 minutes, there would be no further scoring as Kuemper and Quick combined to stop the final 27 shots they faced to send this one to 3-on-3 overtime. During bonus hockey, both goaltenders were once again huge – Quick, in particular, came up with huge saves on Kessel and Schmaltz to keep his team alive.
In the shootout, Arizona shot first and Schmaltz made no mistake with his chance, beating Quick to the blocker side. Following saves by both goaltenders, Kopitar answered with a goal of his own in Round 2, but Christian Dvorak immediately restored Arizona's lead with a goal to start Round 3. On a do-or-die chance, Kempe went five-hole on Kuemper, and, after Clayton Keller missed at the other end to begin sudden death, Gabe Vilardi beat Kuemper to the glove side to give Los Angeles the 3-2 victory.
Kings Youngsters Burn Coyotes
Two nights later, the same two teams were once again at it in the same building.
The Coyotes, who were wearing their purple Reverse Retro sweaters for the second time, were able to avoid falling into a first-period hole in this one, but the Kings broke the ice early into Period 2. Seconds after Pitlick hit the post for Arizona, the Kings won a faceoff in the offensive zone and Carl Grundstrom drew an Oliver Ekman-Larsson hooking penalty in front of the net. On the ensuing power play, Kempe carried the puck into the zone, then dropped a pass to a wide-open Iafallo, who ripped one past Kuemper to give LA the 1-0 lead.
The King's 1-0 advantage would be short-lived, though, as the Coyotes answered with a power-play goal of their own later in the period. With Drew Doughty in the box for tripping, Ekman-Larsson fed a pass over to Derick Brassard, who absolutely blasted a one-timer that deflected off of Olli Maatta's stick and past Cal Petersen, giving us a 1-1 hockey game (as Stompin' Tom Connors says).
The Coyotes began the third period on a 5-on-3 power play after Doughty and Austin Strand were both whistled for cross-checking Conor Garland, but it would be the Kings who would cash in during Arizona's power play. After the teams were back at 5-on-4, Los Angeles took advantage of two Coyotes who lost their footing, as Trevor Moore buried a shorthanded goal as he was left uncovered in front of the net after both Garland and Jakob Chychrun fell to the ice. To compound matters, Arizona's head coach Rick Tocchet unsuccessfully challenged the play for goaltender interference, which wiped out the remaining 1:08 of the Coyotes' power play and gave Los Angeles the man advantage.
Later in the third period, Arizona earned another power play after Moore went to the box for holding, and Kessel tied the game with a shot from the left faceoff dot after a beauty of a pass from Jordan Oesterle. The 2-2 deadlock didn't last long, though, as Vilardi took advantage of some quiet ice in the slot to net his fourth of the year with 7:08 remaining. Arizona had a decent chance for the equalizer in the final seconds, but Dvorak had his stick lifted by Iafallo, who then turned and deposited the puck into the empty net 150 feet away to earn Los Angeles a series sweep in Glendale.
Coyotes Complete Comeback in Spirited Affair
Following their two losses to the Kings, the Coyotes welcomed the other Southern California team, the Anaheim Ducks, to Gila River Arena for a series beginning on Monday evening. Anaheim entered the game with a 6-9-3 record, but they absolutely dominated the opening 20 minutes in this one. In fact, one could argue that Arizona's first-period performance was one of the worst periods in club history, all things considered.
The Ducks, who averaged 1.83 goals per game through the season's five weeks, exceeded their scoring average in the first 13 minutes on Monday, as they opened up a two-goal lead before the Coyotes could respond. Jakob Silfverberg opened the scoring at 3:09 after the 'Yotes could not clear the zone despite multiple chances to do so. Turnovers by Chychrun, Alex Goligoski, and Johan Larsson allowed the Ducks to keep the puck inside the zone (even as they went for a line change), and Silfverberg beat Kuemper five-hole for his fourth of the year.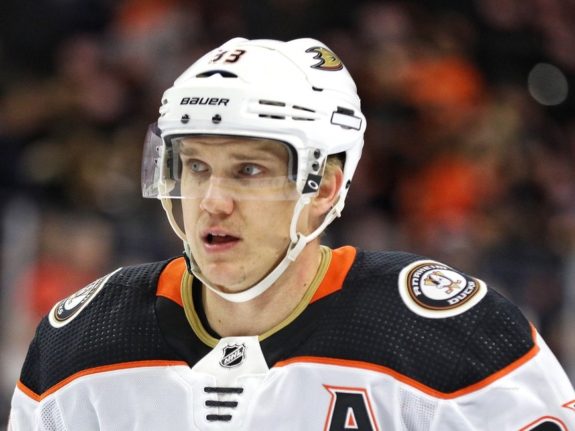 Later in the period, the Ducks added on – their power-play had been hitting at just 7.5% through their first 18 games, but they scored on their first opportunity on Monday, when Max Jones put home his second of the year during a 5-on-3 situation. Earlier in the play, Ekman-Larsson had cross-checked Jones twice, and, a few moments later, Jones outmuscled OEL to put home a loose puck. Following the goal, Jones stood up and had some words for Ekman-Larsson, which resulted in Kuemper delivering a two-punch glove and blocker combination to his face. A yard sale behind the net then ensued, and the Coyotes ended up with the extra penalty, as Jones, Ryan Getzlaf, Lawson Crouse, and Kuemper were whistled for roughing, with Kuemper's being of the double-minor variety.
This all took place with 7:33 remaining in the opening period, with the Ducks winning 2-0 and holding a 12-3 shots advantage. The Coyotes' play had been nothing short of embarrassing, and they responded with more physicality – two more fights broke out as the period elapsed, but Anaheim managed to keep their 2-0 lead through 20 minutes. It didn't stay 2-0 for long, though, as the Ducks made it a three-goal lead just 1:53 into the second period when Cam Fowler buried his second of the year only moments after a Crouse minor penalty (being served by Kessel) had expired. For all intents and purposes, this was another power-play goal, effectively giving Anaheim two goals in 22 minutes with the man advantage on Monday after posting only three such goals through their first 18 games.
Things continued to go downhill for Arizona, as they were whistled for too many men on the ice at the 7:43 mark, but a stroke of good fortune opened the door for a comeback. With his team shorthanded, Dvorak managed to get behind the Anaheim defense on a breakaway, but he was hooked by Silfverberg and was awarded a penalty shot:
Dvorak made no mistake with this chance, going forehand-backhand-roof to beat John Gibson for the goal on his first career penalty shot, and the first Coyotes penalty-shot goal since Radim Vrbata's on Dec. 27, 2016. Re-energized by these developments, the 'Yotes quickly netted another goal, once again thanks to Garland's hard work. Garland won a board battle in the corner and proceeded to center a pass to Brassard, who zipped a one-timer past Gibson to make it a one-goal game. Not done, Arizona added another one less than two minutes after Brassard's tally, as Chychrun got loose on a breakaway and beat Gibson to tie the game, for the Coyotes' third goal in a span of 3:47.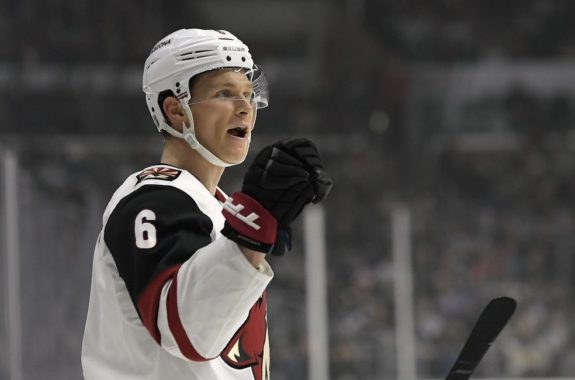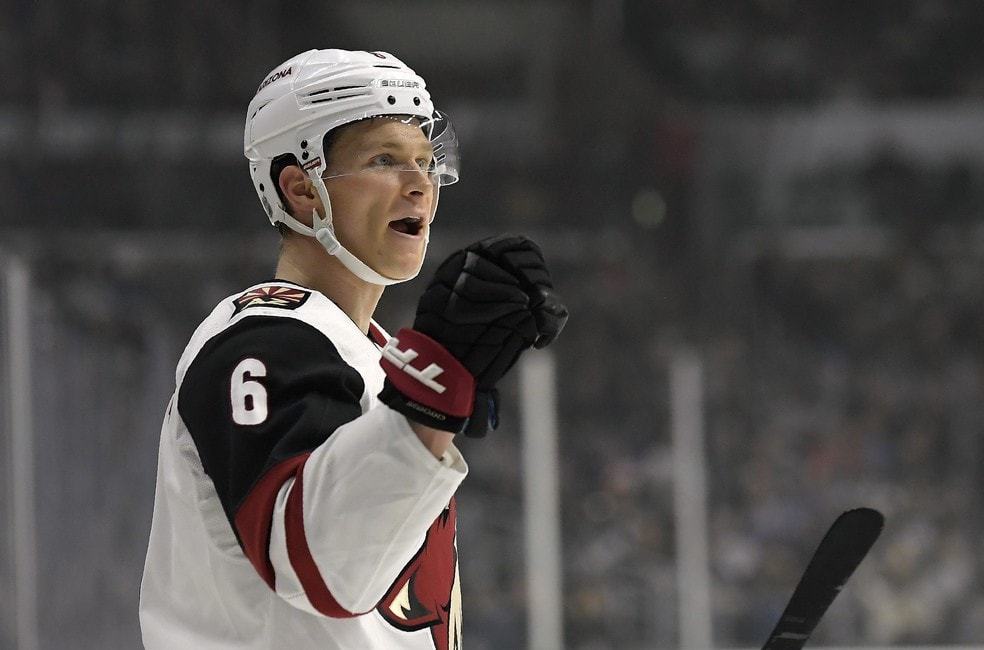 Unbelievably, the Coyotes, within a span of about 10 minutes in real time, went from looking like a team that didn't belong on an NHL ice surface to one that looked like it couldn't be stopped. Indeed, Arizona continued pouring it on in the third period, as Dvorak collected his second of the night at the 3:52 mark, when he tipped a Chychrun one-timer past Gibson to give Arizona their first lead of the game. From there, Kuemper and the Coyotes defense finished the job – Arizona, after surrendering 3 goals on 18 shots in the opening 22 minutes, allowed just 10 shots over the final 38 minutes, locking down a poor Anaheim offense en route to a miraculous come-from-behind 4-3 victory in Glendale.
Coyotes Finish Off Another Unbelievable Comeback
48 hours later, the Coyotes and Ducks were at it again at Gila River Arena, and we saw a familiar script play out on Arizona's home ice on Wednesday night.
Tocchet's group played well in the opening period of this one after Monday's poor effort, but they allowed a backbreaking goal late, as Max Comtois backhanded the rebound from a Jani Hakanpaa shot past Kuemper and into the net for his eighth of the year. Capitalizing after the late goal to close the first period, the Ducks seized the momentum in Period No. 2. At around the eight-minute mark, Josh Mahura had his shot attempt from the blue line blocked by Garland, but he was able to one-time his rebound on net, and the puck made it through traffic and past Kuemper to put Anaheim up 2-0 on the defenseman's first of the year. Later in the period, Jones struck again for his second power-play goal in as many games, as he went five-hole on Kuemper on the rebound from a Comtois shot to give the Ducks a 3-0 lead through 40 minutes of action.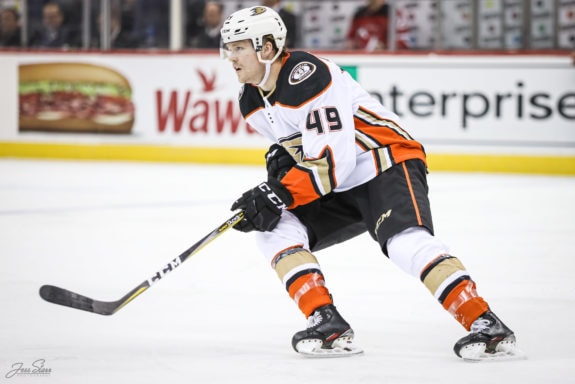 The Coyotes, as was the case on Monday, appeared to be headed for an embarrassing blowout loss to the West Division's worst team, and even saw Kuemper leave the ice with an injury early in the third period, but they pulled an Undertaker and rose from the dead once again. At exactly the 10-minute mark, Brassard cleanly won a faceoff back to Ekman-Larsson. He and Oesterle played catch before OEL wristed a puck on net, which was tipped en route by Pitlick and got past Anaheim's Ryan Miller to make the score 3-1.
Less than two minutes later, the 'Yotes struck again, as Chychrun's one-timer deflected into the net off of a Ducks defenseman (Hakanpaa) to cut the Anaheim lead to 3-2. Thoughts of "here we go again" must have been going through the Anaheim bench, and, indeed, Arizona once again tied the game with a third unanswered goal, as a wide-open Kessel buried his third goal in four games after Garland centered the puck from along the boards.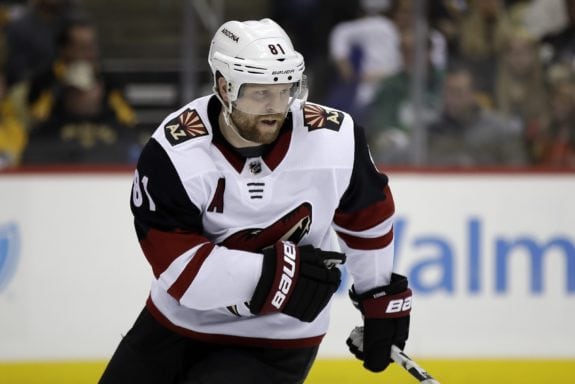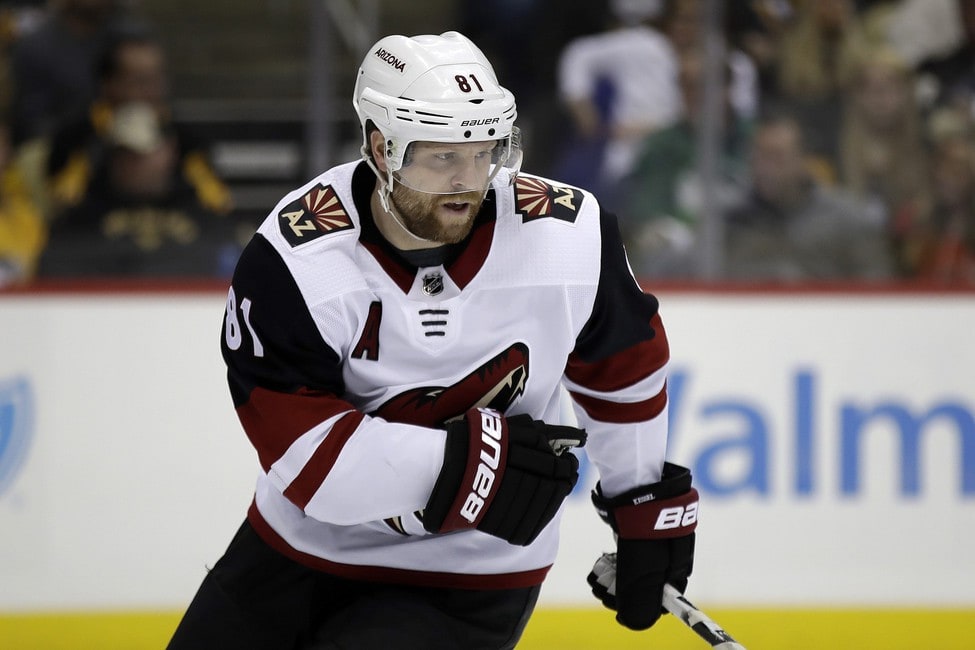 This time, the Ducks managed to hold Arizona off for the rest of regulation, as they earned a point by forcing overtime. During the 3-on-3 play, we saw an absolutely incredible save from Hill, who came into the game ice cold during the third period after a 371-day layoff from game action:
The incredible glove save on Anaheim's Isac Lundestrom kept Arizona alive, and they got it done for their goaltender in the skills contest – rookie phenom Trevor Zegras scored on his first NHL shootout attempt, but Arizona responded with goals from Garland and Dvorak before the Ducks' Rickard Rakell missed the net on his try to give the Coyotes another improbable 4-3 victory in Glendale.
What's Next?
With four games against California teams in the books, the Coyotes will wrap up their homestand with two games against the Colorado Avalanche in the first meetings between the teams this season.
You'll probably remember that the Coyotes and Avalanche met in the 2020 Stanley Cup playoffs in the Edmonton bubble, and, unless you're an Arizona resident who was drinking heavily while the games unfolded (which we wouldn't blame you for), you'll probably remember that things didn't go well for the 'Yotes. Tocchet's group was utterly dominated en route to a five-game series defeat which featured back-to-back 7-1 losses in Games 4 and 5.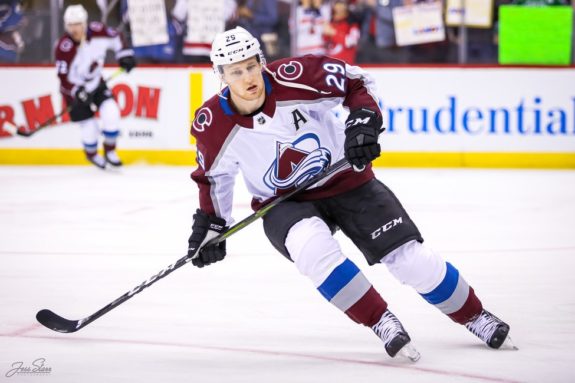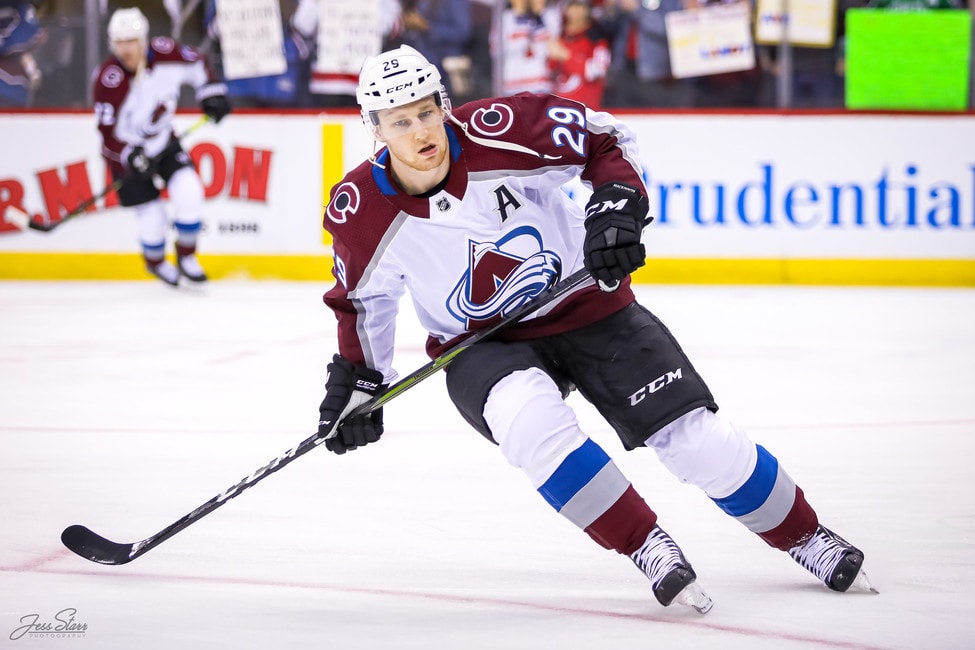 That was 190 days ago – have things changed since then? We'll find out in this weekend's back-to-back on Friday and Saturday at Gila River Arena. The Avs, as expected, are led offensively by their star trio of Nathan MacKinnon, Mikko Rantanen and Cale Makar, and they are also getting Vezina Trophy-caliber goaltending from Philipp Grubauer, who has started 14 of Colorado's 16 games this season. This is a well-rounded and dangerous team, and the Coyotes will need to avoid the slow starts we saw against the Kings and Ducks if they want to have any chance of competing on close to even footing in this two-game slate.
Once the Avs and 'Yotes wrap up their series in Glendale, Arizona will make its first trip of the season to California on Wednesday, when they'll visit the Staples Center for another matchup against the Kings. As we discussed in our game recaps from last week's two-game set at Gila River Arena, LA has exceeded expectations this season, and the usual suspects of Dustin Brown, Anze Kopitar, Drew Doughty, and Jonathan Quick have been the key pieces for the team. Entering play on Friday, the Kings were winners of six straight, which put them all the way up to third in the division.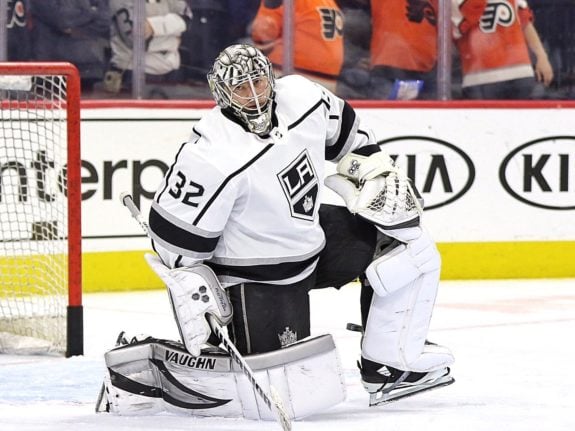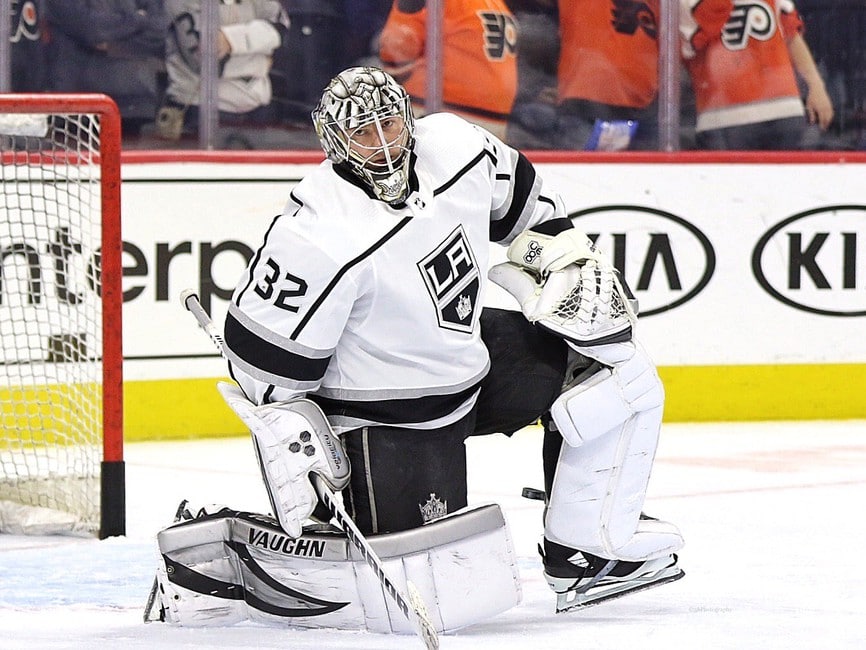 The Kings have benefitted from some insane luck in the goaltending department during their winning streak, with a 5-on-5 save percentage of .976 over the last two weeks. They surely will regress to the NHL average of around .920 at some point – will it happen against Arizona?
Here's a look at this week's schedule and start times:
Friday, Feb. 26 vs Avalanche, 7:00 P.M. local time
Saturday, Feb. 27 vs Avalanche, 7:00 P.M. local time
Wednesday, March 3 at Kings, 7:00 P.M. local time/8:00 P.M. Arizona time
West Division Roundup
We had quite a bit of movement last week in the West Division, with the Avalanche dropping out of a playoff position and the Kings playing their way into the top-four – here's a look at how Arizona's division rivals fared:
Anaheim Ducks (6-10-4, 16 pts, last place)
Last week: 0-3-1 (3-1 L vs MIN, 5-1 L vs MIN, 4-3 L at AZ, 4-3 SOL at AZ)
Analysis: Last week probably could have gone better for the Ducks. In their first two games of the week, they scored just two goals combined en route to back-to-back multi-goal losses to the Wild at the Honda Center. It looked like they'd fare better in Arizona's Gila River Arena, as they opened up 3-0 leads in both games against the Coyotes, but they somehow blew huge leads in both games and ended up with only a single point for their trouble. This team is now 1-5-1 in its last seven games – how much longer will Dallas Eakins last behind the bench?
Player of the week: Cam Fowler – Goal, 3 assists, 6 SOG
This week: Sat vs VGK, Mon vs STL, Wed vs STL
Colorado Avalanche (9-6-1, 19 pts, 6th place)
Last week: 1-2-0 (3-2 W vs VGK at Lake Tahoe, 3-0 L vs VGK, 6-2 L vs MIN)
Analysis: The Avalanche, after a 7-3-1 start, have stumbled to a 2-3-0 record in five games since returning from a lengthy COVID-19 pause. There's a lot of talent on this roster, but the offense has dried up in recent weeks, resulting in Colorado falling to 20th in the league with 2.88 goals per game. Playing four straight against part goalie, part brick wall Marc-Andre Fleury didn't help matters in that department, but the Avs didn't play any better against the Wild, either, with a 6-2 loss on home ice to close out the week.
Player of the week: Devon Toews – Goal, 2 assists, +1, 9 SOG
This week: Fri at AZ, Sat at AZ, Mon at SJ, Wed at SJ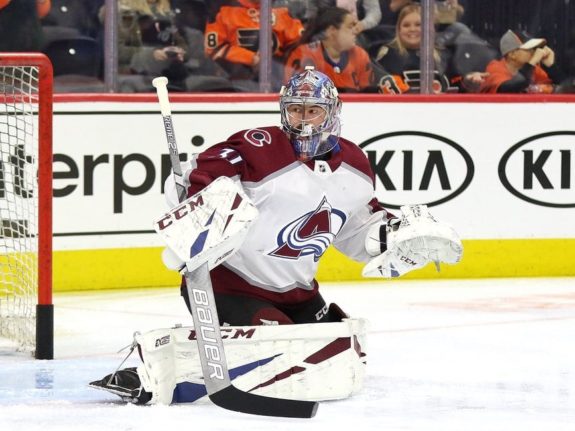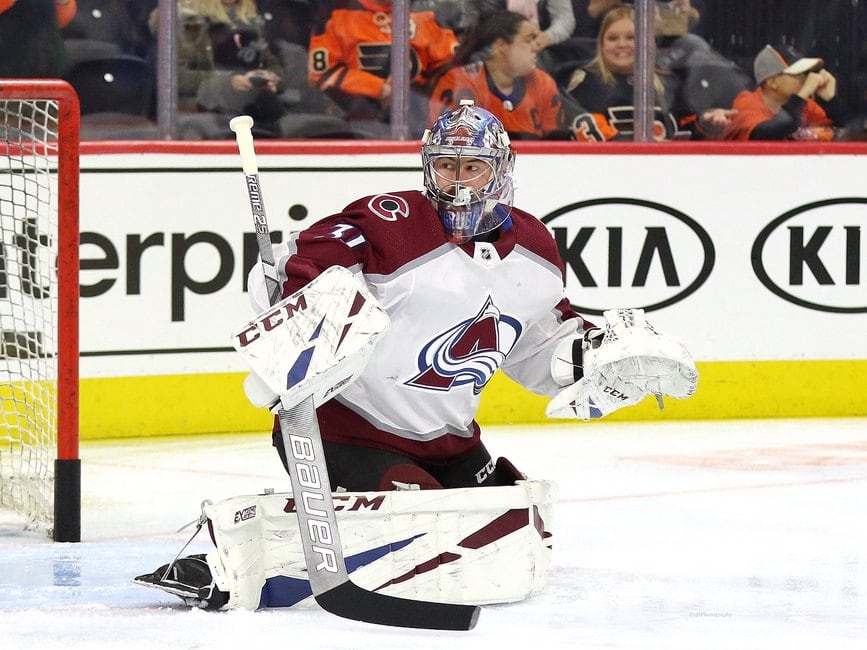 Los Angeles Kings (9-6-3, 21 pts, 3rd place)
Last week: 4-0-0 (3-2 SOW at AZ, 4-2 W at AZ, 3-0 W at STL, 2-1 W at STL)
Analysis: The Kings have allowed two or fewer goals in each of their last six games, and, unsurprisingly, they've won all six of them. They might be the hottest team in the league right now, but how long can this goaltending-led hot streak last?
Player of the week: Jonathan Quick – 2-0-0 record, 51 saves on 53 shots (.962 SV%, 0.96 GAA), 1 shutout
This week: Fri at MIN, Sat at MIN, Wed vs AZ
Minnesota Wild (10-6-0, 20 pts, 5th place)
Last week: 4-0-0 (3-1 W at ANA, 5-1 W at ANA, 6-2 W at SJ, 6-2 W at COL)
Analysis: Last week, we wrote that the Wild needed to turn things around quickly, as they had just suffered a 4-0 loss at the hands of the Kings in their first game in two weeks, and were mired in a 2-5-0 stretch. Asked and answered – Minnesota has now won four straight, outscoring the opposition 20-6 in doing so. Next, they'll play a back-to-back against Los Angeles starting on Friday in a battle between arguably the two hottest teams in the NHL.
Player of the week: Mats Zuccarello – 3 goals, 6 assists, +5
This week: Fri vs LA, Sat vs LA, Mon at VGK, Wed at VGK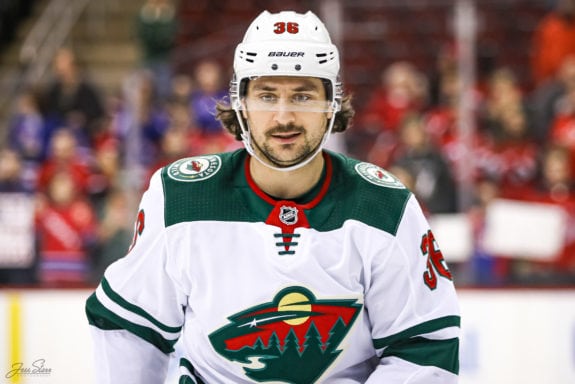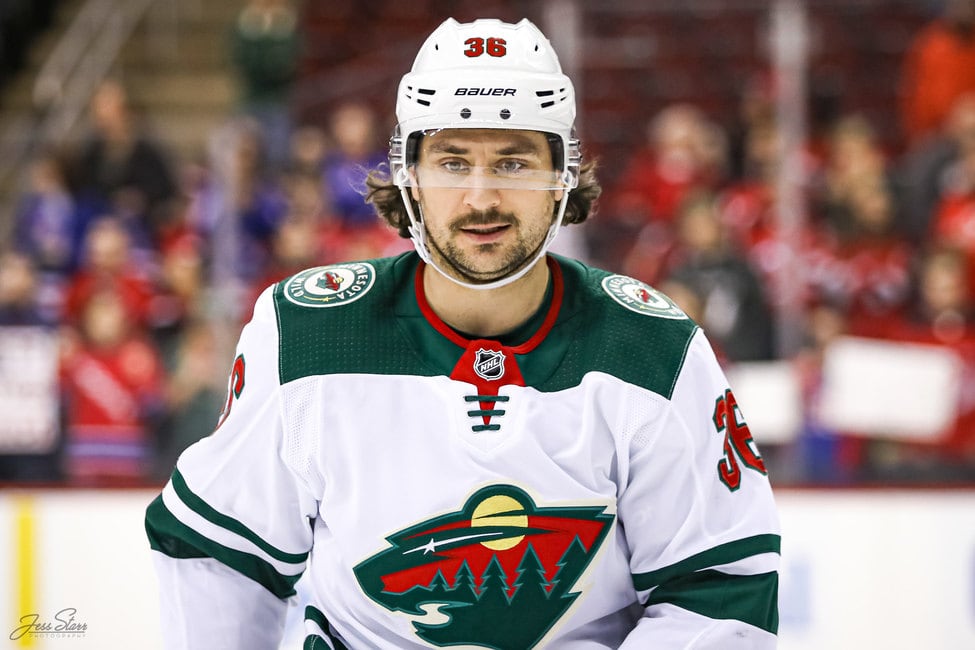 San Jose Sharks (7-8-2, 16 pts, 7th place)
Last week: 1-1-1 (3-2 OTL at STL, 5-4 W at STL, 6-2 L vs MIN)
Analysis: It was another up-and-down week for the Sharks – the offense generated a respectable total of eight goals, but the goaltending and defense once again held the team back, as neither Martin Jones nor Devan Dubnyk managed to save more than 90% of the shots they faced in last week's three-game slate. The only team allowing more goals than San Jose right now is the Ottawa Senators, who have been actively trying to lose games for a while now.
Player of the week: Logan Couture – 3 goals, +2, 8 SOG
This week: Sat vs STL, Mon vs COL, Wed vs COL
St. Louis Blues (10-8-2, 22 pts, 2nd place)
Last week: 1-3-0 (3-2 OTW vs SJ, 5-4 L vs SJ, 3-0 L vs LA, 2-1 L vs LA)
Analysis: The Blues raced out to a 7-2-1 start this season, but they've won just three times since, and only once in regulation. In the last 10 games, their PDO (shooting percentage plus save percentage) is 95.1 – 30th in the league. Since the NHL average tends to be around 100.0, this means St. Louis has been a bit unlucky as of late. Every team in the division has games in hand on the Blues, so they'll need to turn it around quickly.
Player of the week: Mike Hoffman – Goal, 3 assists, +4, 12 SOG
This week: Sat at SJ, Mon at ANA, Wed at ANA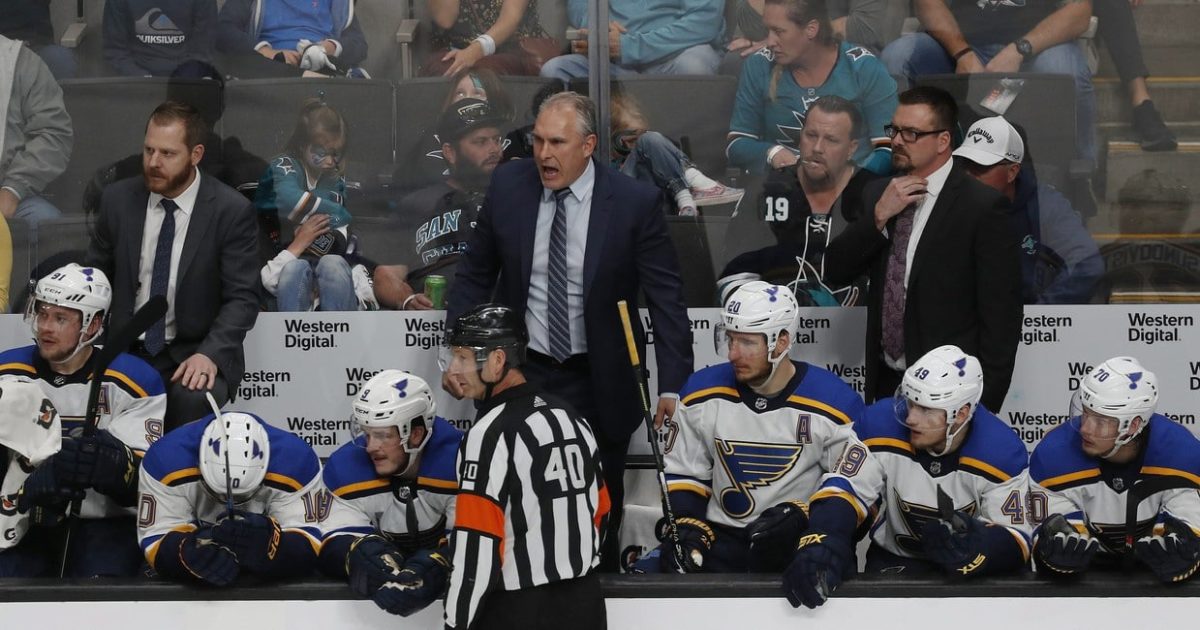 Vegas Golden Knights (11-4-1, 23 pts, 1st place)
Last week: 1-1-0 (3-2 L vs COL at Lake Tahoe, 3-0 W at COL)
Analysis: The Golden Knights wrapped up a four-game set against the Avalanche with a 2-2-0 record, thanks to two Marc-Andre Fleury shutouts. In a potential playoff preview, these two teams proved to be evenly matched – even the Lake Tahoe game and its hours-long delay was a competitive affair. Speaking of Fleury, is the 36-year-old the frontrunner for the Vezina Trophy right now?
Player of the week: Marc-Andre Fleury – 1-1-0 record, 70 saves on 73 shots (.959 SV%, 1.52 GAA), 1 shutout
This week: Sat at ANA, Mon vs MIN, Wed vs MIN
---
---
A lifelong Phoenix resident, Louis has been following hockey since 2010, has covered the Arizona Coyotes since 2015, and has been playing hockey since 2020. So far, Louis has visited eight NHL cities, and one of his personal goals is to eventually make it to all 31 NHL arenas. For any questions or concerns, contact the writer via Twitter @LouisPannone.