When Anaheim Ducks general manager Bob Murray executed last year's deadline trade that sent Nick Ritchie to the Boston Bruins for Danton Heinen, many people weren't surprised. Ritchie hadn't lived up to expectations after the Ducks picked him No. 10 overall in 2014 after he scored 14 goals in only his second NHL season. After arriving in Boston late last season, Ritchie struggled, but he's been on fire so far this season. For Ducks fans, it probably stings, but it shouldn't. Ritchie's success in Boston has everything to do with their power play and the Ducks' lack of one. Watching Ritchie succeed with the Bruins highlights precisely what is wrong in Anaheim and how they can fix the problem.
Ritchie's Power Play
Ritchie is listed at 6-foot-2, 234 pounds. He's a big boy that is strong enough to impose his will in front of the net. He did it in Anaheim, and he's been doing it in Boston — especially on the power play. But Ritchie's most important ability, to park himself in front of opposing goalies and shovel pucks in the net from point-blank range, didn't improve — his teammates did.
It shouldn't be a surprise that out of the nine points that Ritchie has already tallied through 10 games in Boston, seven have come on the power play. All four of his goals came with the man advantage.
Three of his four power play goals are almost identical.
You don't believe me? Here's another one.
His fourth goal of the season, the only one that isn't identical to his first three, came on a deflection he made while sitting almost on top of Washington Capitals goalie Vitek Vanecek.
What does this mean?
Like many others, I was critical of Ritchie's play in Anaheim, and he did a lot to deserve that criticism. Still, his recent success shines more light on the Ducks' deficiencies than it does Ritchie's ability.
It seems obvious but playing on a team that can generate chances directly in front of the net, especially on the power play, helps a player who excels in that area of the ice. Teams do that by utilizing their most skilled players on the power play and putting them in the areas they excel at. They just don't have the personnel to do that.
Ducks Power Play Not Generating Quality Chances
The Ducks' power play is brutal this season, and the reason for their lack of success isn't a mystery. They aren't generating opportunities in front of opposing goaltenders, nor are they putting bodies in the goalie's vision.
Fox Sports West color commentator Brian Hayward says it regularly during Ducks' power plays. They rely too much on shots from the perimeter and regularly fail to generate rebound opportunities right in front of the net.
Without Ducks players wreaking havoc in front of the net on power plays, opposing goaltenders can see shots from the perimeter of the offensive zone, no matter how hard they are or how deceptively they are released. Those shots do not regularly go in the net or generate rebounds that are most likely to result in goals.
By the Numbers 
The Ducks rank No. 23 in the league in "scoring chances for" (SCF) on the power play with 35. The fact that they aren't in the bottom five is surprising considering how weak their power play has been and the few opportunities they've received.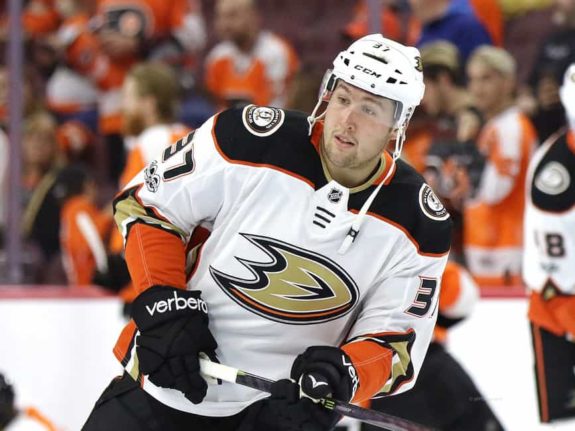 However, of those 35 scoring chances that have come on the power play, only nine qualify as "high-danger chances for" (HDCF). HDCF are scoring opportunities that occur right in front of the goal and frequently happen off rebound opportunities.
That means just over 25% of the Ducks' scoring chances on the power play are high-danger chances. That is second-worst in the league, better than only the St. Louis Blues, whose percentage of scoring chances that are HDCF is 22%, which is a shock.
Part of the problem lies in the meager amount of power play opportunities the Ducks (and Blues) have gotten this season. Anaheim has only had 24 power plays this season, the third-fewest in the league. That minuscule power play time will result in fewer scoring opportunities on the man advantage, but that isn't an excuse.
Competitors Show the Way
The Bruins are the perfect example. Nearly 50% of their power play scoring chances are high-danger chances, and they have the league's No. 7 ranked power play.
The Washington Capitals have had two fewer power play opportunities and have seven fewer scoring chances with the man advantage than the Ducks, at 28. But nine of those were high-danger chances, making up nearly one-third of their total. Consequently, the Capitals have nine power play goals and rank second in the league with a power play success rate of 40.9%.
There are other very competitive teams like the Tampa Bay Lightning and Vegas Golden Knights who have had few power play opportunities but a high ratio of high danger chances that make up their total scoring chances with the man advantage.
The fact that teams like the Bruins, Capitals and Lightning generate more chances in front of the net on the power play is evident. They have better players. Between Nicklas Backstrom, Alex Ovechkin, Evgeny Kuznetsov and T.J. Oshie, teams faced with killing penalties against the Capitals have to pick their poison. The same goes for the Lightning and Bruins.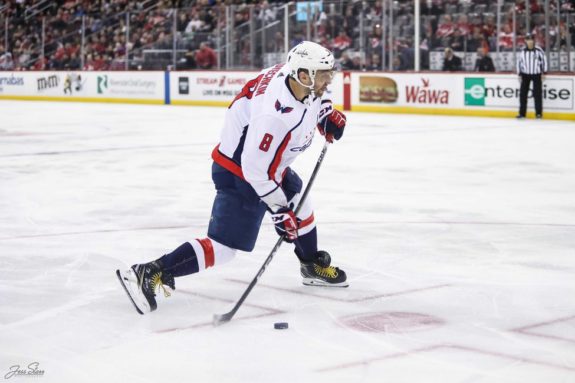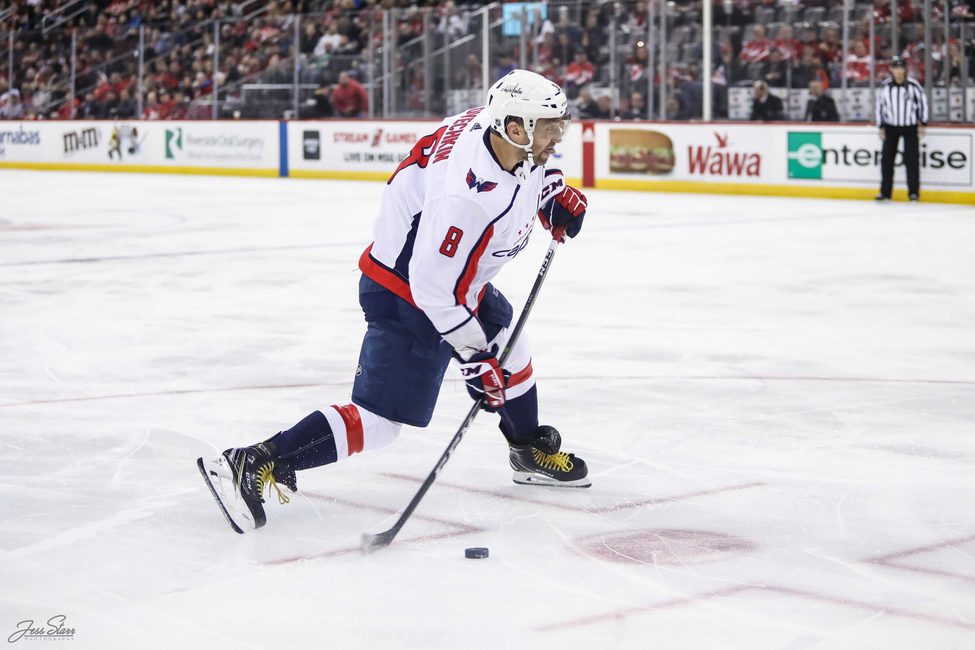 Ritchie has had success because teams focus on his opponents more. He's been on the Bruins' first power play unit with Brad Marchand, Patrice Bergeron, David Pastrnak and Charlie McAvoy. And it's no wonder he's all alone in front of opponents' goals all the time. His four opponents have to defend three of the league's best players and a franchise defenseman.
West Division Wake Up Call
Even the Los Angeles Kings, who are in the same competitive ballpark as the Ducks, have a higher percentage of HDCF that make up their scoring chances, nearly 38%, and have the No. 16 ranked power play in the league.
The Kings have a shooter in Jeff Carter and two skilled passers in Drew Doughty and Anze Kopitar. They now have another power play sniper, Arthur Kaliyev, who scored his first career goal against the Ducks Tuesday.
Those players have skillsets that make them dual threats on the ice. That opens up mismatches and holes that allow for more chances in front of opponents' goals.
That is something the Ducks don't have yet and haven't had for a while with the buyout of Corey Perry and the decline of Ryan Getzlaf. During Ritchie's final years with the Ducks, opponents could focus their attention on shutting down Getzlaf and Lindholm, which limited the rebound opportunities that Ritchie could capitalize on and clean passes he could shovel tap home.
That should change soon for whoever occupies Ritchie's former office in front of the net.
How To Fix the Power Play
The Ducks have struggled with power play success for multiple seasons under two different coaches. They aren't going to be able to tweak a play or add a wrinkle into their power play to make a drastic difference. They need to add a skilled player or two that their opponents must focus their attention on, generating better opportunities for the rest of the power play unit.
The Ducks did add Kevin Shattenkirk, but he's just one man who still can't improve the Ducks' power play drastically without a player who is a threat to put the puck in the net.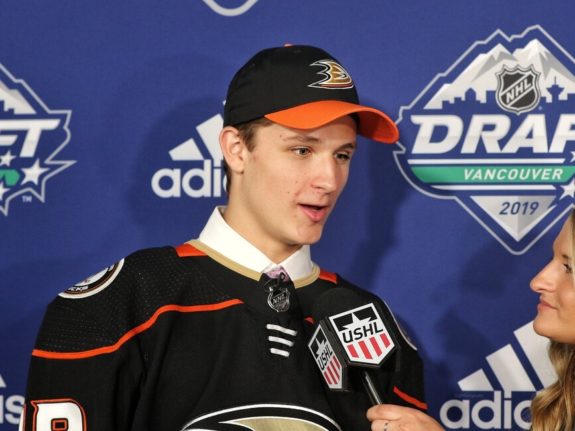 The Ducks have the potential to improve their power play immensely if they give Zegras a chance.
Zegras' Tool Kit Will Open Up Chances
The Ducks' situation can't get any worse. Calling the young center up to the NHL to help the power play would be the perfect chance to get him NHL experience in a more controlled environment than 5-on-5 hockey. Zegras brings elite passing ability and a vicious shot. A dual-threat like that alone will help open up options for his teammates on the power play. It gives another angle teams have to defend.
Not only that, if Zegras gets an opportunity, at 5-on-5 five for the Ducks, his speed, passing ability and elusive stick handling skills could help pull opponents out of position and draw more power plays.
Ritchie's success in Boston highlights the most significant deficiency for the Ducks' power play. They can't generate enough high-quality scoring chances directly in front of opponents' goals because they don't have the players to do it. In Anaheim, Ritchie's net-front ability was wasted because so few chances came his way. The Ducks already made one change to address that issue by signing Shattenkirk, but they have an opportunity to truly improve by promoting Zegras to the NHL and putting him on their power play as soon as possible.
All stats from naturalstattrick.com and hockey-reference.com
---
---
Anthony Ciardelli grew up in Vermont and New Hampshire but now lives in Los Angeles. Though he was raised a Bruins fan, he quickly came to enjoy the hockey culture in Southern California and the rivalry between the Kings and Ducks. He covered USC Athletics while pursuing his journalism masters there. He also enjoys doing play-by-play for USC Trojan Hockey.