It's 2 weeks into the NHL season and the Toronto Maple Leafs have carved out a 3-0-1 record. While the team wasn't what one would call 'dominant' from puck drop to final buzzer, it's a decent start. But with a week in between games 2 and 3, and the usual fierce appetite for all things Maple Leaf, it seems the roster depth assembled by Brian Burke (discussed here) has got some minds speculating as to what might happen with this roster. It's not that 3 wins in unsatisfactory. Rather, people have to wonder how Ron Wilson is going to maintain success while juggling the roster.
The week off allowed Cody Franson's comments to the media become a big story. Burke traded for the big young defender who'd played regularly for Nashville, but spent the first 2 games in the press box as the 7th defenceman. Franson's frustration became the focus of attention, and while the wisdom of the player's speaking out might be questioned, it illustrates that early on, carrying 7 defenders who all expect to play regularly could pose a problem.
Consider that Dion Phaneuf, John-Michael Liles, Mike Komisarek, Luke Schenn, and Carl Gunnarsson are a pretty good top-5. That leaves Franson and rookie Jake Gardiner battling for that final 6th spot. This could make for a potentially sticky situation. It's not likely Franson was brought to Toronto to sit in the press box. His game needs work, yes, but he was, after all, a regular on a Nashville team that qualified for the playoffs. He brings size to the blue line, something consistent with Burke's philosophy in Toronto with defenders. But does it sense to sit young Jake Gardiner? The college grad was impressive in preseason, and has been praised for his offensive vision and puck moving skills. But in Toronto's first 2 games he averaged about 13 minutes, and he hasn't played since October 8. Gardiner's development might be better served being with the Marlies, seeing more ice time as he adjusts to the professional game.
It's early in the season. Injuries are always possible, and depth comes in handy. The schedule changes dramatically, from 3 games in 10 nights to 8 games in 14 nights, so perhaps worrying about finding time for 7 defenders is unfounded. There's a number of things to consider here. Somewhat mysteriously, Schenn's ice time has been dropping and he looks slow. A number of sources, including the Ottawa Sun's Bruce Garrioch, opine that Toronto management would like to see Keith Aulie back with the NHL club the Leafs, and that Gunnarsson's name has been mentioned in a potential deal. Still, those are rumors, and until something happens, it will be a delicate situation.
Delicate also is the story with the forwards, though for different reasons. In 3 of 4 games so far, Colton Orr and Jay Rosehill have been the scratches. So far Toronto has played Montreal, Ottawa, Calgary and Colorado… not especially pugilistic opponents. There will be 'tougher' teams who will have enforcers, but it's fair to wonder how many roster spots can be held for tough guys. Orr and Rosehill have value, but remember Mike Brown will also scrap when necessary, and he brings a more well-rounded skill set to the 4th line.
This question will be more sharply focused when 2 skill players are ready to re-enter the lineup. Nazem Kadri and Tim Connolly will both look to claim spots once they are cleared to play. Kadri is closer to returning, and had been in a competition with Matt Frattin for a spot. But Frattin has played quite well, and it will be a difficult decision to send him to the AHL. In the case of Connolly, his spot centering the top line has been filled by Tyler Bozak, and with Bozak, both Phil Kessel and Joffrey Lupul have begun the season hot. While Connolly seems to be a few weeks away still, it's going to be a difficult move to break up a top line performing well to insert a Connolly, a player new to the team who has no history with Kessel and Lupul. The Leafs are deep at center, with Matthew Lombardi unexpectedly playing, and David Steckel recently acquired. It will be a challenge to find proper linemates for everyone once Connolly returns.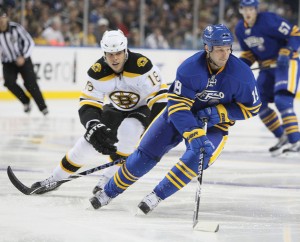 Early as it may be, how long before a prospect like Joe Colborne deserves a call up? The big centre already has 7 points in 4 Marlie games, as does Joey Crabb, helping the AHL team to a quick 3-1-0 start. Success is desired for the Marlies also, but it will be hard to deny giving a player like Colborne a chance with the Leafs if that kind of play continues.
So what can be done about juggling this crowded roster? Packaging a number of bodies in return for a star-type player is an option, but those deals don't just happen, particularly at a time when every team is still getting a handle on what they actually have. Further, Brian Burke is not interested in simply dumping bodies, he wants to improve his team, and won't be pushed into a trade he doesn't like.
With a number of busy weeks upcoming (Leafs play 10 games over 18 days), no question there will be rotation into the lineup. There are things that need work on the team. The powerplay is struggling mightily, and the insertion of a Kadri or Connolly into the lineup may well help that issue. The defensive zone coverage has at times had weaknesses exposed, so improvement is required there also. And, winning 3 of 4 games to start a season does not mean there should never be adjustment. When changes do get made, as when players return from injury, Leaf management and fans have to hope that doesn't upset the apple cart by too much.