The Dallas Stars will enter the 2015-16 season with high expectations. They had the Western Conference's best offense last season, and general manager Jim Nill was able to add Patrick Sharp to that lethal attack. The Stars have made the playoffs just once in the past seven seasons but this youthful group is on the rise. Tyler Seguin and Jamie Benn may be the league's best duo and John Klingberg is an emerging young defensemen who looks like he could be the next Erik Karlsson. Val Nichushkin, a promising young Russian, will be re-joining a stacked offense after missing most of last season recovering from hip surgery. Speaking of hip surgery, Ales Hemsky had a similar procedure done in the offseason to correct a problem he was dealing with throughout most of last season. His first season in Dallas was a disappointing one and he will look to produce more with a ton of weapons by his side.
Dallas, despite being one of the best teams in the league after the calendar turned to January, finished seven points out of a playoff spot in the challenging West. They stuttered out of the gate last October and had goaltending woes throughout the season. Kari Lehtonen and the collective group of backups were never able to get a lengthy run of solid play going and the Stars were not able to recover from that. The Stars will attempt to get off to a fast start by limiting the goals against and just keep on scoring. They will be looking to exceed their growing expectations and make a deep run this season.
2014-2015 Record: 41-31-10 (6th in the Central Division)
KEY ADDITIONS:
Patrick Sharp
Johnny Oduya
Antti Niemi
Stephen Johns
KEY LOSSES:
Trevor Daley
Ryan Garbutt
Shawn Horcoff
FORWARDS:
Projected lines:
Jamie Benn – Tyler Seguin – Patrick Sharp
Valeri Nichushkin – Jason Spezza – Ales Hemsky
Antoine Roussel – Cody Eakin – Patrick Eaves
Curtis McKenzie – Vernon Fiddler – Colton Sceviour
Jamie Benn
Let's start by highlighting the reigning NHL scoring champion. With four points in his final game of the season, Jamie Benn robbed John Tavares of the Art Ross trophy and put a bright spot on a disappointing Stars season. Benn is one of the few players in the league who can dominate you physically or with a high degree of skill. After Alex Ovechkin, Benn is easily the best left-wing in the NHL. While Benn's rise to becoming the NHL scoring champion was surprising, he won't be taking anyone by surprise anymore. Along with Tyler Seguin, Benn is growing rapidly in terms of popularity both on the ice and off of it. If Benn is going to put up another 80+ point season, he will have to earn it this year as nobody is taking the young Star lightly anymore.
Tyler Seguin
The Art Ross that ended up in Benn's hands was on its way to being in Seguin's before a low-hit derailed those chances. Seguin was the leading scorer in the NHL when Dmitry Kulikov low-bridged Seguin in the middle of the ice. If that doesn't happen, Seguin and Benn may have finished #1 and #2 in total NHL scoring. Seguin will certainly be an Art Ross contender in this upcoming season as he continues to grow as a player. Something that went largely unnoticed last season was Seguin's vastly improved performance in the face-off circle. He went from 41.51% in 2013-14 to 53.82% in 2014-15. Only Jason Spezza had a better face-off percentage than Seguin last season. As Seguin continues to mature, those little parts in his game will get better and better.
Jason Spezza
Although not at his usual point-per-game pace, Jason Spezza was an excellent contributor in his first year in Dallas. Normally an offensive powerhouse, Spezza was challenged by head coach Lindy Ruff to improve on other aspects of the game and it showed as the season went on. Spezza is dominant in the face-off circle and was actually deployed by Ruff in the defensive zone late in games quite often. He noticeably improved on his defensive game as the season went on and still showed that incredible passing ability throughout the year. Spezza should have an even-better second year in Dallas.
Patrick Sharp
As one of the big additions to the Stars this offseason, Patrick Sharp will have a lot of pressure on him to succeed in Victory Green. His excellent two-way play will be an important added element to either of the top-two lines. Ruff has hinted he will start on a line with Seguin and Benn which may form the league's best trio. Sharp's Stanley Cup experience may come in handy as the youthful Stars are looking to make a deep run in 2015-16.
DEFENSE:
Projected Pairings:
Alex Goligoski – John Klingberg
Johnny Oduya – Jason Demers
Patrik Nemeth – Jordie Benn
Alex Goligoski
Alex Goligoski is quite the interesting player. He was set unrealistic expectations by fans in Dallas after they gave up James Neal and Matt Niskanen to acquire him. He has been healthy scratched more than once in his time in Dallas, but those days appear to be long over. Just how good was Goligoski last season? Well, of defensemen who played at least 1000 minutes at even strength, Goligoski ranked third in scoring-chances-for-% and 16th in Fenwick-for-%. Only 15 defensemen in the NHL played more minutes than Goligoski did this past season. He is starting to become more and more appreciated in the state of Texas and the rest of the NHL will be watching this year as Goligoski is entering the final year of his contract.
John Klingberg
Speaking of contracts, John Klingberg played an excellent rookie season and was promptly rewarded with a 7-year deal with the Stars shortly after the season concluded. Although Aaron Ekblad took home the Calder, Klingberg had a good argument for being the best rookie defensemen in the NHL last season. He managed 40 points in just 65 games and scored his first goal in incredible fashion. Now comes the always difficult sophomore season. Klingberg will have to prove that last season wasn't a flash in the pan and continue to improve in the defensive-end of the ice. He is an excellent skater and has shown some incredible vision for such a young player. Everyone in Dallas is anxiously awaiting what the young-Swede has in store for the 2015-16 season.
Johnny Oduya
Another ex-Blackhawk arrives in Dallas with a wealth of Stanley Cup experience to add to the youthful roster. What the Stars need is consistency on the blue-line and Oduya should be able to provide it. He doesn't give the puck away too often and isn't caught out of position a lot either. The Stars don't need any more flashy offensive defensemen, they need Oduya to just come in and play solid defensive hockey. It will be interesting to see how well Oduya performs without Nicklas Hjalmarrson by his side.
Jason Demers
Acquired last November for Brenden Dillon, Jason Demers became an instant fan-favorite by obliterating Jarret Stoll with a hip check in his first game as a Star. Much like Oduya, Demers isn't going to do anything incredibly flashy when it comes to his offensive game. He has a solid slap-shot and a good offensive presence, but his game is being smart and steady with the puck and he does it well. He was actually the Stars leader for even strength corsi-for-% by the end of the season. After adding Demers, the Stars were noticeably better with exits out of their own zone. Demers will look to build off that solid season in 2015-16.
GOALTENDING:
Kari Lehtonen and newcomer Antti Niemi are the highest paid goalie duo in the NHL and the Stars are expecting them to perform as such. Last season, Lehtonen had his worst as a Star and Niemi wasn't as sharp as he has been in years past. Dallas is hoping that by working each of them a little less, they will perform better and form a deadly tandem. Unless one of them really stands out (in a good way or a bad way), the Stars will likely take the 1A-1B approach instead of calling one a starter and one a backup. They both are going to have to play well as Dallas cannot afford to waste another year of a potentially devastating offense.
BREAKOUT PLAYER: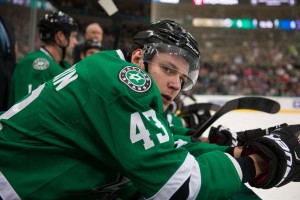 Val Nichushkin
The Stars had the West's best offense last year. They have Jamie Benn, Tyler Seguin and Jason Spezza. They added Patrick Sharp. However, the one to watch will be Val Nichushkin, the big, young Russian who missed almost the entirety of his sophomore season after a promising rookie campaign. Most are expecting Nichushkin to play in a top-6 role and if he does, he could absolutely explode this year. With so many offensive threats to worry about, Nichushkin will be under the radar and could take advantage of that fact. He has grown up a lot since his rookie season and will be healthy for the first time in a long time. Don't be surprised if Nichushkin puts up 55 points this season.
PLAYER WITH MOST TO PROVE:
Kari Lehtonen
I touched on it a little above, but Lehtonen is coming off one of his career-worst performances. Aside from a few solid stretches, Lehtonen struggled to see the puck all year-long. His vision wasn't great, his rebound control was suspect and his decision-making was poor. The Stars have insisted they aren't looking to trade Lehtonen but that could quickly change if he gets off to a poor start in 2015. Fellow Finn Antti Niemi will be putting pressure on Lehtonen to succeed and that might be exactly what Lehtonen needs. The Stars have thrown out years of bad backups behind Lehtonen, putting extra pressure on him to win games because nobody else was going to get it done. If Lehtonen doesn't find a way to bounce back, he may be packing his bags before the season ends.
SEASON OUTLOOK:
Buckle up folks, it looks like it is going to be a fun ride. Their offense is a threat to score five goals a night and if you are just wanting to tune in for some quality entertainment, the Stars are going to be your team to watch. I'm not going to sit here and say they will or won't make the playoffs, as the Central Division is an all-out war that is almost impossible to predict. On paper, however, the Stars have just about everything that makes up a contender. If Niemi and Lehtonen are able to play at their career averages at least, the Stars will almost certainly find themselves playing hockey in late-April.
Jordan has been covering the Stars for The Hockey Writers since February 2015. He is originally from Iowa City, Iowa. You can follow Jordan on twitter @jordan_dix