The March 5 trade deadline is quickly approaching and the Dallas Stars are in a very familiar position. For yet another season, they find themselves just outside the playoff bubble having to decide whether they will be buyers or sellers.
As of February 6, the Stars sit one point out of the eighth and final playoff spot in the Western Conference. Only three points separate five teams fighting for the eighth seed. Dallas' season has been filled with ups and downs. They followed a 6-0-2 run in November with a 5-0-2 run to end 2013 only to endure a 1-8-1 slide to start the new year. They've shown the ability to play a fast, two-way game with playoff intensity and then mailed in several ugly losses, making it tough to gauge the team.
General Manager Jim Nill has shown he is not afraid of pulling the trigger on a big deal or making unexpected trades. The surprise summer blockbuster deal for Tyler Seguin helped the team in both the present and future while bringing in Shawn Horcoff was more of a short-term investment. In an interview with Mike Heika of The Dallas Morning News, Nill said, "We're in a competitive business, and our goal is to make the playoffs. It would be huge for this organization to get into the playoffs this year." He added, "But I also have to look at big picture…We need to win, but we can't win at all costs."
I believe the Stars are able to be both buyers and sellers this season, and they should approach trades as such. This is the best squad Dallas has had since the playoff drought began in 2008. However, they require at least a couple of necessary upgrades for a successful playoff push.
Approaching the Deadline as Buyers
A second line center would be a welcome addition that could help the team in all four lines. Cody Eakin has done a formidable job filling the role, but he could be even more impactful if moved to the third line. Eakin's ability to win faceoffs and shut down the opposition combined with his speed and puck-possession skills make him a dangerous third-liner. If the Stars acquired a second-line center, depth scoring would be increased and Eakin could be put in a more fitting role.
The biggest need for the Stars is the same as it has been since Sergei Zubov left in 2009: a true top-pairing defenseman. Dallas' defensive unit was questionable before the season began, and only grew more worrisome after injuries to Stephane Robidas, Trevor Daley and Aaron Rome and inconsistent play from Sergei Gonchar, Alex Goligoski and Jordie Benn. Brenden Dillon is quickly working his way toward the role, but it still developing.
They played better as the season moved along, especially over the last four games, but an upgrade is necessary for a serious playoff push. Goligoski can be more effective in a reduced role and Brenden Dillon's development would be helped by playing with a true number one defenseman or at least being more consistently paired with a dependable veteran.
Those are the two biggest needs that Nill will try to address either by the trade deadline or during the offseason. On the other hand, there are a few players the Stars can do without this season that might return some pieces for the future.
What the Stars Have to Offer as Sellers
Every team needs veterans to help with leadership, experience and developed skills, but the Stars have a few they can deal away and maintain a fight for the playoffs. Ray Whitney seems to have lost a step this season. Considering he is 41 years old, his age might finally have caught up to him. His quickness in passing and skating has deteriorated this season, but he is still able to contribute. In 50 games this season, he has produced only six goals and 21 assists compared to 29 points in 32 games last season. His contract expires at the end of this season, making him a decent rental player for any playoff team looking for an experienced playmaker who can help in puck possession and the power play.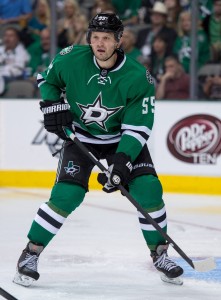 Sergei Gonchar still has a year left on his contract and his play has taken a dip this season. His speed has decreased, and he has been shooting less frequently than he has throughout his career. He tallied 27 points in 45 games last season, but only 18 points so far this season. At the age of 39, he may not have many suitors, but his experience and a possibility of a fresh start on another team could bring interest. With Kevin Connauton spending most of his time as a healthy scratch and youngsters Cameron Gaunce and Jamie Oleskiak able to jump in, Gonchar could be replaced.
One of the biggest positives Gonchar provides is his mentoring of rookie Valeri Nichushkin. They share the same birth place and language. He has been instrumental in helping Nichushkin find his bearings in a new land and league. His help on and off the ice cannot easily be replaced, but the Stars have used another local translator to help Nichushkin and he is currently living on his own.
Vernon Fiddler plays above and beyond what his production and contract indicate. He is a versatile forward who is best suited as a bottom six center who can play a critical role on the penalty kill. He spent a lot of his time this season on the fourth line, but he is more than capable of filling the role of third line center. He is not known for his production,but his strong two-way play, faceoff dominance and speedy grit lead to a lot of positives for himself and his teammates. For a young, developing team, it is good to have a player like Fiddler in the lineup. However, if moved, he can be replaced by Eakin, Horcoff or Rich Peverley at center with a rookie being called up to play wing for the big club.
The Stars have not been considered buyers of the past couple of season, but they have done well as sellers building to the future. This season, they have the best of both worlds in that they have trade pieces to offer and roles to fill with enough cap space and determination to help propel them to the playoffs. What March 5 brings remains to be seen, but the Stars are in the very capable hands of a general manager looking to build a successful team for this season and beyond.