Times are tough for the Washington Capitals as they scratch and crawl for a shot at the NHL playoffs. Most of their top players have been locked up long-term for the 2014-15 season and beyond, with a few players that could potentially be traded at the deadline or during the summer. We took a look at the Capitals' pending unrestricted free agents for this offseason, after taking a look at their RFA's in January. Retaining Mikhail Grabovski is the biggest challenge for George McPhee with his UFA's.
Mikhail Grabovski
The three million dollar contract that General Manager George McPhee gave to the former Toronto Maple Leafs forward was undoubtedly the Caps' GM best move of the offseason.  After not receiving many opportunities in the offensive zone in his final year with the Leafs last season (36.7 % offensive starts) according to Behind the Net in 2012-13 and facing tough opponents (1.457 Corsi Relative Quality of competition), the former Montreal Canadiens' fifth round pick has shined in Adam Oates' offensive system.
He's started in the offensive zone 52.9% of the time and has contributed 33 points in 49 games, with more time on the power play as well. He leads all Capitals players who have played over 200 five-on-five minutes with 1.97 points per sixty minutes, ahead of Alex Ovechkin (1.69 per 60).
There have been negotiations between the two sides and Grabovski is a must re-sign for the Capitals and McPhee. With the uncertainty of what Washington forward prospect Evgeny Kuznetsov will bring to the table if and when he joins the Capitals, locking up Grabovski for the years to come as the number two center is a priority. He'll certainly want at least four years and a contract close to six million dollars annually. With the salary cap projected to climb to around 70 million for the 201-15 regular season, a deal needs to be completed before the summer before he can test the market, hopefully before the trade deadline.
Tyson Strachan
Strachan was a strong depth signing for McPhee and is an equitable security blanket to have at the AHL level. He's been a strong mentor for Capitals defensive prospect Cameron Schilling, who could be Hershey's most improved player this season. He brings a strong defensive game, but won't provide much offensive game and lacks mobility like other Washington blue liners. He has 14 points in 35 games for Hershey, including a plus 13 on the Bears' top defensive pairing with Schilling, a Miami University of Ohio collegiate product.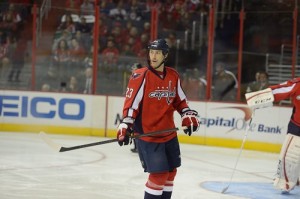 Washington should wait and see what other veteran defensemen are available in free agency before making a decision on Strachan. With fan favorite Steve Oleksy back in the AHL, there might not be much of a reason to keep the former Florida Panthers defenseman around for the 2014-15 season.
AHL Regulars
Chay Genoway: Acquired in a trade late last season, Genoway brings mobility to the Hershey defense. Although undersized, he has sustained himself in pro hockey at only five feet, nine inches. Genoway, a North Dakota University product, has ten points for Hershey in 31 games this season and finished 19th in AHL defensemen scoring with 36 points during the 2011-12 season with the Houston Aeros.
Ryan Stoa: The former Avalanche prospect has revived his career with the AHL's Hershey Bears and has been a force on their top line. His agent told The Hockey Writers that no negotiations are currently being discussed between Washington and Stoa.
Brandon Segal: A power forward, Segal is Hershey's leading scorer in the AHL and is a solid veteran presence in the locker room. Although he's a player most NHL teams wouldn't want on an NHL contract, Segal could be back with the Bears for the 2014-15 campaign on a two way contract with the Capitals.
Joel Rechlicz: An AHL enforcer that will likely return to the Washington organization, could just be on an AHLdeal however with bruisers Aaron Volpatti and Tom Wilson at the NHL level.
Matt Watkins: Like Stoa and Segal listed above, Watkins is another strong veteran to have in the locker room to aid young players. Although he's not a guy you want to give an NHL deal to, Washington gives out a lot of them. He could return to Hershey depending on Washington's roster development through the rest of the season.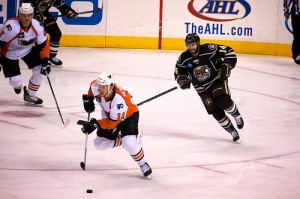 David Leggio: In his first season outside of the Buffalo Sabres organization, Leggio has competed with Washington top goalie prospect Philipp Grubauer for time in the Hershey net. He's been strong although the numbers don't completely show it. Leggio is 14-13-2 on the campaign with a 2.76 goals against average and .911 save percentage.
Julien Brouillette: This veteran blue liner recently picked up his first NHL point in his first NHL game with Washington and earned a two way contract last season after strong play in Hershey.
John Mitchell: Acquired in the Mathieu Perreault trade to Anaheim, Mitchell has earned a key role with Hershey on the penalty kill and as a bottom six forward. With the likely return of Garrett Mitchell to the Bears next season, there won't be much of a reason to give Mitchell an NHL contract. He could return to Washington's AHL affiliate on an AHL contract however.
Here's a look at Washington's restricted free agents from earlier this year on The Hockey Writers.
You can follow Matthew on twitter @m_speck and email him at mspeck21@yahoo.com with any questions or comments.