As the Washington Capitals pass the midway point of the 2013-14 NHL season, they'll begin taking a look at their impending free agents for this summer. The biggest restricted free agent for the Capitals to retain is defenseman Dmitry Orlov, represented by agent Mark Gandler, who requested a trade earlier this season. Since then, Orlov has gotten increased playing time with puck mover Mike Green and Gandler's stance might have changed. The Hockey Writers profiles all of Washington's restricted free agents for this offseason below.
Dmitry Orlov
After head coach Adam Oates and the Capitals' brass created some serious doubt in whether Orlov would even play in an NHL game this season, the Russian native has gotten a big run in the Washington lineup heading into the New Year. Although he's only posted two points in 16 games, Orlov has played well, but has made mental errors just like he did when he played for the AHL's Hershey Bears prior to his promotion to the NHL.
He leads all Capitals' defensemen that have played 11 games this season with a +7.7% Corsi Relative and a 52.3 Corsi percentage. He's started in the offensive zone about half the time (48.2%) and has yet to see sizeable power play time. It is unlikely Orlov sees time on the man advantage with Washington's often successful power play headlined by Mike Green on John Carlson on the blue line.
Although his agent Mark Gandler said his client might not re-sign, expect Orlov back with the Capitals next season. He could easily play a top four role on Washington's defense and brings mobility and speed to the Capitals roster. A multi-year contract for the Capitals second round pick from the 2009 NHL draft could be a possibility after he gets the qualifying offer which Gandler undoubtedly will not accept.
Michael Latta
Acquired in the Filip Forsberg trade which was a bad deal in my opinion to start with, Latta has carved out a role on the Capitals' fourth line. He's posted a Corsi percentage of 48.2, higher than forwards Martin Erat, Troy Brouwer and Brooks Laich, albeit against lower competition. He's earned a role on Washington's penalty kill, averaging 1:01 shorthanded minutes per contest and has the same amount of points (4) as first round pick Tom Wilson.
Latta is a key, but underrated young player for the Capitals moving forward. He'll likely return on a one year deal and will compete in training camp for a spot on Washington's fourth line. He'll battle with Jay Beagle for a spot on that line and ice time on the penalty kill.
Alexander Urbom
Claimed from the New Jersey Devils earlier this season, Urbom quickly got in the Capitals lineup due to numerous injuries on the Washington defense. He's played in 20 games for Washington this season, registering one goal and one assist. Urbom has the lowest Corsi percentage (44.2) of all Capitals' defensemen that have played 11 games and he hasn't played since November 29th.
He could very well be sent down to the AHL if unclaimed when Jack Hillen returns from injury and rejoins the Capitals active roster. Urbom is a candidate to not receive a qualifying offer if he finishes the season with Washington. The Capitals have numerous left handed defensemen that could easily fill Urbom's spot in the lineup at a greater aptitude, including Hillen, Nate Schmidt and Cameron Schilling.
Cameron Schilling
Signed out of Miami University of Ohio in March 2012, the 25 year old defenseman was regarded as a potential NHL defenseman by Capitals' management. George McPhee stated at the time of the signing that Schilling "will be a solid pro for many years." He brings a left-handed shot and is regarded as a shutdown defenseman, but has above average skating abilities.
In his first full season for the Hershey Bears last season, Schilling played in 70 games and posted seven goals and nine assists. He's recording similar numbers this season, with one goal and six assists through 32 games. He's played with veteran defenseman Tyson Strachan on the Bears' blue line, posting a plus nine, which ties him with Tyson Strachan for the team lead.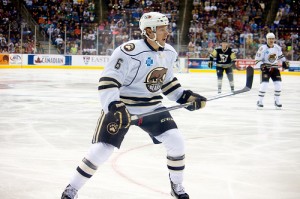 The biggest issue for Schilling this season has been his penalties. He's taken more penalties this year (67) than he did all of last season (61) in 38 less games. The majority of his PIM arise from lazy penalties, as he's taken numerous hooking and tripping penalties throughout this season.
His agent, Wade Arnott, told The Hockey Writers: "I am sure we will not begin negotiations in earnest with Washington until the offseason." There have been no talks between Schilling's camp and the Capitals to this point.
Although he's played in only one NHL game to this point, expect Schilling back in the Capitals organization next season. He's experienced enough to jump into an NHL game and not be a liability and plays a defensively focused style. Schilling will likely be offered a qualifying offer and return on a one year deal.
Nate Schmidt
The University of Minnesota product is Washington's top defensive prospect on their system and received invaluable playing time early this season. After scoring the opening goal for the Hershey Bears in their season opener against Adirondack, Schmidt quickly joined the Capitals.
He posted two goals and four assists in 28 games and the second best Corsi Relative (+3.6%) of all Washington defensemen that played in at least 11 games. He played with Mike Green for 231:33 of his 477:59 five-on-five minutes, recording a 53.7 Corsi percentage. When he wasn't on the ice with Green, Schmidt posted a 49.2 Corsi percentage.
Schmidt and Orlov will be clear priorities for George McPhee when the offseason gets underway and both players could sign multi-year contracts. The former Gophers' defenseman should compete for a spot on Washington's opening day roster and is a call up when any Capitals defensemen suffer injuries throughout the rest of this season.
Nicolas Deschamps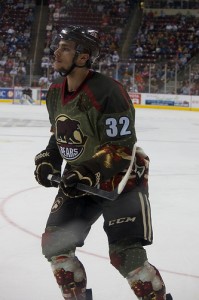 Once a second round pick by the Anaheim Ducks at 2008 NHL draft, the 24 year old forward has found first line minutes in Hershey this season. He was acquired by Washington last season in exchange for Kevin Marshall, but couldn't find substantial playing time during the Hershey Bears push toward the postseason.
He's currently playing with Ryan Stoa and Brandon Segal on Hershey's top line and has produced 18 points in 25 games. He does provide some size at 6'0" and has earned time on both the Bears' power play and penalty kill. He'll receive a qualifying offer by Washington and will likely return on a one year deal.
Garrett Mitchell
After the best pro season of his career during the 2012-13 season, Mitchell might not return for the Hershey Bears this season after shoulder surgery. He doubled his point total of 15 from the 2011-12 season, recording 30 points last year with 15 goals and 15 assists.
His strengths are his skating along with penalty killing strengths that make him attractive to NHL scouts as one who works extremely hard to compensate for his size. Mitchell isn't afraid to drop the gloves to defend his teammates and change momentum in a game. He projects as a bottom six forward and was described by former Hershey Bears coach Mark French as a future NHL player.
Although he did suffer a significant injury, Mitchell should return in the Capitals organization next season. The 22 year old winger will likely sign a one year deal and will undoubtedly receive a qualifying offer from Washington.
Brett Flemming
Like Urbom, Washington's fifth round selection from the 2009 draft is in danger of not receiving a qualifying offer for the 2014-15 season from the Capitals. He hasn't progressed like Capitals' management hoped when they drafted him, yet to play in the AHL for a substantial time period.
He has 32 points in 108 ECHL games in the Capitals system and has played in only 35 AHL contests. Flemming played in 21 games with the Hershey Bears in his first professional season, but has played in just 13 games since his rookie year.
The decision to retain Flemming will be based on if he progresses in the second half of his season with the ECHL's Reading Royals, but it's a tossup of whether the 22 year old is offered an NHL contract for the 2014-15 season.
David Kolomatis
The former L.A. Kings draft pick from 2009 joined the Washington Capitals organization after not receiving a qualifying offer last offseason. He's totaled 15 points in 27 games for the AHL's Hershey Bears and has carved out a role on the Bears' improving power play. Kolomatis played 250 games for the Manchester Monarchs in four seasons in the Kings' system.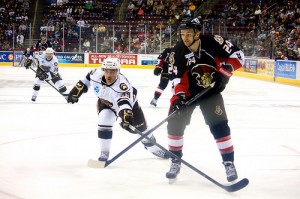 Kolomatis will turn 25 years old in February and isn't much more than an offensive blue liner at the AHL level. He's yet to play a game at the NHL level and has compiled 125 points in 281 career American Hockey League contests. Kolomatis shouldn't be given a qualifying offer, but the Capitals are enamored throughout their history in adding veterans on two-way contracts to help the Hershey Bears meaning he'll likely return to Washington on a one year deal next year.
Peter LeBlanc
Currently the Hershey Bears' second line center, LeBlanc is a grinder type forward at 5'9", but earned an NHL contract following his collegiate career at the University of New Hampshire and an AHL contract with the Rockford IceHogs. He joined Hershey after he was traded in exchange for Mathieu Beaudoin near the AHL trade deadline and maintained an NHL contract heading into this season.
He's one of the more underrated players on the Bears' roster and can play on multiple lines, including time on the power play and penalty kill. He has 17 points in 32 games for Hershey this season, but turns 26 this February.
Like Kolomatis, LeBlanc is a useful player for AHL teams, but probably wouldn't be retained if he was in an organization with a different philosophy. He'll likely return on a one year deal, probably just accepting Washington's qualifying offer if he's offered one.
Stay tuned for an article on Washington's impending unrestricted free agents in the coming days.
You can follow Matthew on twitter @m_speck and email him at mspeck21@yahoo.com with any questions or comments.
Matthew Speck covers the Washington Capitals organization for The Hockey Writers. He provides coverage of both Washington at the NHL level and prospect related content. Matthew also covers local sports for the Lebanon Daily News in Central Pennsylvania. You can email him at mspeck21@yahoo.com with any questions or comments.