The season to date for the Edmonton Oilers has been disappointing. An understatement to be sure.
This was the year they had not only hoped, but expected to make a push for a playoff spot. It was all but decreed by Craig MacTavish and Dallas Eakins prior to the season.
Not only are they not in a position to do so, but they find themselves in the all too familiar basement of the NHL's Western Conference.
The struggles of 2013-14 cannot be broken down to just one or two things, there has been a myriad of reasons why they continue to sit at the bottom of the standings.
One main area that continues to plague the team though, is the defense position. No it's not just the position, team defense and goaltending as a whole has been less than impressive, but it has become increasingly clear that the Oilers current group of defensemen just aren't good enough to compete with the best.
It's no secret that GM Craig MacTavish has nothing higher on his wish list than a number one defenseman who can log big minutes in all situations. Acquiring that piece will be no easy task and those players certainly do not grow on trees.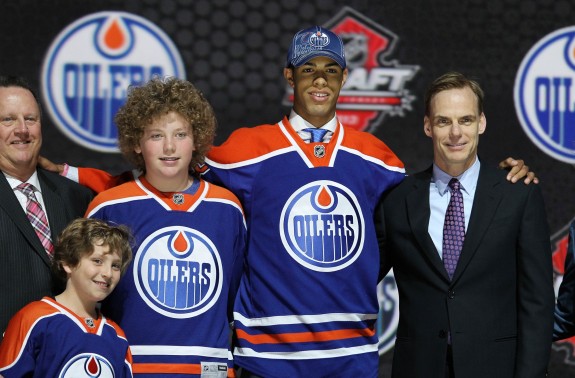 There is a silver lining here, as hard as it may be to see, and that is the fact the Oilers have a prospect system stocked with solid defense prospects, a couple of which could be top pairing defensemen if they hit their potential. Of course that doesn't exactly help the team presently, and Oilers fans are tired of hearing the word patience.
Unfortunately, there is not much else they can do with the 2013-14 season essentially written off already in terms of the playoff picture.
For yet another year the focus of the second half will be evaluating what they have on their roster and in their system and planning for next year.
While there is some changes needed to the forward group, the key building blocks are there on the NHL roster. It's hard to say the same with any conviction on the defense or goaltending right now.
The good news is that there is hope in the pipeline, at least on defense, and there is a good chance the Oilers have a future top pairing defenseman currently in their system. The bad news is, once again Oilers management will have to beg their fan base for more patience and hope that potential is realized sooner rather than later.
Hopefully MacTavish is able to add a significant piece or two and one or a few of these defense prospects are the final piece to the Oilers playoff puzzle.
Darnell Nurse, 18, Sault Ste Marie Greyhounds
The jewel of the prospect system currently, Nurse is just 18 years old and is 6'4″ and 190lbs. He is a powerful and effortless skater, plays with a mean streak and has future NHL shutdown defenseman written all over him. The question is, when is that label appropriate?
Chosen 7th overall in last year's draft, he stuck with the Oilers right until the end of camp, far longer than anyone expected and impressed management in his time there.
The team made the right decision sending him back as he is playing big time minutes every night for the Greyhounds and against the other team's best. He's also improved his offensive game and is averaging almost a point per game in the Soo.
Playing as an 18 year old on a bad Edmonton team that faces constant criticism would not have been positive for his development either.
Despite his recent, and controversial, snub from Canada's WJHC team, the junior experience has been positive for his growth as a player.
Greyhounds general manager Kyle Dubas was asked about Nurse by the Hamilton Spectator last week and he talked a bit about the kind of minutes the young rearguard is playing. Dubas told the paper that Nurse plays "the toughest minutes in the league by a pretty substantial margin" and that he is logging between 25 and 30 minutes every game.
"I don't know if there is anyone more valuable in the league." – Hounds GM Kyle Dubas on Darnell Nurse http://t.co/Fieq3eABCa

— Soo Greyhounds (@OHLHoundPower) January 5, 2014
Nurse has the ability to become exactly what the Oilers need on their blueline, but he is still very raw and early in his development. Opinions are varied in terms of his readiness, as some would say he will be in the top six on opening night next season, while others believe he is a year if not two away from cracking the roster.
Oscar Klefbom, 20, Oklahoma City Barons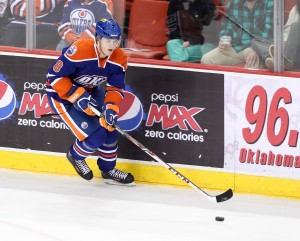 Edmonton's top prospect until Nurse came along, he was a 2011 first round pick (#19) for the team and another prospect they have very high hopes for.
Expected to compete for a spot on this year's blueline, he has taken longer to adjust to the North American pro game than originally thought.
Much of that can be attributed to injury as he played just 11 games for Farjestads in the Swedish Elite League last year due to a shoulder injury and has played just 27 this season for the Oklahoma City Barons due to injury. He has struggled to find any consistency being in and out of the lineup and has been a -10 in his 27 games.
He is still projected to be a top four defenseman for the Oilers for years to come and when healthy, the Oilers hope he will hit his stride and move towards that potential.
He's a defenseman with good size (6'3″, 200lbs) can skate and move the puck. Many have expected him to have been called up to the big club already this season, but with injury and poor play it hasn't happened yet. With those factors, keeping him in the AHL until he is ready is not a bad idea and seems as though Oilers management has been thinking along the same lines. If he can put together a solid stretch of play, expect him to make his Oilers debut early in the second half of the season.
GM Craig MacTavish told me in November that plan was for Oscar Klefbom to spend entire season in OKC. Plan makes sense.

— Terry Jones (@byterryjones) January 3, 2014
Martin Marincin, 21, Oklahoma City Barons/Edmonton Oilers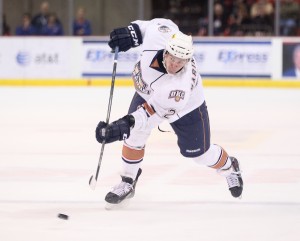 Perhaps not the upside of the two previously mentioned defensemen, he still currently finds himself ahead of both on the depth chart. At 6'5″ 185lbs, he's a bit of a stringbean, but has continued to impress at every step along the way. He has been one of the Barons best defensemen over the past two seasons and has played in 7 NHL games this season for the Oilers. While he hasn't registered a point he has been a +2 in those games.
He's an excellent puck mover who sees the ice well and has been very good on the powerplay in the minors. He has a long reach and uses his stick well, but still needs to more effectively use his size in the defensive end.
He may not have the top pairing potential of the other two players but with some more seasoning and added muscle could be a valuable top four member.
*****
The Oilers also have a number of defense prospects that have NHL upside, many of which have or will play some games this season or next. The group of Taylor Fedun, Brad Hunt, Martin Gernat, David Musil, Dillon Simpson and Brandon Davidson all have the potential to be NHL defenseman and contributors in the lineup as valuable depth players.
______________________________________________________________________
Follow Carl on twitter @maloney3383 and Google+ for more articles