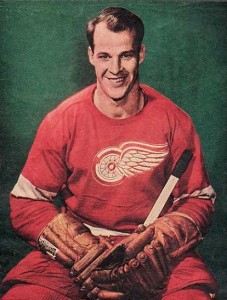 While the holiday season may be finished, the perfect gift for the Gordie Howe fan in your family is currently up for auction. Introducing: his game used skates and stick from his rookie season in 1946 with the Detroit Red Wings.
Bidders have until Jan. 10 at 9:00 PM EST to bid on what is a pretty cool piece of hockey memorabilia.
While probably not fit for current use, the leather CCM skates have been marked with Mr. Hockey's #9 (he actually wore #17 as a rookie). The stick, a Northland pro with no curve (all stick blades were straight until the fifties) has a chip in the wooden toe. Howe, who was ambidextrous, could shoot both right and left- handed. There is also an 'Olympic Sporting Goods Co. Detroit, Michigan' stamp on the stick, showing that not only was Howe the greatest player to ever wear the winged wheel, he also bought local.
Howe played professional hockey in five decades retiring in 1980. He finished his career with 801 goals and 1850 points in 1767 NHL games spent mostly with Detroit, while also notching 174 goals and 508 points in 419 WHA games with the Houston Aeros where he played alongside his sons Mark and Marty. He held the NHL record for all-time goals and assists until Wayne Gretzky came along. He was a 23-time NHL All-Star, and winner of the Art Ross and Hart Trophy six times each. Not a bad career.
Looking at the stick it becomes apparent that the four-time Stanley Cup winner was way ahead of the whole "leave the bottom of the stick blade clean and put tape towards the toe" trend that has shown up in the last decade or so, as it supposedly allows the puck to glide towards the sweet spot of the blade better. It's no wonder he had such a devastating shot.
Howe is one of those legendary players whose name is brought up amongst the best players to ever play the game with Maurice Richard, Bobby Orr, Wayne Gretzky, and Mario Lemieux. It will be interesting to see what the winning bid is after the stick Wayne Gretzky used to score his 1000th goal in hockey went for almost $40,000.
The current bid is just over $7,000, so if you happen to have lots of money, and an appetite for something that belonged to one of the greats, this should be right up your alley.