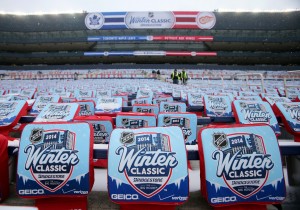 The NHL Winter Classic was an unparalleled success for the NHL. But what about HBO's "24/7 Red Wings/Maple Leafs: Road to the NHL Winter Classic"?
As a hockey fan, it's hard not to like this series. Getting to know these professional athletes and coaches outside the usual media scrums is enjoyable. Now I like Phil Kessel more than I did previously. Conversely, I dislike Dion Phaneuf and Randy Carlysle more.
But I still think Kessel is a doughboy.
From a Red Wings perspective, I've always respected Detroit even if my traditional allegiances reside with the Montreal Canadiens. I have a kinship with coach Mike Babcock as we are both McGill University alumni and it's hard not to be lifted up by his boundless optimism.
Comparing team captains Henrik Zetterberg and Dion Phaneuf is somewhat unfair to Phaneuf. They play in the same league, but they're in different leagues. Zetterberg not only leads by example, but it's obvious he's totally respected by his teammates.
Phaneuf on the other hand, is a grumpy, surly, un-charismatic character who not only is a terrible winner (case in point when he jumps for joy after beating Kessel in ping pong), but was also portrayed as a whiner on the ice. There didn't seem to be much of a rapport between himself and his teammates. But he is having a solid season this year and was rewarded with a new 7 year, $7M per season contract. Well, that's the Leafs' problem.
Good for Dion. His actress wife is happy for him too. I'm sure she's happy for herself too.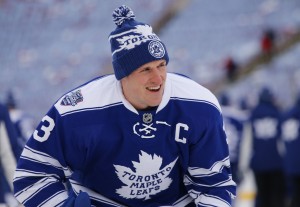 I will say this: I've watched all the editions of the HBO 24/7 series and have enjoyed each and every one. The production value is high, narrator Liev Schreiber sets the right tone, and the locker room access – especially in between periods during a game, really lets us into a world which many of us will never know. And the in-game medical repairs these athletes go through reminds us just how much physical abuse players' bodies take.
It would have been nice to hear more from "Magic Man" Pavel Datsyuk but anyone who has seen his speeches at previous NHL awards can understand why he wasn't showcased: Great player – not so great interviewee.
But I'm not quite sure if I want this series to continue. Why? First, it's bound to start getting repetitive: same story lines, different players and locations. And to be honest, the "Road to the Winter Classic" isn't that much of a road at all. So the Leafs and Red Wings struggled in the last few weeks. So what? Both squads are mediocre in my opinion. And just to continue that point, I would've loved to see more of Detroit GM Ken Holland because here's a guy that genuinely looks concerned about his team. The brief moments broadcast between himself and optimist Babcock were telling, like when after the game he mutters "The shootout is killing us."
Guess we know that Holland will be leading the charge to get rid of shootouts this summer.
Second, to be honest – and maybe it's just Phaneuf again – but these athletes are starting to grate on me as being overpaid, underperforming individuals who, in their twenties and early thirties, have privileges and perks that many of us will never see in our lifetimes. Really, I don't want to see Phaneuf's vast wardrobe and walk-in closet. Yet somehow I wasn't bothered by Kessel's bachelor penthouse suite. Guess I'm biased.
Jealous? Me? Probably. True, I'd take sitting on the bench as a backup goalie for a couple of million bucks per season like James Reimer. But that's the way the puck crumbles. Or tumbles. Or something like that.
I think you know what I mean.
One thing is for sure. Ari Grief will not be showcased in next year's instalment of HBO's 24/7 series. But he happily showcases himself on Facebook and twitter @HabsFanLeafLand
I'm a goalie — apparently that says a lot. Writer, producer and bon vivant I'm from Montreal but live in Toronto and write from that perspective on HabsFanInLeafLand.com. Young enough to be hip; old enough to remember where I was when Guy Lafleur scored against the Bruins in the infamous "too many men" game in the '79 playoffs. Can you say that?
You can contact Ari Grief on Facebook or on twitter @habsfanleafland