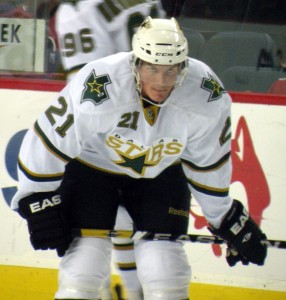 Dallas Stars Draft Review
Since July 1, all the talk in the hockey world has been about free agency. It's certainly an exciting time for hardcore hockey fans, as they actively watch their teams add pieces designed to get them closer to the playoffs, the finals, or whatever their short-term objective may be. In most cases, free agency is all about the short-term; the Suter's and Parise's are the exception, not the rule – and most free agent contracts are 1-3 years in length. The only other off-ice 'event' that draws as much attention is the NHL trade deadline, which takes place each year at the end of February. There, GM's of playoff-bound teams beef up their rosters with more scoring, depth defencemen, or whatever their need may be, while GM's from non-playoff teams trade away pending free agents for picks and prospects.
While the trade deadline and free agency may get more coverage, there's no question that the NHL Entry Draft is the time when GM's build the long-term foundation of a competitive team. Look up and down the rosters of the best teams in the NHL, and you'll typically find that their key players are homegrown talents. Certainly there are notable exceptions, like LA and San Jose, who have each acquired significant players without drafting them directly, but even those teams don't really disprove the rule.
That's because there are really only two ways to source NHL players; you might say three – draft, trade, and free agency, but the fact remains that at some point, every player that was traded was previously drafted, or signed as a *free agent out of Canadian junior, US college, or European pro leagues. That doesn't mean that trades aren't important, but it is only through good drafting and free agent signings that a team can acquire sufficient assets to make trades which address their needs. Sure, occasionally a team will get fleeced – Patrick Sharp for Matt Ellison – but in general a GM needs to give quality in order to get quality.
//*The draft is for players who are approximately 18-20 years old; all players above this age that haven't been drafted are free agents who can be signed by any NHL team. I say 'approximately' because of awkward cut off dates for acceptance and exclusion of players – you must be 18 years of age by September 15 of that year, otherwise you pass into the next year's draft. Since the draft happens in late June, newly eligible players born after the draft and before September 15 will technically be 17 on draft day. On the flip side of the coin, a player born in the first half of the year, who is 19 at the beginning of the year and 20 by year's end, will be eligible for the draft; but if he is born in the second half of the year, he could start his non-pro season as a 20-year-old and be only '20' at year's end, but be ineligible for the draft. (Players who are 20 at the beginning of the season are considered "over-agers" in junior hockey.) To further complicate the issue, it used to be that players coming from European pro leagues were drafted into the league regardless of age – while North American players were governed by today's rules. Lubomir Visnovky was drafted out of Slovakia in 2000, at the age of 24. Beginning in 2005 draft, European players were treated the same as their North American brethren, which has led to the occasional bidding war for Europeans who passed through the draft, like the Fabian Brunnstrom debacle in 2008, and The Monster (Jonas Gustavsson) in 2009.\\
In the cases of LA and San Jose, many of the key players on their roster were drafted by another organization. But in each case, those teams needed to use promising young players they had drafted in order to make those trades. LA gave up Wayne Simmonds and Brayden Schenn to add Mike Richards, and Jack Johnson to get Jeff Carter. Similarly, San Jose gave up home-grown players in Stuart and Sturm to get Joe Thornton, Matt Carle to get Dan Boyle, and Milan Michalek to get Dany Heatley (who has since been flipped for Martin Havlat).
For the majority of the NHL's top teams, most of their 'core' was assembled directly through the draft.
Detroit – Datsyuk, Zetterberg, Kronwall, Franzen, Filppula, Howard
Chicago – Toews, Kane, Keith, Seabrook, Bolland
Vancouver – Sedin, Sedin, Kesler, Edler, *Bieksa, Schneider
Los Angeles – Quick, Kopitar, Doughty, Brown
St. Louis – Pietrangelo, Backes, Perron, Oshie, Berglund
Pittsburgh – Crosby, Malkin, Letang, Orpik, Fleury
New York R – Lundqvist, *Girardi, Staal, Del Zotto, Callahan, Stepan
Washington – Ovechkin, Backstrom, Green, Carlson, Alzner, Holtby
Buffalo – Miller, Myers, Vanek, Pominville, Ennis, Stafford, Sekera
//*Bieksa and Girardi were both signed as free agents – not on UFA day, but coming out of college/junior. That's almost like making a really late draft pick, since those teams were signing a complete unknown rather than throwing money at a proven commodity on July 1\\
Conversely, unsuccessful teams like Columbus, Florida, New York I, and the now defunct Atlanta Thrashers were infamous for trading away high draft picks, and failing to develop a stable core of locally bred talent. Pending the Rick Nash deal, Columbus will have dealt away their 1st round picks from each of their first 6 years in the league, and 8 of their first 9. Similarly, Florida traded all of their 1st round picks from 2002-2006 (they've been better since Tallon took over), and the Atlanta Thrashers traded each of their first seven 1st round picks from 1999-2005. But the recent draft record of the New York Islanders easily laps the field, as only 2 of their 16 round-1 picks from 1994-2005 were retained by the organization for more than 2 full seasons – Sean Bergenheim (career high is 17 goals – not with the Islanders), and the pioneer of the marathon contract – Rick DiPietro.
—
So with all that in mind, how are the Stars doing in the draft department? Is there hope for a better tomorrow? Let's go as far back as 2002…
Dallas Stars Draft History: 2002-2007
From 2002 to 2007, the Stars' organization made 48 picks. Of those, 10 became NHL regulars. Here's the breakdown of the successful 10:
4 depth players – Wandell, Fistric, Bachman, Crombeen (first 3 are still with the team)
3 steady defencemen – Daley, Niskanen, Grossman (only Daley is still with the team)
3 all-star forwards – Eriksson, Benn, Neal (only Eriksson and Benn with the team)
2002-2007

NHL GAMES PLAYED
Picks/Yr
Draft
Num
Rd
Player
Pos
Drafted From
GP
G
A
Pts
PIM

12

2002
43
2
Trevor Daley
D
Sault Ste. Marie [OHL]
577
38
117
155
423

11

2003
33
2
Loui Eriksson
L
Frolunda Jrs (Sweden)
453
138
190
328
106
2003
54
2
B.J. Crombeen
R
Barrie Colts [OHL]
288
27
29
56
580

10

2004
28
1
Mark Fistric
D
Vancouver Giants [WHL]
257
3
20
23
220
2004
56
2
Nick Grossman
D
Sodertalje Jrs [Sweden]
355
3
44
47
180

7

2005
28
1
Matt Niskanen
D
Virginia H.S. (Minn.)
370
21
86
107
203
2005
33
2
James Neal
L
Plymouth Whalers [OHL]
314
113
105
218
268
2005
146
5
Tom Wandell
C
Sodertalje Jrs [Sweden]
211
19
23
42
48

5

2006
120
4
Rich Bachman
G
US High School
19
0
1
1
0

8

2007
129
5
Jamie Benn
L
Victoria Grizzlies [BCHL]
222
70
90
160
152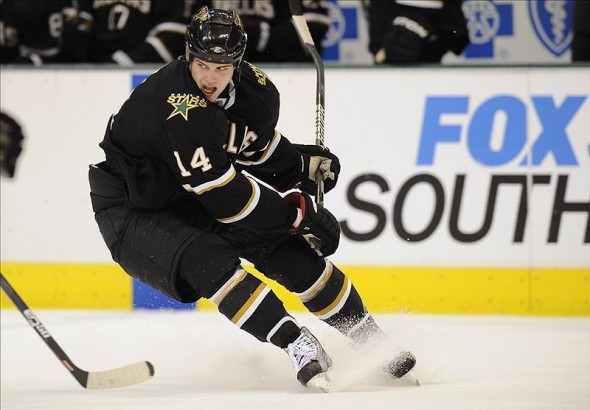 So what does the organization have to show for those picks? As their two biggest offensive threats, Loui Eriksson and Jamie Benn have to be considered franchise cornerstones, so job well done there Doug Armstrong and co. However, James Neal was mishandled to say the least, as he was traded to Pittsburgh in February of 2011 and ended then scored 40 goals this past season – good for 4th in the league. To make matters worse, the return in the Neal-deal – Alex Goligoski – has been a bit underwhelming, with 45 points in 94 games with the Stars. Meanwhile Matt Niskanen – who struggled in his last year and a half in Dallas, and was included in the Neal deal as nothing more than a salary dump, has also played better since coming to Pittsburgh. Trevor Daley has been a very solid 2nd pairing defenceman for the past 5 years or so in Dallas, playing over 20 minutes per game in all situations and putting up around 25 points. He's definitely covered the bet for a 2nd round pick. Another former Stars 2nd round pick – Nick Grossman, was traded to Philadelphia around the trade deadline this past year for 2nd and 3rd round picks, while the remaining players merely provide depth at this point, though Wandell and Bachman still have some hope for a bigger role.
Overall, Dallas' recent draft record should be considered slightly above average. Three top-line forwards, 3 steady NHL defencemen, and a backup NHL goaltender. Some teams have done better, but many have done worse.
Dallas Stars Draft History: 2008-2012
In total, the Stars made 30 picks in the last 5 drafts. I've only included 18 below, as the remaining players are unlikely to have much of a pro career. Even of these 18, chances are that only 4-6 of them will become NHL players.
Picks/Yr

Draft

Num

Rd

Player

Pos

Drafted From

5

2008

59

2

Tyler Beskorowany

G

Owen Sound Attack [OHL]

2008

149

5

Philip Larsen

D

Vastra Frolunda HC [SEL]

5

2009

8

1

Scott Glennie

C

Brandon Wheat Kings [WHL]

2009

38

2

Alex Chiasson

R

Des Moines Buccaneers [USHL]

2009

69

3

Reilly Smith

R

St. Michael's Buzzers [OJHL]

2009

129

5

Tomas Vincour

R

Edmonton Oil Kings [WHL]

5

2010

11

1

Jack Campbell

G

U.S. Development Team [USHL]

2010

41

2

Patrik Nemeth

D

AIK Jr. (Sweden)

2010

77

3

Alex Guptill

F

Orangeville Crushers [OJHL]

6

2011

14

1

Jamie Oleksiak

D

Northeastern University [H-East]

2011

44

2

Brett Ritchie

R

Sarnia Sting [OHL]

2011

165

6

Matej Stransky

R

Saskatoon Blades [WHL]

9

2012

13

1

Radek Faksa

C

Kitchener Rangers [OHL]

2012

43

2

Ludwig Bystrom

D

Modo Hockey Ornskoldsvik [SEL]

2012

54

2

Mike Winther

C

Prince Albert Raiders [WHL]

2012

61

2

Devin Shore

F

Whitby Fury [OJHL]

2012

74

3

Esa Lindell

D

Jokerit Jrs. [Finland]

2012

104

4

Gemel Smith

C

Owen Sound Attack [OHL]
2008 draftee Phillip Larsen is already an NHL regular, though it's hard to know whether he'll live up to his billing and become a puck-moving defenceman, or if he'll simply be a depth player. Tyler Beskorowany is a big goalie with moderate potential, but the main reason I listed him is because goalies are just that unpredictable.
The remaining players are all 22 and under. Typically it's hard to evaluate them at that age because they've only played a year or two of pro hockey, and of this crop, no one has played more than 1 year in the AHL. Some of the 2009 draftees are just coming out of college and have only recently turned pro, and none of those drafted in 2010 and later have even played a season in the AHL. However, at this point it's safe to say that 2009 1st round pick Scott Glennie looks like a draft-day bust, as players like Jared Cowen, Ryan Ellis, Dmitry Kulikov, Nick Leddy, and Chris Kreider – all of whom were drafted shortly after Glennie – have already tasted some NHL success, and appear to have far more potential than he. But the 2009 draft wasn't a complete loss for the Stars, as recent college grads Alex Chiasson and Reilly Smith appear to have some offensive upside, and 5th rounder Tomas Vincour has already played 71 NHL games.
2010 looks like another potential 1st round bust, as goaltender Jack Campbell, of US World Junior fame, struggled in the OHL for the past two years. He still has time to turn things around, but if the Stars were to do that pick over again, there's no chance that they'd take Campbell over Cam Fowler, Brandon Gormley, Jaden Schwartz, Vladimir Tarasenko, et al.
Taking Jamie Oleksiak with the 14th pick in 2011 was another gamble that I don't feel will pay off for the Stars. If this 6'7, 240 lb d-man pans out, he'll be a shut-down defenceman in the mold of Hall Gill. But Oleksiak doesn't possess any offensive upside (and he isn't that physical for a big man), so this pick could turn sour just as it did with past picks like Boris Valabik, Sasha Pokulok, Ty Wishart, Vladmir Mihalik, Matt Pelech, Joe Finley, and Alex Plante, all of whom were hulking, defensive defencemen that never panned out. My strong feeling on the matter is that teams should draft skill, simply based on supply and demand. If a defensive d-man reaches his potential, he becomes a player that could be fairly easily replaced on July 1 – a big guy, with limited foot speed that will play on your 2nd or 3rd pairing. And for every Shea Weber, there are 10 big defencemen that become depth NHL defencemen. Andrew Alberts, Andy Sutton, Sheldon Brookbank, etc, or the busts listed above that never really made the NHL at all. If you take a skill-guy, sure he might bust, but if he reaches his potential, or comes close to it, you have a player that won't be available in free agency very often. This summer, if you were looking for a free agent d-man who could provide offence, play in your top-4, and is still near his prime – you were looking at Ryan Suter and Matt Carle. And that's it.
As for the 2012 draft, the early outlook is pretty good. At this point, Faksa looks like both a safe pick and a nice pick at #13 overall. There were no consensus players left on the board; although some scouting services had Teuvo Teravainen listed as high as #5 overall, he ended up going 5 picks after Faksa at #18, so clearly the gap between the NHL scouts and the independent services was big. Faksa has good size (6'3, 200 lbs), good defensive awareness, and offensive upside to boot. It's hard to say whether he'll end up as "a 2nd line centre with strong defensive awareness" or "a 3rd line centre with offensive ability", but he sounds like he'll be a complete player who will produce somewhere between 40 and 60 points . He compares to Phoenix Coyote, and fellow Czech centre Martin Hanzal, though he's not as big, and probably has more offensive ability. The Stars also did a good job of picking skill in the later rounds, as Winther, Shore, and Smith all have some offensive upside. As nice as it is to develop those 3rd and 4th liners in-house, you can hire a finished product every July 1 for a few million bucks, while it's difficult to get quality top-6 forwards anywhere but the draft.
All-in-all, the Stars have an average prospect system. There's a fair amount of potential up front, a little bit on D, and one guy in goal. No blue chip prospects outside the NHL roster, where Jamie Benn still has a ton of room to grow, but a number of guys who could reach the NHL on the 2nd and 3rd lines. I see the Stars being a strong playoff contender for the next few years, but I worry about their ability to get over the hump. They look like a team that's stuck in the middle – who will in all likelihood finish between 7th and 10th in the next two years, and may then be confronted with the painful decision of whether or not to 'rebuild', i.e trade away veterans in the hopes of finishing down the standings, making high draft selections, and landing talented teenagers whom they can hitch their future hopes and dreams to. However, a greater fear is that since Dallas is a fairly desirable place to play, they may continue to fill holes with veteran players, ala Jagr and Whitney, who will keep the team competitive, but eternally stuck in the middle.
Beware Stars fans. You may be entering a period of painful mediocrity. Here's hoping I'm wrong.