With Detroit general manager, Ken Holland, set to embark on a summer spending-spree with all of the pending unrestricted and restricted free agents, Red Wings fans will be sitting patiently waiting to see who gets the invite back to training camp and who gets the boot.
Holland brought in Swiss sensation Damien Brunner last July 1st, with the Red Wings looking for some scoring help, as well as a salary cap to fill. It's not easy being counted on to provide secondary scoring to Henrik Zetterberg or Pavel Datsyuk in your first year in the NHL, let alone playing for one of the Original Six franchises.
However, Brunner did not disappoint, helping the Red Wings advance to the second round of the NHL Stanley Cup Playoffs, before being ousted in 7 games by the Chicago Blackhawks. His play this past season and playoffs is proof enough why re-signing Damien Brunner should be high on Ken Holland's 'To-Do List' this summer.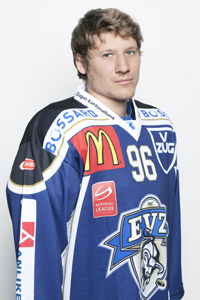 Who is Damien Brunner?
Damien Brunner is a seven-year veteran of professional hockey. The Swiss-born winger played six seasons in the Swiss League before signing with the Detroit Red Wings as a free agent on July 1st, 2012.
He played with the Kloten Flyers for three seasons, accumulating 14 goals and 11 assists. In his third season he was traded to the second division of the Swiss League, before finally landing with EV Zug later that year.
He really blossomed as one of Switzerland's premiere centre-man with EV Zug, as he had 26, 58, 46, and 60 points in his 4 seasons there. Brunner also lead the league in scoring in his final season in Switzerland.
That is when Brunner's hockey career changed forever. The Detroit Red Wings came knocking at his door, and Brunner opened it, signing with the Original Six franchise for one year at $1.35 million.
He has defined himself as not only a play-making winger with more assists than goals in his past four seasons, but a highly-skilled player who uses his speed to find open areas and create opportunities for himself and others.
How Did Brunner Fare In His First Season in Detroit?
The transition from the European to the North American game can sometimes be difficult, where some players have crashed and burned (such as current Red Wing, Jonas Gustavsson).
Brunner defied this and went on to have a fantastic first year in Detroit. In 44 games played, he had 12 goals and 14 assists, and was a -6. He had 3 power play goals as well.
He featured mainly on coach Babcock's 3rd line, and played on the second power play unit at times. Though he is listed as a centre-man, he played most of the time on the right wing (usually centred by Filppula or Emmerton). With a -6  +/- rating, he does have a lot to learn in terms of his defensive game, but if his first year in the NHL is of any indication, he has no where to go but up from here.
Go figure the first year player lead the Red Wings in goals in the playoffs (5) as well.
Brunner was one of many younger players involved in the 'changing of the guard' attitude that surrounded the Red Wings organization this past year. The 27-year-old played a huge role in the Red Wings push to the post-season, and if Ken Holland has even higher hopes for his club next season, Brunner better be apart of it.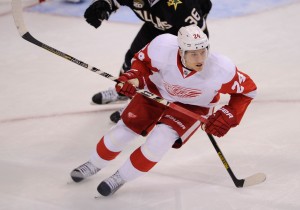 What Are The Chances Brunner Re-Signs in Detroit?
A 27-year-old, known as a goal scorer, who had 26 points in 44 games, will be an unrestricted free agent. You can count on there being a line of 29 teams at his door if Ken Holland does not re-sign the Swiss-native by July 5th.
He hauled in just over $1 million last year, but with the season he had this year, especially his elevated performance in the players (scoring 9 points in 14 games), you can count on him making north of $2 million.
The Red Wings are in a bit of a contract cur-fuffle (if you will). Valterri Filppula is also an unrestricted free-agent, and while he did have 66 points in the 2011-2012 season, he followed that with a measly 17 points in 41 games this season. Holland cannot over-pay him.
Drew Miller, Jan Mursak, and Ian White are all UFAs as well, and will most likely re-sign in the Motor City. On the other hand, I'm afraid that Daniel Cleary's time in Detroit may be over though (as he will be without a contract come July 5th).
With these pending UFAs, as well as the Red Wings looking to re-sign RFAs Datsyuk and Ericsson, signing Brunner may be a bit of a challenge. While Holland will want to re-sign Brunner, he also has to be cautious in not over-paying him. He did have a good season, but a contract just north of the $2 million mark makes sense as it gives him some freedom to sign his other pending free-agents.
The Blackhawks and Bruins are set to start their Stanley Cup Finals match-up on Wednesday night, but the free agent negotiations in Detroit are in full swing. With just under a month left before the July 5th Free Agent Frenzy, Ken Holland will have some work to do if he wants to keep his most prized possessions.
NBC Pro Hockey Talk reports Detroit #RedWings UFA Damien Brunner isn't sure if he'll be returning with the club next season

— Hockey Tracker (@Hockey_tracker) June 6, 2013
It is still unknown as to whether Brunner wants to re-sign with Detroit. Holland cannot let him go. Damien has proved in only his first year in the NHL, that he is highly capable of contributing to the success of the organization. I strongly believe that if Holland wants to build another championship team, Damien Brunner must be re-signed.