The point of the NHL Entry Draft isn't to pick an elite superstar first overall and then go home.
Amateur scouts are employed to seek out talent, to find that young player who isn't great now, but will be in ten years. It's not an easy task.
A wise believer in clichés might tell you it's "why they play the game."
That game doesn't always have to be on the ice; it can be in a board room, around a table, packed in a cramped coaches' office.
And so, the NHL draft provides an opportunity for under-the-radar players to continue their journey. It's a new time to shine.
Let's take a look at five Ontario Hockey League prospects who aren't yet household names, but are looking forward to hearing their name called on June 30 in New Jersey.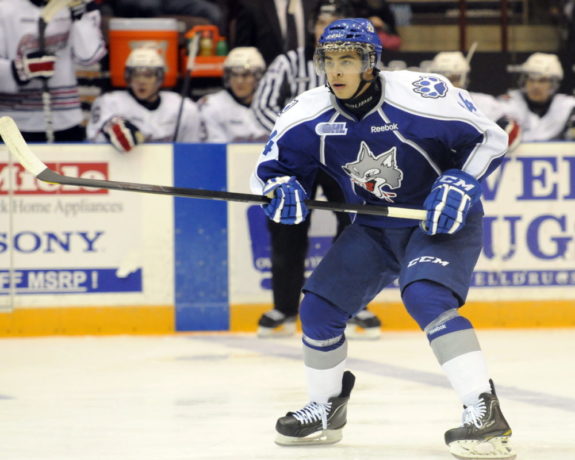 Nick Baptiste
Nick Baptiste didn't have a great start to the season. The Sudbury Wolves forward came in with high expectations, and consensus was that he fell flat in the early months. But as the corner turned on Christmas, Baptiste began to play like the top prospect he is supposed to be.
Some say being in Sudbury has put a damper on Baptiste's draft stock, but he quickly emerged from the shadows in the second half of the Wolves' season.
"Despite standing at six feet and 200 pounds, Baptiste has great speed and a quick first step," wrote Future Considerations' Jedd Jones. "He plays a physical game and when he gets the puck good luck trying to get it back, as he shields opponents with his frame."
Baptiste barely made the top one-hundred of NHL Central Scouting's mid-term rankings. After finishing the season ranked sixty-first, the right-winger is looking to continue his rise.
Tyler Bertuzzi
Yes, yes he is.
Tyler Bertuzzi's uncle is Detroit Red Wings forward Todd Bertuzzi. The comparison pretty much ends there in one sense, but not in another.
The young Bertuzzi doesn't have the size his uncle has, but Tyler's still a pain in the rear. Playing a role of agitation in the playoffs allowed the Guelph Storm winger to stand out.
Bertuzzi describes his game as hard-working, physical, and filled with a constant grinding effort.
"Sometimes when guys have a famous name from a relative, they think they don't have to work as hard, but Tyler does," Guelph head coach Scott Walker has said. "In fact I think he works twice as hard because he knows he's going to have the microscope on him."
Bertuzzi will likely be a late round pick if does get selected at all. It's no guarantee, but there's a good chance someone will take a flyer on a beastly NHLer's nephew.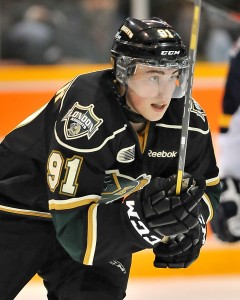 Kyle Platzer
Kyle Platzer didn't really stand out for the London Knights this season.
But it's was exactly his fault. These things happen when three fellow draft-eligibles on your team are expected to be top twenty picks. Being in the shadows of Max Domi, Bo Horvat, and Nikita Zadorov may not have been bad, but it did limit his exposure despite winning an OHL championship.
Platzer tore up the Junior B level in the Greater Ontario Junior Hockey League with the Waterloo Siskins as a 16-year-old. This past season being his first in the OHL, Platzer didn't have fantastic numbers, but did show flashes of excellent skill.
"He's a smart player," Knights head coach Dale Hunter told the London Free Press of Platzer. "He'll ask questions and I like that. It shows he wants to learn."
Platzer is destined for a similar role in London next season as the one he had this year, but he knows it's a learning process. Fourth line players in junior hockey find themselves with many opportunities to act as an experience-absorbing sponge.
A late round selection is the probable best-case scenario for Platzer.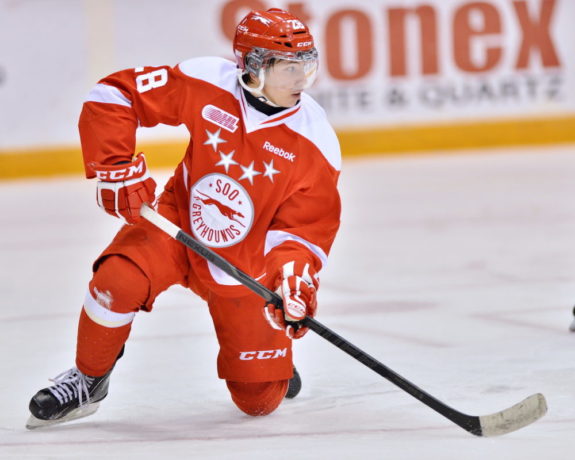 Sergei Tolchinsky
When the Sault Ste. Marie Greyhounds selected Sergei Tolchinsky in the first round of the 2012 CHL Import Draft, there was concern from media that the Russian forward wouldn't play for the team. It had been difficult in past years to attract Ontario-born players to the northern city, never mind European imports.
General manager Kyle Dubas and his staff were confident in their selection and Tolchinsky's desire to play North American hockey. After all the visa issues were sorted out, Tolchinsky stepped right into the Soo's lineup.
At 5-foot-9 and 170 pounds, Tolchinsky is obviously small. But his skill on the ice has made up for what he lacks in stature.
"Tolchinsky is a very electrifying offensive talent who has some of the quickest and most creative hands in the entire draft," wrote Future Considerations' Aaron Vickers. "He is dangerous every time he touches the puck because of his puck skills and quickness and his shot is quick off his stick. His vision is also very impressive and he is a real weapon on the power play from the half wall."
The Hockey Writers' Shawn Reznik sees Tolchinsky as a player similar to Martin St. Louis of the Tampa Bay Lightning.
Tolchinsky has the skill to be a middle-round NHL draft pick.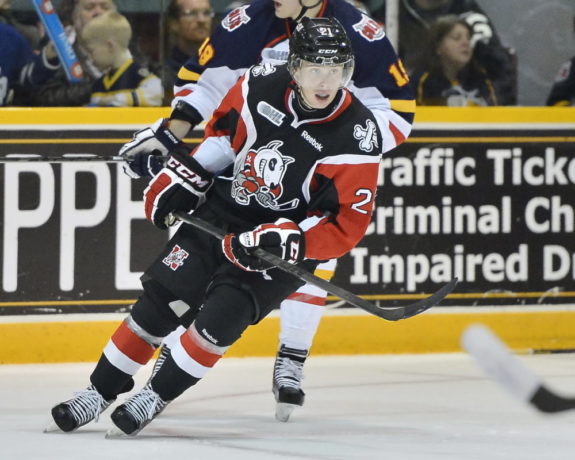 Carter Verhaeghe
Carter Verhaeghe doesn't get a lot of press outside the Niagara region.
That's about to change.
After a 44-point season with the Niagara IceDogs, Verhaeghe earned a spot on Canada's roster for the 2013 IIHF World under-18 championships in April.
IceDogs head coach and general manager Marty Williamson told the St. Catharines Standard that Verhaeghe keeps on developing.
"You want to keep seeing growth in a player's game and I don't think we've seen any stop in Carter and nothing would lead us to believe he's maxed himself out yet," Williamson said. "He keeps meeting challenges and chugging along.
"Carter is still a growing kid and I think it was awfully impressive what he did in the second half."
Verhaeghe finished in the 102 position in NHL Central Scouting's final rankings.
All signs point to him being taken in or around the fourth round.
________________________________________
David O'Connor is a managing editor with the Sunbelt Hockey Journal. His writing has been on the Los Angeles Times' website, among other places. O'Connor also does some scouting work for the local Junior B hockey club. Please feel free to contact him at davidoconnorhockey@gmail.com.