NHL coaches start taking a lot of heat this time of year. Past failures are brought to the surface and the skeptics begin doing what they do best… But let me make something clear: Dan Bylsma has been the Best Coach in the NHL during the 2013-2014 Season, there is no question about it.
There's plenty of reasons as to why I believe that Bylsma is the best this season, but let me make one good argument… Of the 35 players who've suited up in black and gold this season, only six have played in every contest. Many of the game one starters (Pascal Dupuis, Beau Bennett, Chuck Kobasew, etc.) have suffered major injuries that have taken away from their ice time and forced the Pens management to make moves. Along with that, Malkin suffered a lower body injury that forced him to miss a chunk of time, and we all remember the Brooks Orpik incident in Boston , and yet, the Penguins haven't missed a beat.
Bylsma Fights the Injury Bug
Despite losing more man games than most other NHL teams this season, the Penguins still find themselves at the top of the Eastern Conference. Despite constantly shuffling lines and having defenseman play forward, the Penguins still hold an 18 point lead in the Metropolitan Division and are very close to clinching a playoff spot.
How's all the possible? Coaching. Sure, Ray Shero deserves a lot of credit of making moves and bringing the right people in, but Bylsma is an absolute genius when it comes to putting players in a position to succeed. Example number one: Chris Kunitz.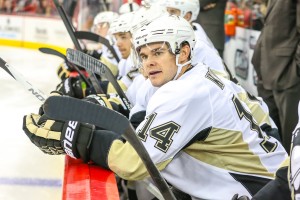 Kunitz is a great player, but on most teams, he is not a first line winger. Yet, he's scored 31 goals and could possibly get to 40 this year. Why? Bylsma recognizes that Kunitz plays well with the best player in the world, Sidney Crosby. Not everyone can play with such a force; Kunitz can and he does it well. Most coaches would put their best winger on the first line… not Bylsma. He puts players in position to make the team better. James Neal and Evgeni Malkin are incredible together; Crosby and Kunitz are incredible together.
But two dynamic duo's don't give you an 18 point division lead with a month left to play in the season. Having a coach who can make his players all buy in, play team hockey, and be able to insert many different players into a system and contribute to the team is what makes a hockey team great.
Bylsma's SYSTEM Works
Bylsma coaches TEAM and SYSTEM hockey, despite having two of the best players in the world. When the Penguins depend on their talent to win games, they lose the Eastern Conference finals 4 games to none.  But when the play four line system hockey and lock down on defense, they win hockey games and look good in doing so. Bylsma can't execute his system on the ice, he can only put his players into the best possible position to do so.
People can say what they want about Dan Bylsma, but it's much easier to coach from your couch than rink side. Most coaches wouldn't be able to handle such superstardom in the locker room, the media of such a prestigious hockey town, and the expectations that fans and management give. But Bylsma does, and he does well.