Darnell Nurse and Max Domi were two much debated names for Canada prior to last year's World Junior Championships.
Not for the reason you think.
They were two prominent, and glaring, omissions to Canada's selection camp roster for last year's tournament.
Both took the rejection to heart, and have emerged as key members and contributors for Canada's 2015 squad.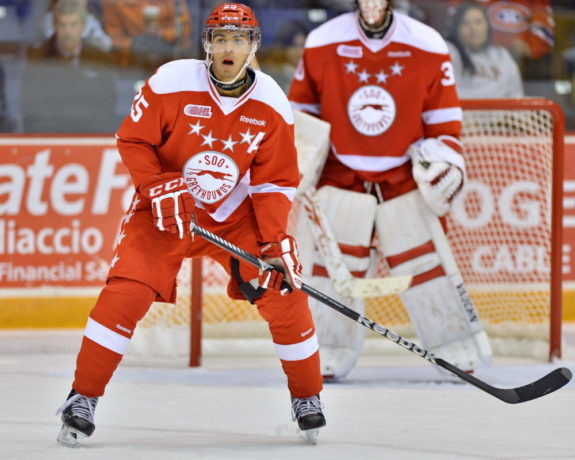 Darnell Nurse has been absolutely stellar defensively so far at these WJC's. His play internationally for Canada has been consistently great

— OHL Prospects (@BrockOtten) December 30, 2014
Domi has emerged as Canada's best offensive player through the first three games, but it is Nurse who may be one of the biggest keys to Canada's success going forward in the tournament.
Shutdown Pairing
Paired so far with Anaheim draft pick Shea Theodore, they make up one half of Canada's top four group. Josh Morrissey and Madison Bowey, both of the WHL's Kelowna Rockets are the other top pair.
Morrissey and Bowey took the lion's share of ice time through the first couple games, but as the competition grows stiffer, Nurse and Theodore have started to emerge as the top pairing or at the very least a 1a and 1b situation.
Especially facing Jack Eichel and the Americans in a New Year's Eve showdown, Canada coach Benoit Groulx will look to pair Nurse and Theodore against Eichel's line in a shutdown role.
Darnell Nurse on #Eichel: "You have to limit gaps + get in his face. That plays into the way I play." http://t.co/WBpv6fQwbx #WJC2015

— Mike Zeisberger (@Zeisberger) December 30, 2014
It's a role that will likely continue, barring disaster, into the medal round and one that will be crucial against the tournament's top competition.
Facing teams like Sweden, Russia, Czech Republic or the US in a one game showdown, Nurse going up against players like Eichel, William Nylander, Jacob del a Rose or David Pastrnak to name a few, will have a significant impact on the outcome.
Canada's strength lies in its talented depth of forwards and the ability to score four lines deep. The key for the defense will be keeping the puck out of their own end and moving it up to the forwards in transition.
The blueline as a group is one that extremely mobile, something that Canada hasn't had in some time. Especially in the case of the top four where Morrissey, Bowey, Theodore, and to a slightly lesser extent, Nurse, are all elite offensive defensemen as well.
The Prototype
Nurse, more than the rest however, has shutdown defenseman written all over him. He's big, with a long reach, and is still putting on muscle. He's also a strong, fluid skater with an effortless stride.
He has already shown ability in the tournament to carry the mail out of his own end and get it into the offensive zone with a handful of strides.
Nurse also exhibits the toughness and willingness to play physical that is needed to play against the other team's best. He also has shown a mean streak and edge that coaches love and opponents dread.
Future Looks Bright
Like most of the draft picks in this tournament, and especially in Canada's case, the respective NHL teams look on with anticipation and excitement. Being able to see their blue chip prospects in a best on best tournament is a great measuring stick.
In the case of the Edmonton Oilers, they would have to love what they have seen out of Darnell Nurse.
For a team that lacks elite talent on defense and team toughness overall, Nurse is exactly what they need. He had a strong showing in training camp and in two regular season games with the Oilers before going back to the OHL.
The decision to return him to junior appears to be the right one, and the maturation is already evident. A strong WJC tournament and playoff push with his Sault Ste. Marie Greyhounds should position Nurse's development nicely to have him patrol the blue line in Edmonton next year and for years to come after that.
__________________________________________
Follow Carl on twitter @CarlTHW and Google+ for more articles
Carl covers the Edmonton Oilers for THW as well as providing additional prospect coverage. Follow him on twitter @carlTHW, connect on Facebook or contact at carl.maloney@hotmail.com for questions, comments or if you're interested in him writing for you.