The best coaches in the NHL care more about their process of coaching than the results of a specific game. Earlier this year, Ken Hitchcock made this point when he said that "if you want to coach, then you get going with the process and you try to get them better every day." That is the thought process coming from one of the NHL's top 10 winningest coaches and a man with a Stanley Cup under his belt.
Ultimately, if a team is doing the right things, they will eventually win games. There is more luck in hockey than many fans would like to admit, therefore, when a coach begins making decisions based upon the results of a small sample of games, one can bet that their seat will quickly heat up. Making quick judgments is never a good long term strategy.
This was one of the main criticisms that I, and many others, had of Craig Berube. Instead of letting players make mistakes, letting them adjust to their positions, or letting young players learn as they go, there were many times in which a player seemed to be benched because of one mistake or mishap. Berube's results based approach that saw him staple players to the bench for one bad play or for a string of bad luck was one of the main factors that eventually brought about his demise.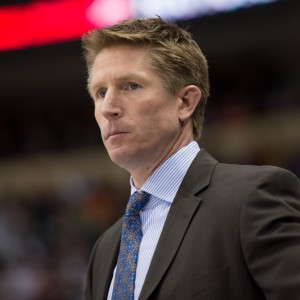 No coach is perfect in this regard. Ultimately, General Managers and owners want results. A coach can only focus on the process for so long before an impatient GM or owner wants to pull the plug.
So far, Dave Hakstol has been a process based coach. He has generally allowed players to feel their way through his system and has not made hasty decisions in changing the lineup. When changing up the lines, he has given the players multiple games together and had a look at how everyone clicks. He has tried out plenty of forward lines and defense combinations, and has given them a fair shot.
Similarly, his system emphasizes carrying the puck out of the defensive zone and dumping it into the offensive zone. This has allowed some players to shine (see Michael Del Zotto and Shayne Gostisbehere), while other players have struggled (see Jakub Voracek). Voracek, for example, is a player who relied upon carrying the puck into the offensive zone to create opportunities. Elliotte Friedman chronicled his struggles in one of his '30 Thoughts' articles last month.
What one would expect from a team working within a process based approach, under a new coach, and implementing a new system is for that team to start slowly but surely show improvement. That is exactly what the Flyers have done. In categories like Corsi percentage and High Danger Scoring Chance percentage the Flyers have had some ups and downs, but are generally headed in the right direction. (As of this writing, the data available on war-on-ice.com went through the Flyers 29th game.)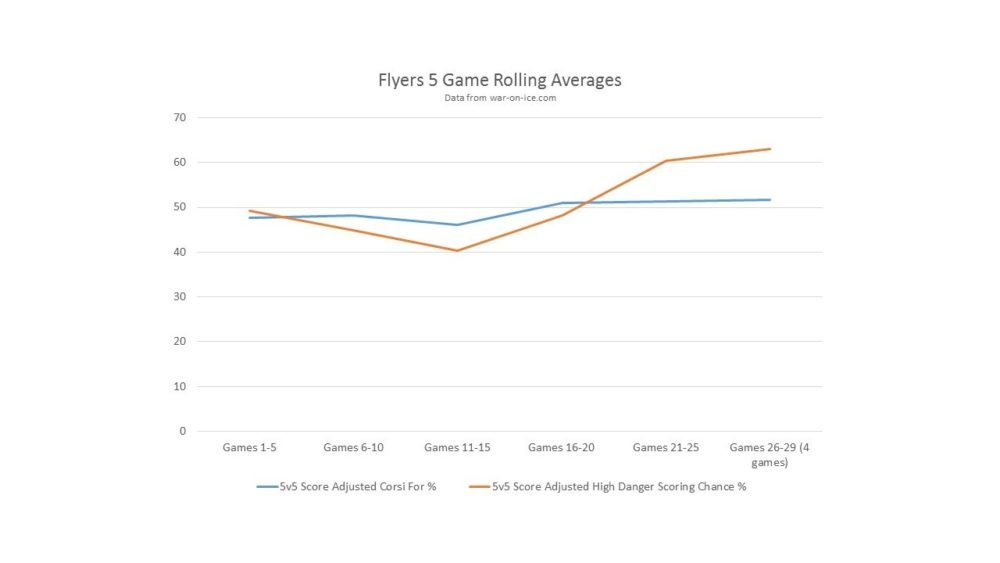 Keeping up a High Danger Scoring Chance percentage is much harder than maintaining a good Corsi percentage. However, the Flyers are headed in the right direction in both categories with over half of the season to play. The process looks to be bearing fruit in results. The Flyers are 6-3-1 in their last 10 games and have climbed up the standings.
In terms of even strength goal scoring, the Flyers have had similar numbers. Except for a big spike in even strength goals for in games 6-10, the Flyers have steadily increased their goal scoring while keeping their goals against pretty even.
The Flyers should continue to improve as the season goes on. Both Luke Schenn and Mark Streit have proven that they can push play in the right direction, and both should be returning from injury soon. Young players like Scott Laughton and Shayne Gostisbehere will continue to improve as they gain experience in the NHL and get into a rhythm.
Evgeni Medvedev is also a wild-card as the season progresses. He has shown in Russia that he can be a top flight defenseman. As he grows into the North American game, there is little reason to believe that he will not improve the Flyers.
Even if these players do not drastically improve, the Flyers should get better just by virtue of the fact that Dave Hakstol is instilling his style into Philadelphia. That style made him one of the most successful college coaches in the country. Over their last 10 games the Flyers are one of the best teams in the NHL. If they stick to the process, there is no reason to believe that this team cannot compete for a playoff spot this year.