Dave Tippett has spent most of his time under the radar in Dallas and Phoenix, but he has earned something unusual in both stops, longevity.
Playing Career
The former left winger from Moosomin, Saskatchewan played for the University of North Dakota from 1981-1983 and then was selected to represent Team Canada in the 1984 Olympics in Sarajavo, Yugoslavia. He was part of a fourth place team scoring a goal and assist in seven games for the Canadian squad.
After the Olympics he was signed by the Hartford Whalers, and spent seven seasons for them before being traded prior to the 1990-91 season. His best season in Hartford was 1988-89 where he scored 41 points, 17 goals and 24 assists. The Washington Captials acquired him at the draft for a sixth round selection. Tippett spent two seasons in Washington, before moving on to the Penguins and Flyers for a season each.
He was again selected to play for Team Canada at the 1992 Olympics in Albertville, France. He played alongside Eric Lindros, Joe Juneau, Jason Wooley, Sean Burke, and Trevor Kidd earning a silver medal at the games.
Coaching Beginnings
In 1994-1995 he served as player-coach for the Houston Aeros of the IHL. He retired after the season to become an assistant coach full-time. After a 12-27-3 start in 1995-96, the Aeros fired Head Coach Terrry Ruskowski and appointed Tippett interim Head Coach. He steered the Aeros to a 17-18-5 record that removed his interim tag for the 1996-97 season. Three successful seasons followed earning records of 44-30-8 for 94 points in 1996-97, 50-22-10 for 110 points in 1997-98, and 54-15-13 for 121 points in 1998-99. The 1998-99 season featured the best record in the league and netted him IHL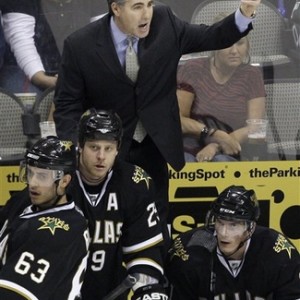 Coach of the Year honors.
Los Angeles Kings
His success did not go unnoticed as the Kings new Head Coach Andy Murry hired him to be an assistant for the 1999-2000 season. Los Angeles improved by 25 points and made the playoffs in his first season. The Kings improved again in 2001-02 reaching the 40 win total but lost in the first round of the playoffs.
Dallas Stars
The Stars named Tippett the head man for 2002-03 and he his impact was felt immediately. In his first season with Dallas the club earned 111 points, and first place in the Pacific Division. He is one of only seven coaches to have back-to-back 50 win seasons (2003-04 and 2005-06, there was no season in 04-05 due to the lockout). In his six seasons the Stars made the playoffs every year except 2008-09.  After the disappointing 2008-09 season he was fired by the Stars.
Phoenix/Arizona Coyotes
After Wayne Gretzky resigned as Head Coach in September 2009, the Coyotes quickly scooped up Tippett. As in Dallas, his impact was immediate. Phoenix skated to a record of 50-25-7, and team record 50 wins. Arguably his best season was in 2011-12 as the team won its first Division title as a NHL club and defeated the Blackhawks in the first round something that had not happened for the franchise since 1987.
And the belt goes to…

— Arizona Coyotes (@ArizonaCoyotes) November 28, 2015
Coach Tippett is in the top 50 coaches all time in winning percentage of .582, and a record of 501-341-28. He earned his 500th win on 11/27/2015 vs the Flames. Also Tippett is beginning to warrant credibility as he was named as an assistant for Team North America in the 2016 World Cup of Hockey.
Tippett's Coaching Record
Aaron Davis is an Arizona native and die-hard hockey fan. He played high school club hockey (poorly). He produces/co-hosts a podcast on the Heroes Media Group Network. His teams are: Coyotes, & Penguins, as well as, the Cardinals, Yankees, Suns, Everton, Steelers, Diamondbacks, & Pirates. He can be reached on Twitter – @AKD_56.