The St. Louis Blues named David Backes as the twenty-first captain in franchise history on September 9th, 2011 after five seasons with the team and one season of being an alternate. He's spent his entire NHL career in the Gateway City, but that may be coming to an end.
Current Contract and Play
Under his current contract, a five-year deal he signed back in 2011, Backes makes $4.75 million this season with a $4.5 million salary cap hit. Considering he's only scored 26 points (12G, 14A) in 49 games, though, it's a rather high price to pay for the winger.
Backes has recently been playing on St. Louis' third line alongside Patrik Berglund and Ty Rattie, in addition to being on the second power play unit. While that may not seem like a big deal, it's concerning that he was consistently on either of the first two lines a just a few seasons ago.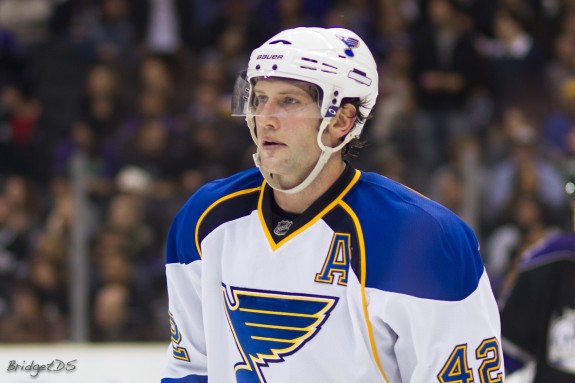 The lesser role on the team offensively makes for the Blues' need for the winger come into question. With talented forwards in the system already that come at a much smaller cut it's hard to imagine Backes re-signing for an amount he's become accustomed to.
His production has dwindled over the course of this season as well seeing that he's on track for fewer than fifty points when he totaled 58 points last year and 57 the year before that, which further puts his place on the team in question.
Free Agency Around the Corner
At the end of this season David Backes will be a free agent, that is unless the Blues can come to terms on a new contract. Either St. Louis finds a way to re-sign the 31-year-old winger, or they work with him on determining teams he'd be willing to go to via trade.
The trouble is that even if the Blues can re-sign him before he reaches the free agent market the cost might be too high. It really depends on how much Backes thinks he's worth and how much production he predicts he'll have in the coming seasons.
More than that there's the question of if he even wants to remain a Blue Note. Backes has spent his entire career in one city, playing for one organization and at 31-years-old he has a maybe seven or eight chances to win a cup before retiring.
His belief in the team the Blues have now and what teams they'll be able to put together moving forward are certainly a factor in whether or not he'll test the market.
Bottom Line
All of these are legitimate questions the Blues have to have the answers to rather quickly. If they wish to re-sign him and the feeling is mutual expect the captain to take a price cut for both cap reasons and his lesser offensive production.
If either side chooses not to come to terms with a new deal a trade may be hard to execute because of his no-trade and he may truly want to see what he can get on the free agency market.
Either way the Blues will have adjustments moving forward and one of the biggest changes could be a new player with a "C" on his jersey.
What do you think the Blues will do with David Backes?