Saturday at the 2018 Prospects Challenge in Buffalo, NY showcased two more games for spectators to enjoy. Leading off, the New Jersey Devils took on the Pittsburgh Penguins in a 3:30 P.M. matinee. The main event between the Buffalo Sabres and Boston Bruins followed at 7:00 P.M. After a strong showing from all four teams on Friday, fans waited patiently for HarborCenter doors to open, the puck to drop, and these future stars to put on a show.
I arrived downtown about three hours before the first game, checked into the hotel, and walked towards the arena and Canalside to take in the scene – Buffalo in September. The doors to HarborCenter were open to teams, staff and other essential personnel, but I managed to work my way into a bleacher seat just early enough before the arena was cleared out pre-game.
To my very pleasant surprise, the first player I saw on the ice was Sam Reinhart.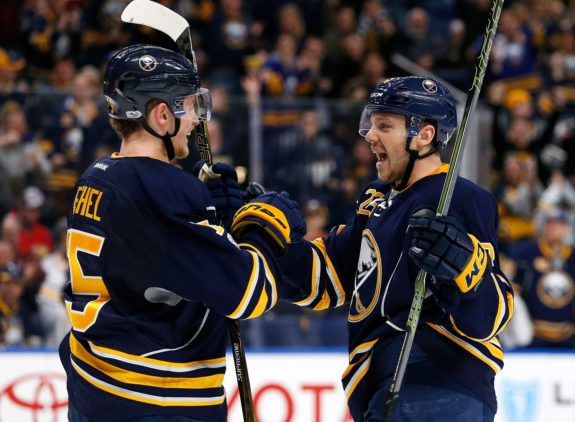 Jack Eichel and Reinhart commandeered the ice to work on shooting drills in front of a small crowd of rink attendants, coaches, lingering players…and me. It doesn't end there. After a few glorious minutes of watching the duo feed each other one-timers, the Devils and Penguins players arrive from the team hotels, walking down the stands towards the lower level locker rooms, all eyes focused admirably on the ice.
A lone Devils prospect would come out from below to sit a few rows ahead to watch. At this point, Jack and Sam are weaving in-and-out of the near circle before unleashing shots on a makeshift goalie from ten feet out. I thought to ask him what it felt like to watch the pair out there – two guys who had been prospects in 2014 and 2015 respectively (albeit, both second overall picks). I left him to his own thoughts and observations out of respect for the pre-game ritual, but the essence of the Prospects Challenge was not lost in that moment.
Day two did not disappoint. Upon entering the seventh-floor upper concourse headed to a center-ice seat, the first face I recognize is Pittsburgh Penguins head coach Mike Sullivan. If anyone questioned the legitimacy and importance of this weekend tournament, that should eliminate all doubt. Behind Coach Sullivan was Buffalo Sabres general manager Jason Botterill, a smile ear-to-ear. All hands on deck to see these young stars – the future of each organization – take the stage. I'm in hockey heaven.
New Jersey dominated Pittsburgh in the early action. It was 6-0 at the end of the second period, so I took a lap around the concourse to see who else might be in the bleachers. Jackpot. At the northeast corner of KeyBank Rink were a collection of pro and amateur scouts all closely watching the action. Visible logos included: Anaheim, Winnipeg, Chicago, Washington, and Toronto. There was even a Euro league scout from Germany who had just relocated to Rochester. The cherry-on-top of my new vantage point for the rest of the evening was Scotty Bowman. The legendary coach was holding court, enthusiastically offering advice to scouts on what to watch.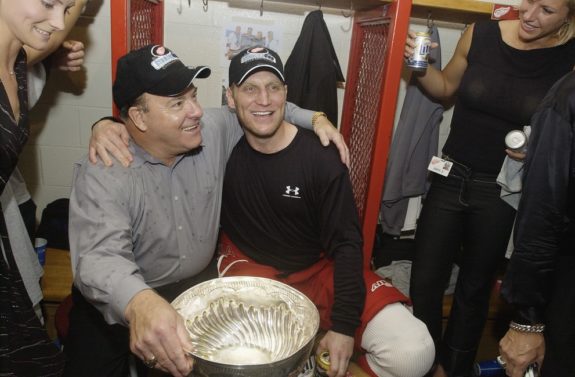 The surprisingly approachable cohort would remain in the same place for game two. Having struck up a conversation with a director of player personnel for one Eastern Conference team, I asked, "what do you watch?" referring to his process for evaluating players he was seeing live for the first time. His answer, succinct and direct, was to simply watch the hockey closely and take note of what stands out.
Here's what I gathered from Saturday Prospect Challenge action between the Buffalo Sabres and Boston Bruins:
Be Patient with Casey Mittelstadt
Many NHL fans were introduced to Mittelstadt at the 2017 Entry Draft and have been following the teenager throughout his five-team hockey adventure since that day. Whether it's "Da Beauty League" of Minnesota summer hockey lore or World Junior Championship games outdoors in the snow at New Era Field, Sabres fans have fallen for this kid.
And while our hopes for his future as a number two center behind Jack Eichel should remain, he will need time to develop properly. Casey has played a lot of hockey at all different levels in his young career, but there is nothing that compares to the National Hockey League. The play is faster, players are stronger, goalies are quicker, and very few enter the league with immediate success. The 82-game grind is a lot to endure.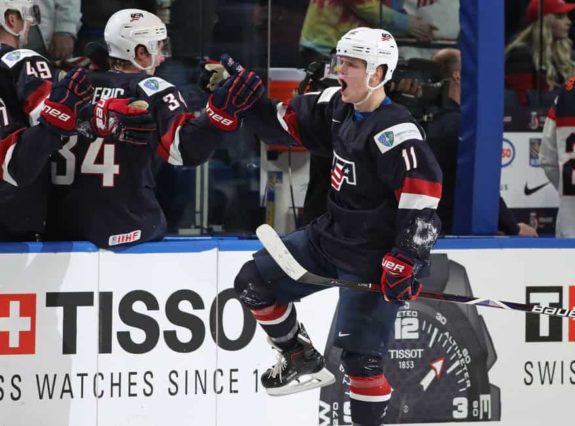 I am long on Mittelstadt, but Boston's young stars, nine of which already have AHL experience, gave everyone a glimpse as to what he now looks like against higher-caliber talent (especially Ryan Donato). His finesse, speed, and hockey IQ will advance progressively with experience at the highest level. Sabres fans should cheer this progress and forego overly lofty expectations too early.
Pesky Pekar
Similar to Mittelstadt, many Buffalo Sabres fans were introduced to Matej Pekar at the draft. The 2018 third-round pick hailing from Turnov, Czech Republic stood out while battling for deflected shots in front of the net, scrapping for pucks in the corners, back-checking hard in the neutral zone, and not shying away from activity after the whistle surrounding both goalies.
Only 18 years old as of February, Pekar's 6-foot, 170-pound frame will serve him well at the pro level. The Buffalo Sabres' and Rochester Americans' coaching staff will assure that his development includes additional speed and a stronger stature to go with the inherent grit and tenacity put on display Saturday night.
"Auto-Pilut"
The Eastern Conference personnel director mentioned earlier spoke of a few specific players. "What do you think of Lawrence Pilut?" he asked, continuing "we tried to sign him." I smiled coyly trying again to imagine what sort of magic Botterill worked this past summer. Lawrence sought the best opportunity to contribute without a logjam of NHL ready defensemen, and Buffalo checked that box.
As the game drew close to an end, candidates for the "Best Motor Award" on the Buffalo side emerged. Who still had wheels this late in a 2-1, end-to-end game? Rasmus Dahlin, the primary focus of nearly everyone's attention, continued to take (and hand out) checks, battle in front of his goalie, and quarterback each breakout. But it was a different Swedish import player who stood out most.
Pilut, who has likely set his sights on cracking the NHL roster out of training camp, left everyone in attendance with a full 60-minute impression. His speed, communication, positioning, and up-ice vision were steadfast and crucial to maintaining the one-goal deficit. For one game, it was evident as to why he was named Swedish Hockey League Defenseman of the Year in 2017-18.
Tall Tage Thompson
A scout from the Winnipeg Jets organization joined the conversation about halfway through the second period. Tage Thompson had broken clear past the Bruins' defense on a breakaway, missing the net wide right (poor choice of words, Buffalo fans, I know) on a quick forehand shot that had worked the night before. "Same move as last night," he said. "I used to play with his dad, great player, a total nut." It does not appear that his son inherited that temperament, but the skill is certainly there.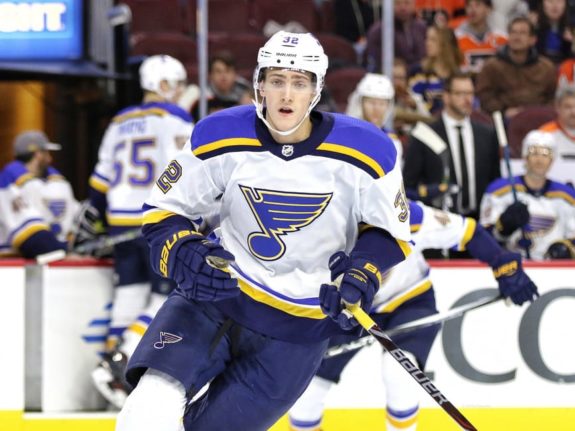 Tage, standing at 6-foot-6 without skates on, the tallest position player on the ice by a few inches, stood out on Saturday for more than just his size. His speed, shot, and forechecking had scouts and fans alike at attention. The University of Connecticut product and former first-round pick of the St. Louis Blues came to play, knowing that Botterill wanted him in Buffalo. A piece of the Ryan O'Reilly trade that brought him and four other players and picks to Western New York, Tage has an opportunity to compete and contribute. He has done just that through two games.
Last But Not Least – Other Observations
Alexander Nylander is finding his legs. He showed flashes of play worthy of a top-10 draft pick, but like Mittelstadt, fans should continue to be patient with the 20-year-old.
Ukko-Pekka Luukkonen is the real deal, and he should keep the bright orange padding when he finds himself in Buffalo. They looked like two large traffic barrels telling 28-out-of-30 shots to turn around.
A No. 15 Eichel jersey, I am told, is now vintage. I am keeping mine to one day add to the time capsule.
Thin Lizzy's "The Boys Are Back in Town" when the team took the ice and The Offspring's "Keep 'Em Separated" as the referees broke up a scrum were both nice touches by the in-game arena staff. They're already in mid-season form.
All-in-all, an excellent showing by all four teams, the host Buffalo Sabres organization, and especially the fans. Sellout crowds on both Friday and Saturday is another testament to how passionate, dedicated, and loyal this fan base has remained. It is safe to say that fans are excited for what is to come.