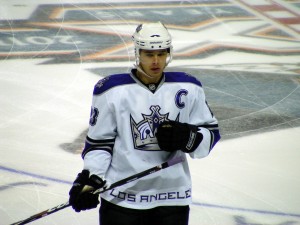 Never mind the fact that the Kings' captain had five straight 50 point campaigns leading up to the shortened season.  Never mind the fact that the hard hitter was an essential part of the Kings' success when they won the cup.  What is important, at least from a sensationalistic point of view, is how much Dustin Brown has been struggling as of late; well at least until about a week ago.
The point of this article is not to highlight how awful, bad, good, great, or amazing Dustin Brown is; rather it is to highlight the media's tendency to sensationalize and attack.  Brown may well deserve all the criticism he has received; however, THW prides itself on going off the facts and highlighting the realities of the hockey world.
One major reality is that past success only gets a player so far in this industry.   IN SUM: IT ISN'T PERSONAL DUSTIN.  Unfortunately, the only thing fans, media, and the rest of the industry care about is what is happening now.  Mr. Brown, if you haven't already realized it, you have become the victim of media sensationalism.
Dustin Brown's Downs
Fact: Dustin Brown has only 20 points this season in 62 games
Fact:  Dustin Brown finished dead last in ice time during the final match in the olympics
Fact:  Dustin Brown had nearly 1o more points after only 46 games last season
Fact:  With a +2 rating, Dustin Brown is on his way to attaining the worst +/- rating he has had in 4 seasons
Point blank: Brown is having a bad year.  He is in a slump and it has shown in his NHL and olympic play.  How could this be?  Perhaps it is because he is human.  Unfortunately, he is a human that is under a major microscope.  This phenomenon is the harsh reality famous athletes, musicians, and entertainers alike must all live through.
In the sports world, it appears the media does not concern itself with explanations and justifications; rather it is focused on two things primarily:  greatness and struggle.  Readers do not see floods of articles about the players riding with the pack.  Rather, news feeds are generally filled with stories of athletes doing great things and athletes who are expected to do great things but are failing to do so.  This emphasis is the pinnacle means by which a writer attracts his or her reader.
That said, no person in the NHL appears to fall within this dichotomy more so than Dustin Brown.  His past reveals he was and is destined for greatness in the hockey world and his present reveals that he has not been living up to his own nor many others' expectations.
Media Versus Dustin Brown
Dustin Brown's last power play point came on October 24.

— LA Kings Insider (@lakingsinsider) March 1, 2014
IN-GAME GIFs: Alec Martinez is really excited about Dustin Brown's 2nd PP point of the season. http://t.co/JIRgs6Xv4j http://t.co/4Ia4JAATp7

— The Royal Half (@theroyalhalf) March 1, 2014
Dustin Brown continues his "please don't trade me at the deadline" run right on schedule. #LAKings

— ♛ LetsGoKings ♛ (@LetsGoKings) February 28, 2014
Dustin Brown with 3:05 TOI in first after being abjectly terrible in Canada game.

— Greg Wyshynski (@wyshynski) February 22, 2014
Dustin Brown has more "accidental" knee on knees and elbows to the head than anybody in history #welldone

— Michael Russo (@RussoHockey) February 15, 2014
Dustin Brown, able to deliver dirty hits on virtually any continent on earth

— Bruce Arthur (@bruce_arthur) February 15, 2014
Indeed, social media ninjas wasted no time in the last month highlighting Brown's weak play and questionable hits.  Again, this is the stuff journalism is made of.  If Brown were playing "lights out" hockey, this would be the foundation of stories about him.  Nonetheless, the storyline surrounding the Kings' captain has been his lack of offensive contribution and his "crazy elbows and knees."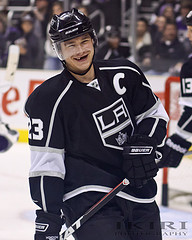 DISCLAIMER:  Research indicates that the public will mock Brown's "signature smile" even when he is playing great hockey.  Sorry Dustin, with less than ten teeth (it seems), the jokes will be inevitable.  Even if you scored 92 goals in a season, the jokes would likely still be there.  Nonetheless, THW embraces your smile Mr. Brown.
The takeaway here is that if there is nothing spectacular or awful to write about, it will likely not be in the news.  Unfortunately for Brown, he is the front man of a major hockey market and the skepticism and criticism cannot be avoided.  Perhaps the media will lighten its heart for L.A.'s toothless sweetheart (if it hasn't already).  As of late, Brown has given writers every reason to change their tune.
The Media AND Dustin Brown
It almost seems scientific at this point that just a hint of success can completely change the media's focus.  Dustin Brown has been playing some great hockey as of late, tallying 4 points in the last week.  This production is what writers, fans, and the Kings have been longing for all season.  Subsequently, recent social media postings indicate how forgiving the media can be.
https://twitter.com/MattFrattinNews/status/440955373852184576
Three straight wins for #LAKings after 2-0 shutout at Calgary. Goal, assist for Dustin Brown.

— Frozen Royalty (@frozenroyalty) February 28, 2014
According to Rotoworld, "Brown has been one of the biggest fantasy disappointments this season as he had only 16 points in his first 58 games with the Kings before the Olympic break. But he has been on fire in the three games since and now has 11 goals and 20 points in 61 contests. It could be time to pick him up again."  That's right with 4 points in 3 games, Brown has been "on fire."
Conversely, if Brown had gone three games without a point, no doubt the media would characterize him as being in the biggest slump ever.  Again, this is what journalists do.  Everyone who knows hockey knows that Dustin has potential to the moon and a ridiculous skill set.
Despite the fact that Brown has had a rough year, he is the Kings' captain, was an olympic alternate captain for Team U.S.A., and has been heating up in his recent play.  It is hard to imagine that many NHL players do not respect Brown's hard hitting abilities and his demonstrated leadership.  Despite these qualities, only one thing is certain:  the media is always listening and watching.   Thus, whether L.A.'s front man is great or awful, readers will always hear about it.  That folks is the reality of sensationalism.
For more on the Kings, please follow me on Twitter @JesseScott_THW
I am a lifelong hockey enthusiast, U.S. Navy veteran, and future attorney.