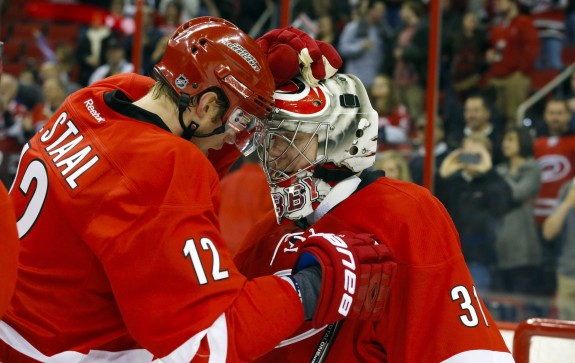 The Carolina Hurricanes may have gotten the best deal of the day, without actually trading anyone.  Jim Rutherford re-signed Anton Khudobin to a 2 year/$4.5 million deal Tuesday afternoon.
Canes GM Jim Rutherford said Monday he hoped to get Khudobin re-signed before trade deadline. Done deal: 2 years, $4.5 million.

— Chip Alexander (@ice_chip) March 4, 2014
Khudobin, who has solidified himself as the starter (and will start tonight vs. San Jose) for the remainder of the season, will make $2 million next season, and $2.5 million the season following.  For a goalie with current top ten numbers in goals against average (2.17, 8th), and save percentage (.927, 4th), that is an incredibly low cap hit and leaves the Hurricanes with room to make moves.
What this Means for Anton Khudobin
This does not really mean much for Khudobin.  The team refused to commit past two years, and he is still only getting back-up money.
However, having the security of a two-year deal is something a journeyman goaltender like Khudobin has longed for in his career.  The Carolina Hurricanes are Khudobin's third NHL team, and the first to give him a real shot at being the number one guy.
This deal also opens the door for bigger money down the road.  If Khudobin continues to impress, and can get Carolina back on track this season or next, look for the money to increase and the years to extend, especially if Ward is moved.
What this Means for Cam Ward
Knee-jerk reaction may impel one to think that extending Khudobin means Ward is definitely gone.  This may not be true.  While trading Ward may boost Khudobin's confidence, knowing the franchise is 100% behind him in net, the low AAV of $2.5 million is back-up goalie money.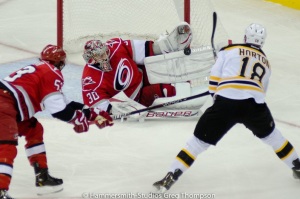 Trading Cam Ward, a 29-year-old goalie in the midst of a horrendous slump with a $6.3 million cap hit, is becoming increasingly difficult.  The fact that Khudobin is still being paid backup money means the Hurricanes have the cap room to keep both goaltenders and open the job up once more during the offseason.
However, if Carolina is able to find a suitor for Cam Ward, without having to retain salary, the freed up cap room can be spent to increase offensive production, or to shore up the blue line.
Any way you break down the deal it was great for the Carolina Hurricanes and Jim Rutherford.
We will keep an eye on the Hurricanes to see if any other moves develop between now and the trade deadline.  Do not be surprised to hear Cam Ward's name start popping up in the rumor feeds.
Check out our partners at TiqIQ for the best deals on Carolina Hurricanes tickets for all 2013-14 games.