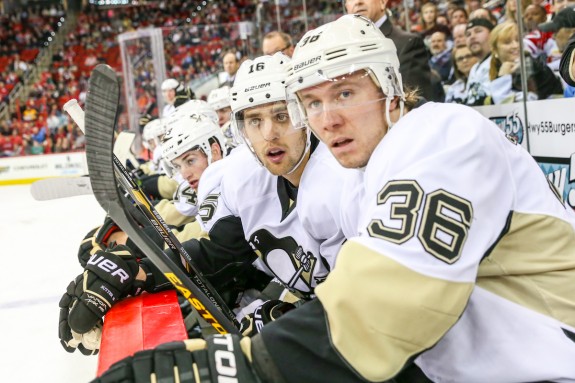 Time for another dose of 3 Questions on the Pittsburgh Penguins and the upcoming NHL trade deadline on Wednesday at 3pm.
Yesterday we explored Ryan Kesler from every possible angle.
As of Tuesday evening, the Kesler situation still seems eerily reminiscent of Jarome Iginla last year.  Multiple teams are still reportedly in the mix — although the Philadelphia Flyers may have effectively pulled out of the sweepstakes with their trade for Andrew MacDonald — but it's tough to get a sense of who exactly those teams are.
Teams who are definitely in the running for Kesler continue to insist they are not, and others like the Flyers might only be in conversations to drive up the price for Pittsburgh.  The only thing we know for certain at this point: hardly anybody is telling the truth.
Ahh, trade deadline time.
Kesler, with a no-trade clause, still holds the final decision in this drama but with Daniel Sedin's injury and the Roberto Luongo trade to Florida, I'd say there's a 90-percent chance Kesler moves by the end of business on Wednesday.  The Canucks are headed towards a rebuild/reload and if Kesler wants out, it's better to cut ties sooner rather than later, as long as the return is appropriate.
Before we close the book on the Kesler drama, let's tie up one loose end from yesterday's article…
Question 1: How is Brandon Sutter going to get $4 million next year?
I received a few emails asking how Sutter could possibly command $4 million per year on his next contract.
Fans will be shocked at how high salaries for unrestricted free agents rise in the coming years.  Front-loaded contracts have given everyone a false perspective on what star players truly earn in this climate.
No player in the cap era has ever signed a contract with a $10 million cap hit, but this season seven players earned $9 million or more in actual salary.  (Shea Weber led the way with $14 million in salary plus bonuses)  Next year, that number jumps to 12 players.
That dynamic won't necessarily trickle down to Sutter as a 25-year-old restricted free agent who currently carries a $2 million cap hit.  Teams typically possess negotiating leverage with their RFA's, which keeps the cap hits in line.
There are other factors to consider though.
Sutter possesses arbitration rights and can play that card if he feels he's not getting a fair offer from the Penguins.  The qualifying offer to retain his rights will be $2.7 million.  I think Sutter has a strong case in arbitration for more.
We haven't seen many players go the arbitration route in recent years so most fans aren't familiar with how flawed rudimentary the system really is.  This article from our friend Jeff Angus reveals the details, but what you need to know is that arbitration awards are really based on comparable players who possess similar basic stats.
Not advanced stats like Corsi or Fenwick, opinions from scouts, or even game film.  Just basic stats you get from the boxscore and that's about it.
In the case of Brandon Sutter, that should play in the Penguins favor as Sutter does his best work on the defensive end of the ice.  But after a quick scan of CapGeek.com, one player popped up that skews the potential award for Sutter: Kyle Turris.
Turris famously asked for a trade out of Phoenix and eventually landed in Ottawa at the end of 2011.   He signed a two-year extension at $1.4 million on his second contract and then followed that up with a five-year deal at $3.5 million in the summer of 2012.
Turris and Sutter aren't mirror images of each other, but they're close enough for a starting point.
At the time of Turris' most recent extension he had yet to score more than 12 goals in an NHL season.  Sutter scored 21 in his second season with Carolina and certainly has a better track record as far as box scores are concerned.
Many teams — including the Penguins — refuse to go to arbitration with their players, but Sutter's agent should be armed with plenty of ammunition as he heads to the bargaining table.
Upwards of $4 million should be attainable and I don't see any way Pittsburgh is willing to pay that.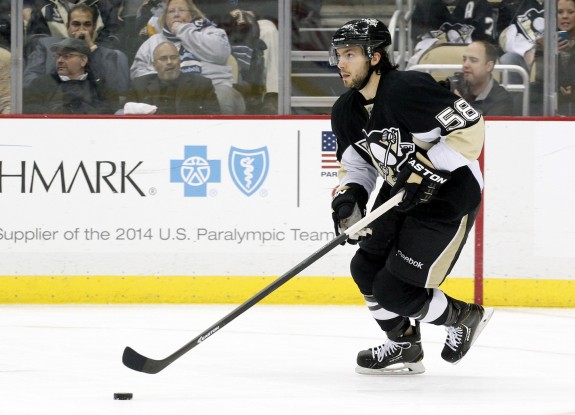 Question 2: How much salary cap space does Pittsburgh actually have?
Typically, Capgeek.com is the place to go for an accurate picture of any team's salary cap situation.  As of right now, and for most of the season, the Penguins have been shown with very little wiggle room.
When Penguins GM Ray Shero spoke to the media last Tuesday and said that there were "many moving parts" and that most of the teams in the league were up against the salary cap, he wasn't lying.  Some assumed that meant the Penguins were amongst those teams and the CapGeek calculations certainly backed that up.
But in interesting twist, the Penguins' injury situation actually gives them the cap flexibility to make any deal they want.  Tomas Vokoun ($2 million) and Pascal Dupuis ($3.75 million) are already on long-term injured reserve and the Penguins have replaced part of their salaries with minor-league call-ups and other midseason additions.
If they need to find additional cap space, they can place Kris Letang ($3.5 million) and Paul Martin ($5 million) on LTIR as well.
Both players are expected to miss most, if not all, of the regular season.  The salary cap disappears in the playoffs meaning Letang, Martin, and even Vokoun could be activated freely at that time.
The possibilities are just about endless.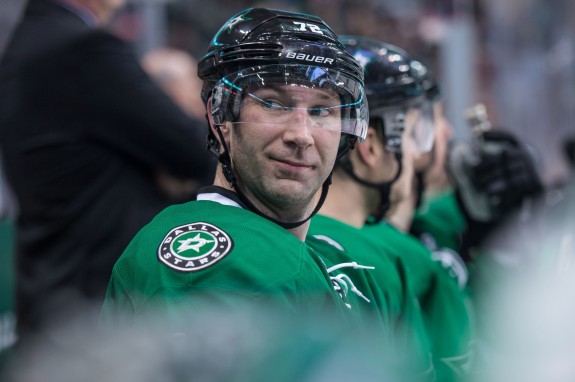 Question 3: Okay, enough of Ryan Kesler.  Who else might the Penguins go after?  Give us names we haven't heard yet.
One way or another, based on the breakdown above, I don't think Brandon Sutter will be wearing a Penguins jersey next season.
If the decision to move him comes sooner rather than later and the Ryan Kesler deal doesn't come to fruition, who takes over at third line center for the rest of this season — assuming Jayson Megna is ready to assume that role next year and beyond?
One option to consider would be David Legwand.
Legwand is a lifelong Nashville Predator (with obvious ties to Ray Shero and his time with the organization) who has the speed to keep up in the Penguins' system and would be a dependable third line center for the stretch run.
Nashville GM David Poile came out and said he has no plans to trade Legwand at the deadline, but reading between the lines in this story, Legwand is available for the right price.
Other than that, I don't see many affordable options in the rental market.
If the Penguins are looking for a versatile winger with term who can keep up with Sidney Crosby for this season and then flex down to a third line next year when Pascal Dupuis returns, there are two names I would keep an eye on.
Dallas right wing Erik Cole still has the speed to keep up with Crosby and goes to the net like a freight train (when he's properly motivated).  He has a finisher's touch and carries a $4.5 million cap hit for one more season.
The Stars have an abundance of young talent on the wings and eventually those players will need an opportunity. Valeri Nichushkin has been a pleasant surprise on the top line this season with Jamie Benn and Tyler Seguin, and you have to wonder if Cole's days in the Big D are numbered.
He holds a no-trade clause and has transported his family down to Dallas, but he also waived the NTC to come to Dallas from Montreal last year at this time.
His agent, Steve Bartlett, is also very familiar with Shero and represents a number of current and former Penguins players. While Bartlett and Shero have clashed on contract negotiations for players such as Tyler Kennedy, there seems to be a mutual respect factor that could play into any decision Cole has to make.
Another veteran winger on a rebuilding team that might make sense is Calgary's Curtis Glencross.
Glencross, 31, has one season left at $2.55 million and could also fill the versatile right winger role on the Penguins roster.
Flames GM Brian Burke says he is negotiating a number of deals at this point and that includes so-called "hockey deals" for players with term left on their contracts. Glencross also holds a no-trade clause but Burke and Shero have a history of trading together.
Don't be surprised if the two find a way to get to the table together again on Wednesday.
__________________________________