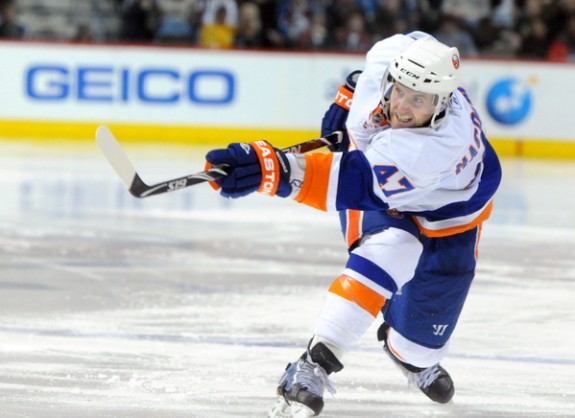 It's been a whirlwind of excitement leading up to the 3pm deadline on March 5th, 2014.  Names like Dustin Penner, Ilya Bryzgalov, Viktor Fasth, among others have been on the move.  The Flyers got their feet wet by sending a 3rd round pick in 2014, a2nd in 2015, and prospect Matt Mangene for pending Islanders UFA defenseman, Andrew MacDonald.
This creates a bit of a logjam on defense as Philadelphia currently has nine total defenseman.  If rumors are true, Andrej Meszaros is the likely odd man out since he's gotten some serious interest from various teams – most notably the Boston Bruins.
For those who haven't seen MacDonald play, he's the only defenseman on the Islanders this season who has played in every single game.  A very smart defensive player, MacDonald isn't afraid to lay his body to block a shot (198 blocked shots).  Far from a flashy player, MacDonald is poised with the puck and makes the simple, effective plays up the ice.
A capable point scorer, MacDonald should fill in nicely on the Flyers' 2nd powerplay unit.  To date, he has 24 points on the season with New York.  His plus/minus is a little worrisome at a minus-19, but you have to realize that the Islanders give up the most goals against per game (3.35) of any NHL team.  Overworking him can be an issue, so realistically he should be playing no more than 24-25 minutes per game.
Although he isn't the #1 defenseman the Flyers desperately need, he will play a factor in helping the blueline play better defensively, cutting down angles, blocking shots, and creating opportunities from the backend.  All in all, it was a good get for Paul Holmgren and the Philadephia Flyers.
Follow Shawn Reznik on Twitter: @ShawnTHW