Viktor Fasth is the next name in what is becoming a long list of goaltenders to suit up for the Edmonton Oilers this season.
Fasth was acquired earlier today from the Anaheim Ducks for a fifth round pick in 2014 and a third round pick in 2015.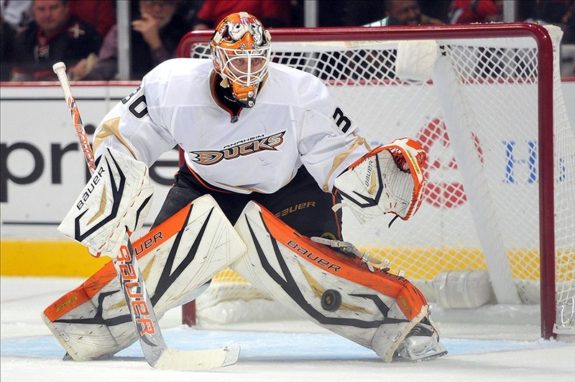 To make room, Ilya Bryzgalov was shipped out to the Minnesota Wild for a 2014 fourth round pick.
The Carousel Continues
Fasth will be sixth goaltender to man the pipes for the Oilers this season.
The year started with the tandem of Devan Dubnyk and Jason LaBarbera. That proved to be a less than stellar combination and Bryzgalov was brought in as a stopgap measure to improve the situation. He wasn't great, but he wasn't bad either and was better than the previous two.
Next to come in was Ben Scrivens and has looked good in his seven starts for the Oilers posting a save percentage of .940. He impressed enough that he was offered a new two year contract by GM Craig MacTavish.
Sprinkle in a few injury replacement starts by Richard Bachman and there you have the Oilers goaltending picture for 2013-14 so far.
Once Fasth starts a game for the Oilers, they will become just the 18th team in NHL history to use 6+ goaltenders in a season.
Stability For Next Season
With both Scrivens and Fasth signed through next season, it seems pretty clear who the goaltenders will be for 2014-15.  Not that either goaltender has a long, proven NHL track record, but both have shown enough to prove they have the ability to put up impressive numbers when given the opportunity.
Fasth is in the first year of a two year, 5.8 million dollar deal and Scrivens just signed a new two year 4.6 million dollar deal.
It gives both goaltenders, as well as Oilers management, the rest of this season as well as next season to prove whether one, or both, are worthy of a long term deal.
Both should be entering the prime of their career and will have an opportunity to push each other for a No. 1 position.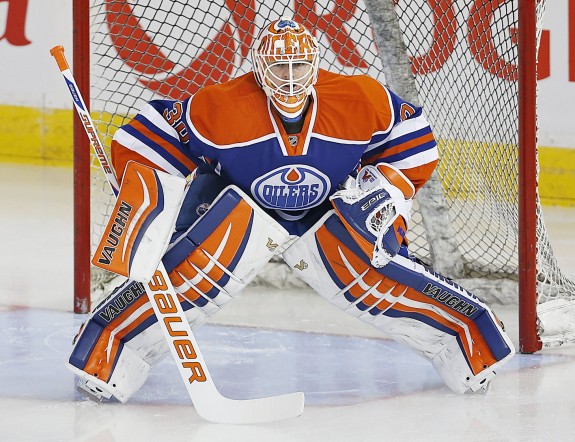 New Potential Brings Renewed Hope
The Oilers have put themselves in a good position, as they aren't locked into either goaltender long term, should they not pan out, and after next year can make more of an informed decision on the long terms future of their goaltending position.
Both goaltenders appear to have the potential to be legitimate NHL starters. That may seem underwhelming, but when you consider the team hasn't had a viable No.1 option since Dwayne Roloson took them to the Stanley Cup finals in 2006, it brings hope that hasn't been there in some time.
Scrivens has been a revelation this season, putting up impressive numbers for the Kings in relief of Jonathan Quick, and has been similarly impressive in his starts with the Oilers. At 27 years old he is right around the make or break time for young goaltenders in whether they flourish or are deemed nothing more than a career backup. Edmonton fans certainly hope his numbers this season are indictive of the former happening.
Fasth, 31 has spent most of his career in Sweden, however showed he has the ability to make an impact in the NHL going 15-6-2 with a 2.18 GAA and save percentage of .921 last season for Anaheim. He has battled injuries this season and hasn't had the same opportunity, but will get a chance to split starts and prove it with the Oilers.
Ducks GM Bob Murray certainly thinks he has the potential to be a No.1:
Murray on trading Fasth: "Viktor is a class act and a great guy. He battled to get back. Viktor is going to be a No. 1 in Edmonton."

— Anaheim Ducks (@AnaheimDucks) March 4, 2014
The Oilers are hoping one of the two take the starters role and run with it, giving the team the consistent goaltending it has so desperately lacked. At the very least they should be expected to provide a dependable tandem that give the team a chance to win most nights.
It also gives top goaltending prospect Laurent Brossoit a chance to develop and not force management to rush his development. Hopefully in a couple of years push himself into a position to be part of the conversation and give the Oilers a good problem to deal with.
The Oilers may or may not have found themselves a Vezina candidate, but you can't fault MacTavish or the management for not actively trying to improve the situation.
_________________________________________________________________
Follow Carl on twitter @carlTHW and Google+ for more articles