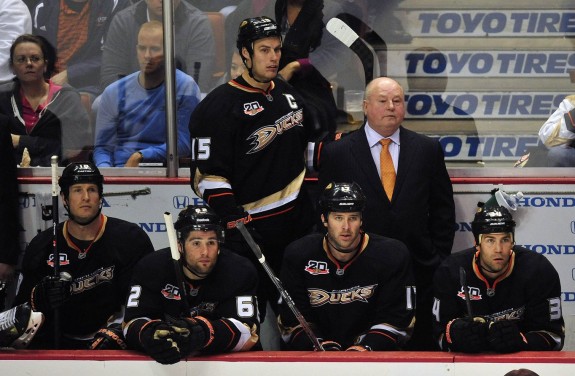 "Dodge, duck, dip, dive and dodge," – the wise words of Patches O'houlihan. He may have been talking about dodgeball when he uttered those five (well… four) words, but they can also be applied to Duck-puck. What's Duck-puck you say? It's the dominating hockey the mallards of Anaheim have been playing all year. They've instilled fear into their opponents by monopolizing 5-on-5 gameplay. When the Ducks' strong, big-bodied corps make their way up the ice, you better dodge, dip and dive while you dodge. Their supremacy on ice is unparalleled this year, leading the Ducks to a 43-14-5 record in 62 games, good for 91 points and first overall. Thanks to Duck-puck, the team is well on their way to setting some fancy franchise records. And when you're setting records as a team, you're also going to set some individual ones as well. Here's a summary of some records that have all ready been set, as well as projected career-highs from team, player and coach alike.
Let's start off with the team as a whole. Through 62 games, Anaheim has only lost 14 times in regulation (surprisingly, only six have been one-goal affairs). The Ducks are on pace for 57 wins and 120 points, Which smashes their 2006-07 records in both categories. That year, in which they happened to win the Stanley Cup, the Ducks finished 48-20-14 for 110 points.
Last year, Anaheim cruised to a 30-12-6 record in a shortened season. If pro-rated, they finished with 113 points, enough to have beaten their record as well. They did salvage a .688 points percentage however, which was enough for a franchise record. Currently, Anaheim's .734 is set to obliterate that as well. In the last two years, coach Bruce Boudreau has lost an astoundingly low 26 times in regulation through 110 games. Speaking of…
Bruce Boudreau:
How cool is this?
Fewest Games to 300 Wins — NHL Head Coaches

Bruce Boudreau 496
Toe Blake 525
Mike Babcock 526
Glen Sather 528
Fred Shero 539

— Yahoo Sports NHL (@YahooSportsNHL) March 1, 2014
This guy is ahead of the game. He only played 141 games in the NHL, but he seems to grasp tactics as well as anybody ever has. In 497 games coached, Boudreau is 301-137-59. Just for fun, let's compare him to Scotty Bowman, the coachingest coach of all coaches. Over 30 seasons, he won nine Stanley Cups to complement his record of 1244 wins in 2141 games. Boudreau's win-percentage in the same amount of games gives him 1296 wins. Impressive. (Shh, I know it's unlikely. Boudreau would have to coach for 22 more seasons and he's all ready 59). But wait, that's not all.
One game after getting his 300th NHL win, Bruce Boudreau has 100 with the Ducks. Does it in 168 games, beating Randy Carlyle's 184.

— Eric Stephens (@icemancometh) March 3, 2014
After beating St. Louis 1-0 to set the 300-win mark, Boudreau and his Ducks ousted the Hurricanes at home 5-3 for their third consecutive win. Two wins after the Olympics end, two records for Boudreau.
Teemu Selanne:
We all know it's probably (oh god I hope not) Teemu Selanne's last season. His feats are well known 'round these parts, but that doesn't mean they aren't worth mentioning. With the pace he's been playing, it's unlikely Selanne gets 18 points in the next 22 games, but if he does, he'll pass Stan Mikita for fourth overall. Eight goals will tie him with Mario Lemieux for 10th, and 42 shots will boost him into 11th all-time past Dave Andreychuk.
Ryan Getzlaf:
Getzlaf has always put up big numbers, but a good chunk has always come from assists. This year, it appears the beastly forward has changed his game a little by using his size and strength to produce more goals. The top center has 29 goals through 58 games (personal best 18.8 shooting percentage, passing his mark of 25 reached twice in his sophomore and senior year). So far, he's on pace for 39 goals and 91 points, equalling the 91 he threw up in 2008-09. Getzlaf is also on pace for a +35, which eclipses his +32 from the same year. Further strengthening Boudreau's Duck-puck mantra, 25 of Getzlaf's 29 goals have come at even-strength, easily passing his best of 19.
Corey Perry:
It may be tough for Perry to pass his career year in 2010-11 (50-48-98), but he has added a new dimension to his game as well. Perry, along with many others from the roster have improved their two-way play. Well, in Perry's case, the boost in his +/- is mostly because of his and Getzlaf's offensive-zone tyranny. Nonetheless, +26 more than doubles his career-high of 12. Another fun fact: Perry leads the league in game-winning goals with 9. He is on pace for 12, which beats the mark of 11 he posted in 2010-11 when he scored 50 goals.
Nick Bonino:
What a year this guy is having. He's having a career-year in every single stat. Literally everything. And not by just a little bit. This is almost as good as a breakout year gets. Check it out here: http://www.hockey-reference.com/players/b/boninni01.html
Andrew Cogliano:
Cogliano's goal-scoring prowess has vastly increased this year. As a rookie and sophomore, he put up 18 goals. Then he got nowhere close to that until the 19 he's scored this year, including a career-high three short-handed goals (second in the league).
Cam Fowler:
Fowler has been a great development within the Duck's organization after being drafted 12th overall in 2010. His 6-27-33 through 62 games is on pace to pass all three marks, and his +14 will be the first time the defensive stud finishes in the positive.
Jonas Hiller: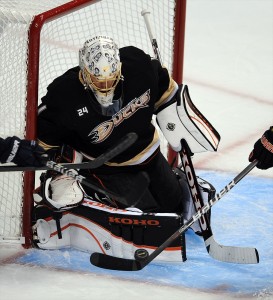 Last, but certainly not least. What a stud he's been all year. The 32-year-old Swiss netminder carried his country on his back in the Olympics, and he will do his best to continue that momentum when his Ducks enter the playoffs. At 26-9-4, Hiller is five wins away from setting a career-high, even though he's been given a smaller percentage of starts than he's accustomed to. His 2.28 GAA is by far his best in a season with 25 starts or more (Hiller started 23 times in his rookie season, posting a 2.06 GAA). He is also one shutout away from setting a personal record. Hiller's five shutouts have him in a tie for first with Tuukka Rask league-wide.