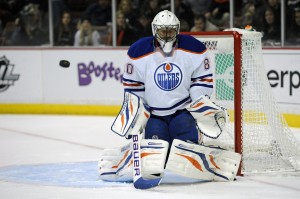 It has been a very interesting year for the Oilers in terms of their goaltending position. They started the season with a tandem of Devan Dubnyk and Jason LaBarbera, which never really seemed like a long-term solution. Over the course of the year they brought in free agent Ilya Bryzgalov on a low-risk, one year deal, traded Dubnyk to Nashville, and acquired Ben Scrivens from Los Angeles. Yesterday, the team announced that they had re-signed Scrivens to a two-year contract. But there was a sense that they still weren't done, and they certainly weren't.
Bryzgalov Never Felt Like a Fit
It made sense to bring in Ilya Bryzgalov when they did. He's experienced, he didn't cost much, and he theoretically would provide some stability. He also came with a reputation that he wasn't great in the locker room. But it didn't seem like that was an issue. He didn't say anything controversial to the media. He didn't stir the pot. If there was some turmoil behind the scenes, the Oilers must be really good at hiding it.
No, personality wasn't the issue with Ilya Bryzgalov this time around. The Oilers weren't completely dead in the water when they signed him, and his presence was likely to try and salvage something of a season. But their problems were far greater than just goaltending. Bryzgalov had been a good soldier, he just was never part of the long term plan. Rumors started to fly about his potential trade to the Minnesota Wild, and one day before the trade deadline that came to fruition.
The Oilers dealt Bryz to the Wild for a forth round draft pick, and with that move signaled there was more to come. And there was.
Who is Viktor Fasth?
Other than having a cool name, there isn't much of a book on Viktor Fasth. The 31 year-old was never drafted into the NHL but spent most of his career in various European leagues. The Anaheim Ducks signed him to a one-year contract in 2012. He impressed early in his NHL career, posting a record of 15-6-2 and a .921 save percentage in the 2102-13 season. But Jonas Hiller was always going to be the guy in Anaheim. Backup Frederik Andersen looks like a keeper and prospect John Gibson is one of the best out there. Something had to give.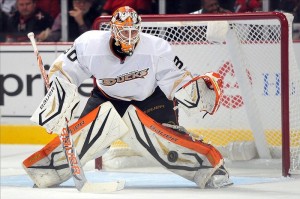 The Oilers gave up a forth and fifth round pick to the Ducks for Fasth, and it's a solid deal for the Oilers. Now obviously there's always going to be concern with largely unproven goaltenders, but Edmonton could do a lot worse than a tandem of Scrivens and Fasth.
Fasth is signed through next season, meaning the Oilers don't have to rush to re-sign him. They could see what they've got. Would Oilers fans have preferred a more established and proven goalie? Maybe. Does this signify the end of the goaltending moves? For now, probably. One thing is for certain: the Oilers aren't scared to shake things up in the crease. Fasth is a guy they'd been looking at for a while. Will he be the answer? He might be. Eventually someone has to be.