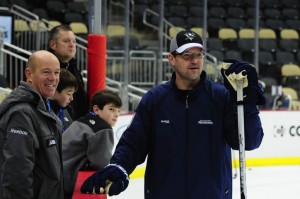 Dear Dan Bylsma,
Is this Déjà Vu? Or is this really happening? In your last four games as head coach for the Pittsburgh Penguins, you have one win and three losses against the Philadelphia Flyers. The only game that you came out of victoriously was the last game of the season when Peter Laviolette scratched his leading scorer Claude Giroux. This victory was meaningless.
In the other three contests against the Flyers, you're team has blown a two goal lead twice and a three goal lead in game-1 of the Eastern Conference Quarter-finals at home in the Consol Energy Center where the Flyers are 6-1 all time.
Have you not learned your lesson? I hope 3rd time is a charm, but we've been through these issues before and nothing ever seems to change. We are all wondering if the Flyers are in you and your team's head. Are you going to do something to gain some confidence for your team?
You continue to throw the same struggling power play unit on the ice game after game against Philadelphia. Your PP was 0-3 in game-1. In the previous 3 regular season games, your team scored one meaningful PP goal which was in the meaningless game on the last day of the regular season and the PP was only 1 for 6.
On April 1st, your team disappointed all of the Pens fans by blowing a 2-0 lead. There was a PP goal registered in that game but with less than a minute to go in a 6-4 loss in a game that was already over. Back on March 18th, your PP was 0-2 when you blew another 2-0 lead and lost that game with less than one second left.
Your stale power play gives the Flyers so much momentum that I feel like Giroux took a penalty on purpose Wednesday night to shift the momentum in the Flyer's favor.
Dan, you continue to throw out a PP unit which has completely thrown away its identity from when you went on an 11-game winning streak in late February and early March.
Many people have asked for you to remove Sidney Crosby from the 1st PP unit. I don't blame you for not doing it and you can't take one of the best players in the world off your 1st power play unit. However, you can instill some structure and discipline in how your team runs their power play.
You are having Crosby take offensive zone PP face-offs, but he isn't winning too many of them. If Sid does win the face-off, Evgeni Malkin gets stuck back on the point where he has been completely ineffective.
Let Geno take the face-offs since he is winning more than Crosby. Geno can immediately get over to the right half-wall where he belongs. This will pay dividends for the power play and everyone else on it.
The presently constructed PP is looking for the pretty tap-in goals on the back door. This didn't work in the regular season when Crosby returned to the power play, and it is the playoffs now, prettiness doesn't fly this time of year. When your guys see an open shooting lane, they need to let the biscuit fly.
You need to take Chris Kunitz off of the 1st PP, and get Steve Sullivan back on the top unit to make smooth entries into the Flyer's zone. Put Crosby in front of the net and demand everything on the PP runs through Geno. All participants on the PP should be setting Geno up for one-timers all day long like the PP did when it was successful. You need to make these changes in time for the puck drop of game-2.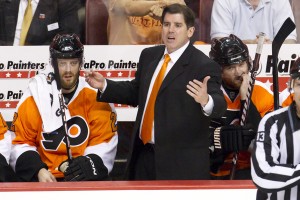 Let's put the focus back on game-1 for a moment. Did you make any in-game adjustments during that game? From my view it did not look like it. You played the same when the game was a scoreless tie as you did when you were up 3-0. For the 3rd time in a few weeks span, this came back to bite you.
You get home-ice for a reason in the playoffs. This is so you can get the last change and match up the lines in your favor. Instead, you let Laviolette dictate on your home ice when it came to matching lines.
Sean Couturier is in Malkin's dreams at night. He has constantly been on the ice to antagonize Malkin every time the Pens have played the Flyers this season.
One of our own, Matt Nestor, from thehockeywriters.com, wrote a very informative article about how effective Couturier has been against Malkin this season.
"On March 18th, Sean Couturier was out against Evgeni Malkin for 23 of the Pittsburgh superstar's 28 total shifts. Malkin managed a goal and an assist, but neither of them was scored while Couturier was on the ice.

On April 1st, of Evgeni Malkin's 23 total shifts, Couturier was out against him for 18 of them. Malkin managed two assists in the contest. Again, both of them came in the rare time when Couturier was not out covering him."
If you looked at the score sheet after game-1, you should have noticed that Malkin, your leading scorer, was held scoreless. So were his line-mates.
If these statistics are not convincing enough for you to keep Geno away from Couturier, this at the very least shows how stubborn you are as a coach. Your refusal to make in-game adjustments, change up your power play, and match up lines in your team's favor shows how bullheaded you are as a coach.
The fact that you are convinced that your system and your players are better than any other team in the NHL at any time during a game is untrue. Every other coach in the NHL uses the last change to their advantage. Other coaches give their top scoring lines every advantage they can to score.
You have to give the Malkin, James Neal & Kunitz line a different match-up. Your best line was invisible in game-1 and completely underachieved.
Speaking of underachieving, your talented team has to learn how to hold onto a lead, and especially against the Flyers. After being given a 3-0 lead, your team continued to play the same system and same style. The forwards were trying to create offensive opportunities off of the rush when every puck should have been dumped deep behind the Flyer's defense. The majority of these rushes resulted in turnovers in the neutral zone giving the Flyers easy entries into your defensive zone.
Coach Bylsma, game-1 isn't your entire fault, but you need to reassess everything you are doing. The Flyers have more confidence against your Penguins that any other team in the league right now. Even if you beat the Flyers in game-2, they are still going to have tons of confidence.
You and your team need to step up their game and send a message. Your superstars like Crosby and Malkin can't succeed in the situations you are currently placing them in during games against the Flyers. Malkin is already going to have to play against Couturier's line when the series shifts east to Philadelphia. Give Geno and his line-mates every opportunity to prevail. Crosby can't be a factor when you only play him five minutes in the 3rd period of a playoff game like you did in game-1.
Your best players need to be your best players. Give them the ability to be your most effective players in game-2. Match the lines in your team's favor. Figure out your power play. Send a message to the Flyers that this series is not going to be easy. Show some unpredictability and make some in-game adjustments.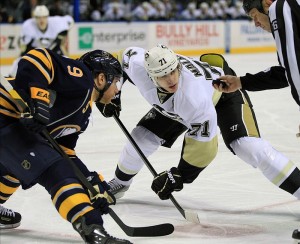 Something needs to drastically change or you may be scheduling tee-times for next weekend.
This is going to be the most adversity you have had to face as head coach of the
Pittsburgh Penguins. Let's see if you can overcome the odds and live up to your stellar reputation.
Best of Luck,
Justin Glock