The Leafs are not going to win the Cup this year.
I suppose there is the chance of a chance that they can slip into the playoffs, Jonathan Bernier can channel his inner Patrick Roy, and they can go on a run-of-century-type winning streak, string together 16 victories and shock the world, a la the Carolina Hurricanes circa 2006. Could happen, but seems unlikely.
The more realistic scenario is harder to determine. The Leafs are either a young team on the rise, or a team that isn't that young, doesn't have any elite prospects and seem stalled in year 56 of a bizzarro rebuild with a roster that features zero home-grown top 4 draft picks, despite making the playoffs once in ten calendar years.
Personally, I tend towards the former, because the latter doesn't acknowledge the smart trading and (occasionally) drafting that has littered the Leafs with a plethora of top ten picks – Kessel, Phaneuf, Lupul, Kadri, Rielly, Nylander, JVR – and of course Bernier who was 11th. They also have Holland, Gardiner, Gautier, Biggs and Percy. That is, by my count, 13 former first rounders in the organization, and except for Lupul, all will be under 30 when the season starts this October.
I think an honest assessment of the Leafs shows that they are – if Bernier, Gardiner, Rielly and Kadri all hit their potential – a team on the rise with some serious caveats. Those caveats being 1) They are at the cap threshold and lack at least 2 major pieces (an elite defenseman and a top line centre). 2) They are a team who has horribly collapsed two years in a row (though this could be good long-run experience, it isn't clear yet). 3) Outside of young players already in the NHL and William Nylander, they have zero top prospects and it makes it hard to find a trade scenario which wouldn't cause as much trouble as it fixes. (e.g you could trade JVR, I suppose, but based on the supply/demand of top flight centres, you probably would have to trade a close to elite winger for a lesser centre)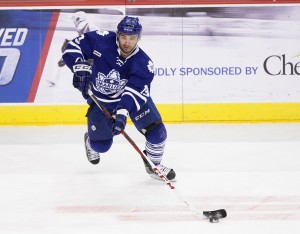 Yes, as far as team development goes, the Leafs seem stuck in an untenable position: they don't have a lot of high-end players in the system, they lack trade assets, and have cap issues.  Now, don't get me wrong, the Leafs have a ton of good things going for them: They have one of the most exciting and best players in the NHL in Phil Kessel, they absolutely crushed the JVR and Bernier trades, and if anyone but the Toronto Maple Leafs (whose fans are rabidly negative and understandably so) had Kadri, Rielly, Gardiner, and Nylander to compliment Phaneuf, Kessel, JVR and Bernier, people would probably be quite excited about that team.
Yes, it's true: The Leafs are probably way closer to contention than the jaded observers who are just used to seeing screw-ups and bad luck define this franchise would care to admit. But, the team isn't a true Cup threat unless they add a couple of pieces. I will stick up for Tyler Bozak forever and ever, but Nonis himself admits he'd like an upgrade, and unless they stack their back-end and Bernier plays out of his mind, they will not compete until they have a true replacement for the long departed Mats Sundin. Just look at this list of Cup Winners and consider that even the 2006 Carolina Hurricanes, God love 'em, had a 100 point Eric Staal at centre.
I have argued that perhaps it is second line scoring that holds the Leafs back. That if they could score enough to get some of the other team's top defenders off of Phil Kessel, even just once in a while, the dividends would be huge. I still believe this. I do think, however, that the options the team has with a legit top line centre would increase tenfold over what they are now. You could move Bozak to line two; you could convert Kadri to a winger; you could be more comfortable breaking up Kessel and JVR etc. Basically, what I am saying is that there is more to getting a top line centre than just increasing the scoring on the top line. You might be hard pressed to improve it much even with a truly elite one – Kessel, Bozak and JVR were one of the best lines in hockey last year when healthy. But it's not about them – they are going to score as long as they are playing. It's entering the season with Kadri, Lupul and Clarkson as the second line that worries me.  When you think of the number of things that have to go right for them to be an effective league average second line, the idea of the playoffs starts to seem blurry, let alone the Cup.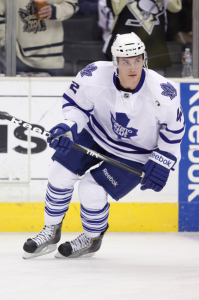 So let's just put aside our opinions and predictions and be honest for a second: If the Leafs want to take the next step, they need to find themselves a centre and they need to do it in the next two or three weeks.  If they want to assure themselves the chance to compete without needing every little thing to go right for them, then I submit that this point is self-evident and inarguable. There is a way to do it, but it will be unpopular. But remember, being popular almost never corresponds to doing what is right:
The Leafs need to trade draft picks.
Yeah, I know the history of what happens when they do this: Tyler Seguin, Scott Niedermayer, Robert Luongo, etc. But hear me out: As a potential lottery pick in the Connor McDavid draft, the Leafs draft pick should currently possess off the chart value. Even with the addition of whoever they acquired, the very chance that the pick could land the team that trades for it a player who might be the next Sidney Crosby puts its value at a premium. In addition to the pick, the Leafs would have to include Lupul and Franson in order to clear more than $8 million off the books to afford the player would be acquiring (and also to provide room to make additions later).
Losing Lupul might seem to hurt the secondary scoring, but being able to move Bozak down a line and having the option of dressing Kessel, JVR, kadri and Nylander as your top four wingers is still pretty nice. If Nylander is even close to being NHL ready, the loss of Lupul would be minimal when considered in light of the option of Kadri playing the wing. The Leafs have no choice right now but to use Kadri as a centre, but with his size and speed, his pesky physical ways and his (so far) inability to round out his overall game, make him, in my opinion, more likely to break-out to his full potential as a winger.
I am not an expert in fantasy trade scenarios, but it seems to me that if you were willing to trade your 2015 #1, Lupul and Franson, then a lot of doors would open up. They wouldn't even have to trade for an established #1, just a guy with the pedigree to pull it off would be enough, given the relative youth of the team. What could such a package give you? Would the Islanders give you Ryan Strome? Could you get Ryan Johansen from Columbus? Sasha Barkov from Florida? Girgensons from Buffalo? Jonathan Drouin from Tampa, if they think he can play centre in the NHL? Brayden Schenn from Philadelphia?
If not, I say just start adding picks and mid-level prospects to the deal until they say yes. But keep in mind, I'm not proposing a one-size-fits-all move here. Obviously, it's clear that players such as Drouin and Girgensons have different value, and that I am just suggesting a base-line starting point for a trade that would address the club's biggest weakness. The Leafs are close to being a pretty good team, but if they are going to start building through the draft now, then they will be leveraging Phil Kessel's prime years in order to do so. Burke liked to get risky. Nonis, I am not so sure about. But if the Leafs want to have even a chance to do something interesting this year, then they need to think way, way outside the box and make a move like I am suggesting.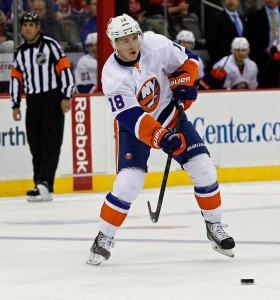 All of those guys would fit the current age group of the Leafs. Sure, adding them this year might not make the Leafs a Cup contender right away, but should anyone of them live up to their potential, they would then have their long sought missing piece. The only other option is to go through this year on a wing and a prayer and hope you either make the playoffs or finish low enough to garner a shot at McDavid. The alternative, and by far the most likely scenario, should the team enter the season as it is today, is another year in mid-level pick purgatory – not quite good enough to compete, not quite bad enough to cash in.
My opinion is that the Leafs – given their penchant for other teams top draft picks in the construction of their current team – should just go all-in and trade what little assets they have at their disposal to get that number one centre.
And if it doesn't work? Who cares anyways since this team is one more disastrous collapse from getting a new coach, GM, and a drastic alteration to its' core. What exactly does Nonis have to lose by going big and getting risky?