The battle for spots on the 2014-15 New Jersey Devils roster just became even more challenging. With 14 forwards already signed, an unsigned Ryan Carter trying to make the roster, and several prospects chomping at the bit to make the NHL team, Devils General Manager Lou Lamoriello invited a familiar face in Scott Gomez as well as Jordin Tootoo and Ruslan Fedotenko to camp. Dan Rice of The Hockey Writers provided his thoughts pertaining to the many possibilities of New Jersey's Opening Night roster and one of the largest questions remains; will any of the tryouts actually make the team? What have they done lately?
Analyzing the Devils Training Camp Tryouts: The Forwards
Scott Gomez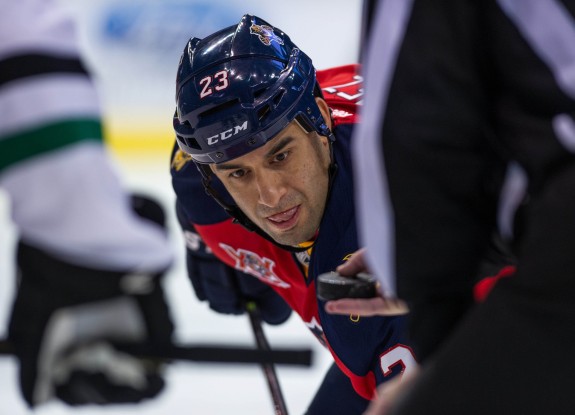 Gomez, drafted by the Devils 27th overall in the first round of the 1998 NHL Entry Draft, was the first player invited to camp without a contract, aside from Carter. In 548 regular season games with the Devils from 1999-2000 through 2006-07 he scored 116 goals and added 334 assists for 450 points. After bolting New Jersey for the rival New York Rangers following the 2007 Stanley Cup Playoffs, he still had two solid seasons. He scored 70 points in his first year with the Broadway Blueshirts, good for second on the team behind Jaromir Jagr's 71. His 54 assists led the team. He averaged more than a point per game in the playoffs, scoring 11 points in ten contests. Jagr was the only player with more points (15) than Gomez in the postseason. The following season he again led the Rangers in assists with 42 but he dipped to 58 points, which was still higher than the 55 points he scored during the Devils 2002-03 Stanley Cup winning season. Unlike 2007-08, this year he was tied for the team lead in points with Nikolai Zherdev. In the opening series of the playoffs, a seven-game loss to the Washington Capitals, he finished with five points, best on the team.
During the offseason he was shipped to the Montreal Canadiens in a multi-player deal. The other prominent name in the trade, Ryan McDonagh, became a steal for the Rangers and was recently named their new captain. In his first season with the Habs Gomez still put up admirable numbers, finishing with 12 goals and 47 assists for 59 points. He finished second in points, 11 behind Tomas Plekanec, and nine ahead of current Devil, Mike Cammalleri. Just like his two years in New York, he led the team in assists. He had 14 points, 12 of them being helpers, in 19 playoff games as the Canadiens fell to the Philadelphia Flyers in the Eastern Conference Final.
Then it all fell apart for the Alaskan. In 80 games in 2010-11 he put up a career-low, at the time, 38 points. From 2011-12 through the end of last season he scored 38 points combined playing with the Canadiens, San Jose Sharks, and Florida Panthers in 123 games. During part of his downfall came the lowest point of his career. On February 5, 2011, he scored a goal against his former team from Manhattan in a 2-0 Montreal win. Then he wouldn't score again for over a calendar year until February 9, 2012, at the New York Islanders. Including the 2011 playoffs, he was held without a goal for 60 games. His contract was bought out by Montreal prior to the 2012-13 season before he signed one year deals with his latest two teams.
Related: Welcome Back: Scott Gomez's Top 10 Moments with the New Jersey Devils
But can Gomez make the Devils Opening Night roster? A meaningless initial indication is he has a good shot simply because he is the only tryout who will be wearing a jersey number, 28, that was worn by an active Devil last season. Without the pressure of a massive contract looming above his head and his familiarity with the organization, plus his determination to resurrect his career, he can skate with a focus he hasn't had since he left New Jersey. Additionally, there is already a precedent that bodes well for the playmaking center who scored 18 points in 25 regular season games against the team that originally drafted him.
In 2011, the Devils gave a tryout to another former New Jersey star, Petr Sykora. After putting up 46 points in 76 games with the Pittsburgh Penguins in 2008-09, already his lowest point total since he notched 36 in 58 games all the way back in 1997-98, he was limited to seven games during the Penguins Stanley Cup winning run. He played in just 14 games, scoring a goal with two assists, the following season with the Minnesota Wild before disappearing from the NHL altogether for a year.
Like Gomez, he was a former line mate of Patrik Elias and was given a shot by Lamoriello. He succeeded. Then in a storybook finale to an excellent career, he scored 21 goals with 23 assists for 44 points playing in all 82 games and helped lead Jersey's Team to the Stanley Cup Final, his sixth Final appearance. He buried a pair of goals with three assists in 18 playoff games in the process. Unfortunately, he wasn't able to get his third ring.
For a team that is starving on burying the puck, having a playmaking center like Gomez could be a huge help. Gomez already has experience playing with several current Devils. He played with Elias during his tenure in New Jersey, Jagr during his time across the Hudson River, Cammalleri in Montreal, and Ryane Clowe with the San Jose Sharks. With a fresh start, no pressure due to a large contract, and familiarity on and off the ice with the organization, Gomez will likely become the latest Devil to officially come back home.
Jordin Tootoo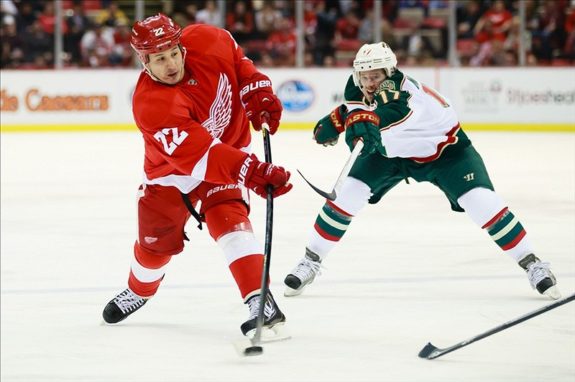 Another one of the three Devils training camp tryouts, 31 year-old Tootoo will be looking to score his first goal with an Eastern Conference team. Drafted 98th overall by the Nashville Predators in the 2001 NHL Entry Draft, he spent eight seasons with the Music City squad compiling 46 goals and 79 assists, 125 points, in 486 games. After his best offensive season in 2011-12 when he finished with a career-high 30 points, he signed a three-year contract with the Detroit Red Wing. He struggled through his two seasons in Detroit. In the lockout-shortened 2012-13 season he played in 42 games and had a dismal eight points. Then with the Red Wings moving to the Eastern Conference last season, he didn't score a goal in 14 games played and had just one assist. He spent most of the season with the Grand Rapids Griffins of the American Hockey League where he had 18 points in 51 contests. Of note, he had 104 penalty minutes with the Griffins (109 when combined with Detroit), the most he had in one season since he spent 124 minutes in the penalty box during the 2008-09 season.
The Red Wings bought out his contract, using a compliance buyout, during the offseason.
In 40 career playoff games, he has three goals with seven assists. His best postseason came in 2011 with the Predators when he had a goal and a handful of assists in 12 games.
In seven games against New Jersey he has one goal and an assist. He scored his lone goal on February 12, 2010, at the Prudential Center in a memorable contest at the time. Ilya Kovalchuk scored his first goal, a game-winning goal, as a Devil in the 5-2 New Jersey victory.
The scouting report on Tootoo, via The Hockey News, states that he has "a motor that never quits, plays with a lot of passion, can play either wing, and will drop the gloves." His flaw is that his ruthless style can "rile up opponents" or cause him to "take bad penalties." In an organization that doesn't tolerate being undisciplined, Tootoo will learn right away that he has to play a more controlled game or he will not see the ice. In a physical Metropolitan Division, however, against teams such as the Philadelphia Flyers or the Rangers, his style of play can potentially be more of an asset to the Devils than a negative. This is especially true if he is able to get into his opponents heads and land a power play for his team.
Who would Tootoo replace? He is a less productive forward than Clowe but plays a similar style. If Clowe is not able to play due to any lingering concussion issues, Tootoo could step in as a lower line replacement. He also resembles Tuomo Ruutu's style in regards to competing hard and, on occasion, getting under an opponent's skin. Ruutu is signed for this season and next at a cap hit of 4.75 million and if he doesn't impress Lamoriello during the preseason while Tootoo, a cheaper version, does, it could very well be Tootoo skating in Ruutu's spot come October 9 at Philadelphia.
Ruslan Fedotenko
No current Devils player has won a Cup in the "old NHL" prior to the 2004-05 lockout and the "new NHL." Elias and Jagr each won two before that lockout while Michael Ryder and Carter each won a single Cup following it. Enter Fedotenko. He won a Cup in 2003-04 with the Tampa Bay Lightning, posting a dozen goals and two assists in 22 postseason games, and another Cup in 2008-09 with the Pittsburgh Penguins, notching another 14 points (seven goals and seven assists) in 24 playoff contests.
Also, in a case of "if you can't beat em', join em'," the Devils eliminated his team three times in the postseason. With the Lightning, his squads fell in 2003 and 2007. In the most recent instance, while he was a member of the Rangers, the Devils prevailed in six-games in the Eastern Conference Final in 2012. In 20 games during the 2012 playoffs he had seven points, his highest total in a non-Cup winning run. Five of those points, two goals and three assists, came in the series against New Jersey.
After bursting onto the scene as a rookie with the Flyers in 2000-01 putting up 16 goals and 20 assists, he developed into a solid complimentary forward throughout the rest of his career. His best season is almost a decade behind him when he scored a career-high in goals and points, 26 and 41 respectively, in 2005-06. In eight of 11 full-length NHL seasons he eclipsed the 30-point mark but that last occurred in 2008-09. In 58 regular games against New Jersey, he lit the lamp seven times with nine assists. Against the Devils he also has a career-worst +/-, -12.
After his NHL stats tailed off in 2011-12 and 2012-13, he appeared in 46 games in the Kontinental Hockey League last season with Donbass (Donetsk) finishing with 17 points, seven of them being goals. However, had a shooting percentage of 6.2%, lower than any single season percentage he had in the NHL.
Fedotenko, as with Gomez, may be favored because of history. Sykora was also a player in his mid-30s when he asked for a tryout and he also had the distinction of winning a Cup before and after the 2004-05 lockout. Sykora was a teammate of Fedotenko's on the 2009 Penguins team. Fedotenko, like Sykora, is entering the Devils camp having taken a year off from playing in the NHL. If the Devils feel they are in need of a proven winner for depth purposes who feels committed to having one last celebratory season, then Fedotenko is the way to go. Also of note, if he makes the roster and touches the ice in one game with New Jersey, he will become the second NHL player other than Aaron Asham to play with all five former Atlantic Division teams.
Leo is in his second year with THW. He covers the 3-Time Stanley Cup Champion New Jersey Devils and the Albany Devils of the American Hockey League. You can follow Leo on Twitter, @LeoScaglioneJr.