To say the New Jersey Devils have a logjam at forward with training camp set to begin in less than a week might be the understatement of the century in the NHL. As it stands at press time they have 14 forwards on one-way contracts, three players coming to camp on tryouts and Ryan Carter will also be at camp, without a contract, yet (more on him later). Plus at least two young players will be looking to crack the opening night lineup on October 9 in Philadelphia. I can also not confirm or deny if I will be in camp as an unsigned free agent (everyone else is doing it!).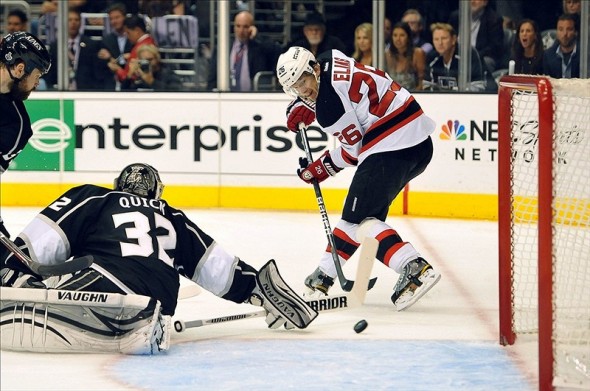 In all seriousness though the forwards on one-way deals are: Patrik Elias, Jaromir Jagr, Travis Zajac, Adam Henrique, Mike Cammalleri, Damien Brunner, Martin Havlat, Dainius Zubrus, Michael Ryder, Ryane Clowe, Steve Bernier, Jacob Josefson, Stephen Gionta and Tuomo Ruutu. Most would agree that Elias, Jagr, Zajac and Cammalleri would be locks for a spot on the opening night roster; maybe even a few others, but for arguments sake for right now let's just say those four. The other ten players are all candidates that could be traded, sent to the minors (have to clear waivers), bought out or waived for the purpose of giving them their release.
Let's also assume that Carter will likely be on the team because it seems pretty ridiculous that GM Lou Lamoriello would have him come to camp without a contract if he had no intention of having him on the opening night roster when he could have signed with another NHL club since July 1. That's not really how Lamoriello or the Devils do business; and Carter at the end of last year was voted by his teammates as the Player's Player.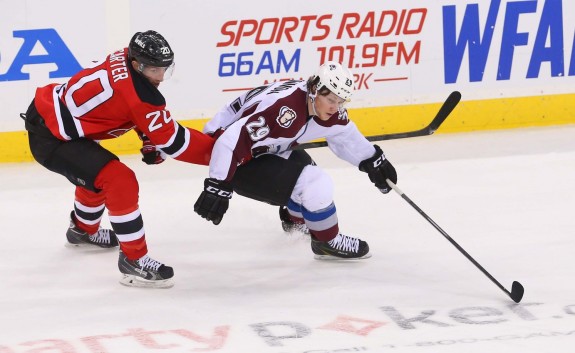 Including the unsigned Carter, the Devils are bringing in three unsigned veterans — Scott Gomez, Ruslan Fedotenko & Jordin Tootoo — who certainly are coming to training camp to win an NHL job and not just skate on the ice with NHL players for one last time. "I'm sure that some will get in (preseason games), but there's no promises," Lamoriello told Tom Gulitti of the Bergen Record. "There's no promises, no guarantees. They've approached us and they want to be here. It's not a case of trying (to get them to get come to camp.)." It may turn out being the most competitive camp in recent memory in New Jersey, very rarely do they invite players to camp without giving them a fair shot at making the club – i.e. wasting the player's or team's time.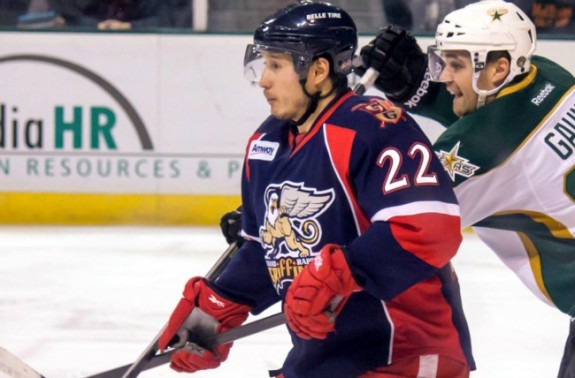 We haven't even mentioned into the battle that will be ensuing on the blue line where veteran Tomas Kaberle is coming to camp on a tryout and, as The Hockey Writers' Leo Scaglione delved into recently — there is the saga of the unsigned Eric Gelinas.
Ok, so the 14 that are signed, the four that are unsigned and don't forget youngsters Reid Boucher and Stefan Matteau who undoubtedly will be gunning for a spot when they arrive at camp in a few days. Generally teams dress 12 forwards and past history has shown the defense-first Devils generally carry only one forward of their three players that round out the 23-man roster. That means there will be 20 forwards competing for 13 spots…musical chairs anyone? Math isn't my strongest area (Journalism Major) but I think that's at least seven more then is needed for an NHL game.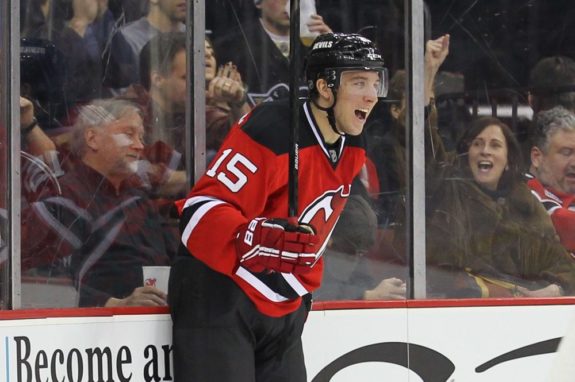 TRADE WINDS ARE A BLOWING…LIKELY
So which players are on the block? That was kind of outlined above, but whom would the Devils be looking to acquire? Maybe they make a blockbuster trade trading three or four players for one player and a prospect or a draft pick. Maybe it's really simple and Gomez, Tootoo and Fedotenko all leave New Jersey without a deal/job, Boucher and Matteau are sent to the AHL, Carter signs a one-way deal, and either Bernier, Gionta or Josefson are sent to the AHL in which they would have to clear waivers. Or maybe Clowe still isn't medically cleared to play because of post concussion issues and is placed on LTIR.
Does Michael Ryder's goal scoring make him tradeable despite his streakiness ?
Truth is, no one knows what is going to happen, probably not even Lamoriello, unless he has a trade in place with a team (or two) and is just waiting for camps to start to make sure all of the moving pieces are in shape. Whatever the result, it will certainly be an interesting training camp starting this week and the fan base is as eager as they have ever been on the eve of said camp. As strange as it will be for the Devils to have a training camp without Martin Brodeur for the first time in over 20 seasons, it's probably not going to be the main focus as the franchise looks to move on and win their fourth Stanley Cup without the face of the franchise.
Dan Rice can be reached via Twitter: @DRdiabloTHW or via Email: drdiablo321@yahoo.com