The Florida Panthers have a long list of issues, primarily in the finance department, and are hoping to solve some of these problems with a successful season in 2014-15. One of their more pressing concerns going into this campaign is leadership, more specifically, their captaincy. After buying out Ed Jovanovksi, the Panthers are faced with an interesting decision and are in extreme need of good leadership with such a young squad.
It should be pointed out that, after trading Ryan Callahan to the Tampa Bay Lightning, the New York Rangers played through the entire NHL playoffs without naming a new captain, and they made it to the Stanley Cup Finals. However, when comparing the rosters of the Panthers and Rangers, there are clear discrepancies with regards to NHL experience, consistency and production. With that said, it does not seem plausible for the Panthers to go into the NHL season without a new captain, as a good leader may be the one important factor for them to be successful.
Is Brian Campbell the Man for the Job?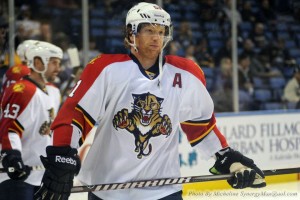 Well, is there anybody else? Scottie Upshall could get promoted from his current "A" to a "C", but that seems highly unlikely.  If Tomas Fleischmann improved on his 2011-12 performance, he would have surely gained some attention in this conversation. Sadly him and most of the Panthers' roster are due for a breakout season, again, which makes this a major factor in deciding on new leadership roles.
Moving down the list, there does not seem to be a close running mate for Campbell. He has played in Florida for the past three seasons, never missing a game, and led the team in ice-time every single year. His production and leadership in 2011-12 was a major factor for the playoff-bound Panthers, and he has been part of the postseason for seven of the past 10 seasons (two appearances with the Buffalo Sabres, one with the San Jose Sharks and three with the Chicago Blackhawks).
In terms of point production, Campbell is one of the best powerplay quarterbacks in the league and could improve on his past numbers with an increasingly-skilled roster. His biggest downfall is his defense, but Campbell has also worked on that over the past few seasons, improving his plus-minus from  minus-22 in 2012-13 to minus-6 last year.
Based on all of this, Campbell seems like the most deserving candidate to wear the "C". He has paid his dues in Florida and continues to be their most reliable player. it would be quite surprising to see the Panthers go a different route, which could also be a disheartening experience for Campbell.
Willie Mitchell or Dave Bolland a Good Replacement for the "A"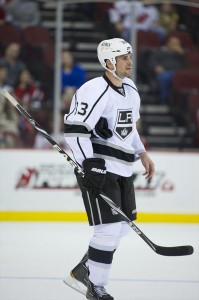 If Campbell were to be given the captaincy, there would be an alternate role available for another player. With Upshall still on the team and currently wearing the "A", the Panthers have only a few choices for their second alternate captain if they choose to let him keep it. Firstly, Willie Mitchell was a huge pickup for the Panthers for several reasons. Their defensive corps could be one of the worst in the league, and their lack of collective NHL experience has been a major factor in the teams' success. Mitchell is coming over from the Los Angeles Kings where he won two Stanley Cups and maintained a strong defensive presence throughout that time. He seems like a perfect piece for the Panthers and a good fit for the "A".
Secondly, Dave Bolland is another player who has immense NHL experience and could be one of the most talented defensive forwards in the game. While his game is finely suited for defending the other teams' best players, he demonstrated an extra flair of offense during his short time with the Toronto Maple Leafs. The one concern with Bolland is he is coming off a major injury which limited him to just 23 games last season. On the other hand, the Panthers have clearly demonstrated their faith in the 28-year-old by awarding him $5,500,000 for the next five seasons. With that said, he is the perfect third line center and a good penalty killer, which should make him a pivotal player for the Panthers in 2014-15 and another great choice for the "A".
Why the Three "A" System Won't Work in Florida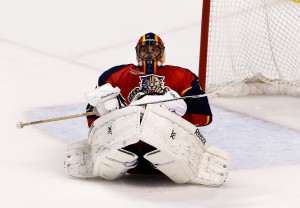 If the Panthers choose to roll without a captain and name three alternates, there is a gaping hole in the on-ice management of the team. Even though there is a plethora of skill on the ice, none of the Cats' young players are proven, and it will be quite some time before any of them become ready for a letter. Some would have thought Erik Gudbranson, Dmitry Kulikov, Nick Bjugstad or Jonathan Huberdeau  could have been ready at this point of their careers, but sadly they are not. In addition, the returning players for the Panthers are all primarily role players, or players who need to have a bounce back season. This includes Fleischmann, Tomas Kopecky, Brad Boyes, Sean Bergenheim and Derek Mackenzie.  Roberto Luongo may be a candidate for the "C", but we saw how that played out back in his Vancouver Canucks days.
With so  many uncertainties on your team, why add another one?
The Panthers are poised to improve on their abysmal season last year and having a good group of players leading your team is a must, especially given their youthful roster. This will be a an important season for many of the Panthers' players if not all, and maintaining a will to win with a solid group of veteran leaders can help the development of their younger players. Given the current state of the Florida franchise, and the numerous uncertainties heading into 2014-15, it seems naming a new captain would be a step in the right direction.