With training camp set to open in less than a week, it has been reported that New Jersey Devils defenseman Eric Gelinas, a restricted free agent after his three-year entry level contract expired following last season, is ready to hold out of training camp or longer if he does not have a contract in place for the upcoming season. His agent, Gilles Lupien, spoke to Tom Gulitti of The Record about the stalemate in negotiations with Devils General Manager Lou Lamoriello and the possibility of holding out, "We've got some ideas how to do it and that's the way of doing it – just sit and wait. We haven't said anything since the start (of negotiations). It's tough. It's tough for everybody."
When asked about the cause of the delay in agreeing to a contract he replied, "It's always money and (Lamoriello) loves to play with the power. That's what everybody knows." Lupien also stated that Gelinas would not attend camp without a contract due to the cost of insurance in the event of an injury. If Gelinas, coming off a successful rookie season after putting up 29 points, opts to hold out and miss camp, and possibly even regular season games, he would be playing with fire based upon Lamoriello's history of dealing with holdouts. This isn't even the first time that a Devils player represented by Lupien went head-to-head with Lamoriello.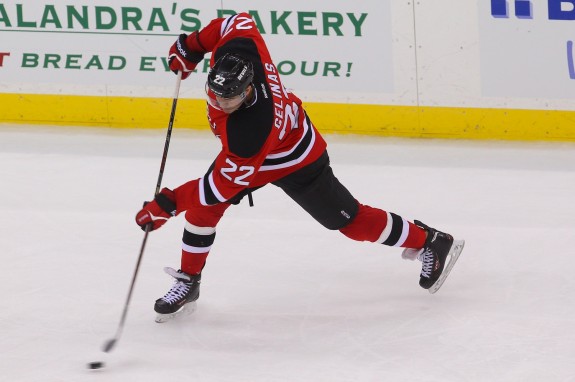 Lupien Once Accused Lou Lamoriello of Trying to "Give the Knife" to Martin Brodeur
In 1995, Lupien was the agent for goaltender Martin Brodeur when the goalie's contract expired following the Devils first Stanley Cup title. Lupien was seeking a three-year deal averaging $2.5 million while Lamoriello presented a deal of the same length averaging $1.37 million. Lupien, in anti-Lamoriello fashion, was open to the media during the negotiations. Some of his quotes, as reported by Joe LaPointe of The New York Times, include Lupien accusing the Devils GM of trying to "give the knife" to Brodeur and wondering what the Devils were trying to prove with their low offer. Just like his current battle with Lamoriello, Lupien said that Brodeur wouldn't "work without a contract."
When fellow holdout Scott Niedermayer signed a deal for three years totaling $4.4 million later in training camp, Lupien again went to the press to launch a verbal missile in Lamoriello's direction. Current Devils radio color commentator Sherry Ross, while with the New York Daily News at the time, gathered this quote by Lupien, "Now Lou can't say 'I'm scared of my salary bracket' because now everybody's signed." The two continued to present and retract contracts.
As the clock continued to inch closer to Opening Night, Lupien continued to degrade Lamoriello. Larry Brooks of the New York Post looked back on this tumultuous moment in Devils history after Brodeur became a free agent following another Stanley Cup Final run in 2012:
But it was the standoff with Brodeur that evolved into what still stands the nastiest public dispute between a player's agent and Lamoriello in franchise history. Lupien repeatedly attacked the GM in this space in this newspaper, in personal terms, questioning his integrity in attempting to move an all but unmovable object who typically used every bit of the considerable leverage he owned against a player who had none.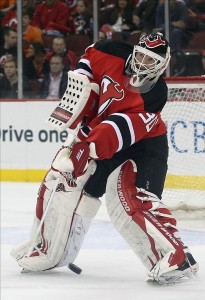 Realizing that Lamoriello wasn't going to budge, Brodeur, on his own, spoke with the Devils GM and agreed to a three-year contract worth $5.3 million. From then on, he represented himself in contract negotiations with the Devils boss. It wasn't until 2012 that the winngingest goaltender in NHL history would be represented by an agent again.
In a Battle of the Bucks, Lamoriello Almost Always Wins
Brodeur remained a Devil and was never traded unlike many other players who held out waiting for a richer contract from Lamoriello. That same fall, Conn Smythe Trophy winner Claude Lemieux was involved in a contract dispute with New Jersey and was sent packing to the newly relocated Colorado Avalanche. Three years earlier, goaltender Sean Burke was traded after a contract dispute with Lamoriello that landed the Devils Bobby Holik and a draft pick that turned into Jay Pandolfo. Prior to Burke, as Alex Yannis of The New York Times reported, Pat Verbeek became the first Devils player to hold out and, like Burke, was traded to the Hartford Whalers, now known as the Carolina Hurricanes.
Entering the 1997-98 season, forward Bill Guerin waited for a contract he felt was fair. Finally, in late November Guerin signed a deal with the Devils, if only to be eligible for the United States Olympic hockey team, but still wasn't happy and demanded to be traded. Lamoriello stated that he would not trade Guerin and called him "an athlete and a competitor." On January 4, 1998, just over a month after the ink dried, Guerin was shipped to the Edmonton Oilers with Valeri Zelepukin for Jason Arnott and Bryan Muir.
When the 1999-2000 season got underway, Patrik Elias and Brendan Morrison held out. On October 25, prior to the team's ninth game of the season, the two players agreed to contracts. After only recording 26 points in 44 games following a 46-point rookie campaign in 76 games, Morrison was traded to the Vancouver Canucks along with Denis Pederson for Alexander Mogilny later in the campaign. Elias, meanwhile, was not traded and went on to lead the Devils to another two titles, including one in 2000, becoming the greatest forward in franchise history. He has remained with Jersey's Team every time he was an unrestricted free agent.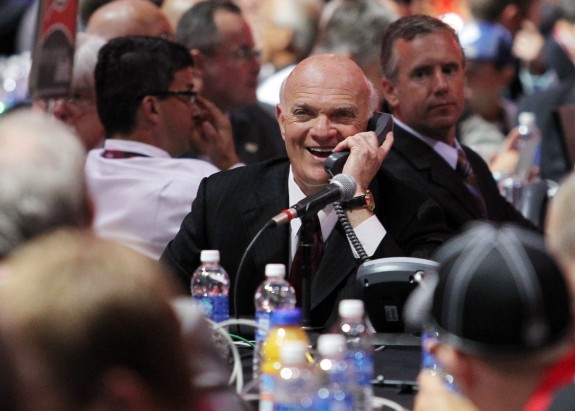 Elias and the Devils raised their 1999-2000 Stanley Cup championship banner on October 6, 2000, without two key components of the winning team in attendance. This time Arnott and Niedermayer (once again) held out and were largely missed by the sellout crowd of 19,040, with chants of "We want Arnott!" raining down from the emotional fans. They wouldn't get their wish until November 22, the team's 20th game of the season, when Arnott and Niedermayer made their season debuts. Arnott, as a member of the "A-line" with line mates Elias and Petr Sykora, had his best season as a Devil scoring 55 points in 54 games. It wasn't enough for Lamoriello and on March 19, 2002, Arnott was shipped to the Dallas Stars with Randy McKay and a draft pick for Jamie Langenbrunner and Joe Nieuwendyk.
Scott Niedermayer: The Only Holdout Who Got the Last Laugh
Niedermayer was one of the few players who was spared being traded. In fact, he is probably the only Devil who held out and eventually got the last laugh. Following the 2003-04 season, Niedermayer became a restricted free agent and was one year away from being unrestricted. After turning down an offer from the Devils, Niedermayer was set for an arbitration hearing but hoped to get a multi-year deal in place before then. It never happened and Niedermayer was granted a record-tying $7 million one-year contract by an NHL arbitrator. Then, to make matters worse, clock struck midnight on the expiring collective bargaining agreement on September 15, setting the stage for a lockout that wiped out the 2004-05 season.
A year later, with a new CBA intact, Niedermayer turned down a superior offer from New Jersey and opted to join his brother, Rob Niedermayer, who played with the then-called Mighty Ducks of Anaheim. The loss of arguably their best defenseman, and interim captain when Scott Stevens went down with a concussion during the 2003-04 season, set the team back in the revamped "new" NHL. The Devils drive to the Cup stalled in the second round in each of the two seasons following Niedermayer's departure and didn't go beyond the semifinals until they lost in the 2012 Stanley Cup Final. Niedermayer, on the other hand, and his brother led the Ducks to their first championship in 2007.
Leo is in his second year with THW. He covers the 3-Time Stanley Cup Champion New Jersey Devils and the Albany Devils of the American Hockey League. You can follow Leo on Twitter, @LeoScaglioneJr.