Feel free to express your opinion and/or your projections for the Wild!
The 2013-14 season for the Minnesota Wild featured high profile forwards go down with the injury bug, some youngsters reaching their potential and some midseason acquisitions. All this meant that the Wild's forwards stat totals were a little bit skewed last season. In 2014-15, there are some intriguing possibilities. Both Zach Parise and Mikko Koivu will look to have a healthy 82-game campaign. Young guns like Mikael Granlund, Nino Niederreiter, and Erik Haula will continue to improve after just scratching the surface of their potential last year. Last, but certainly not least, the Wild signed UFA Thomas Vanek to a 3 year contract at a $6.5 million cap hit per year. There's no doubt the Minnesota Wild have tons of potential up front this year, so let's try to breakdown the expectations and make some predictions.
Top 6:
Zach Parise:
2013-14: 67GP, 29G, 27A, 56PTS,+10 and 30PIM
Zach Parise suffered a foot contusion that caused him to miss 15 games last year. In his 25 games prior to the injury, he had 11G and 11A. He enters the 2014-15 on the back of leading the playoffs in scoring through 2 rounds with 14PTS in 13GP. He also has a significant upgrade in depth behind him, with Thomas Vanek taking over at 2nd line LW. A healthy season plus less attention focused on him should result in an impressive 2014-15 campaign.
2014-15 Projection: 78GP, 36G, 38A, 72PTS, +19 and 36PIM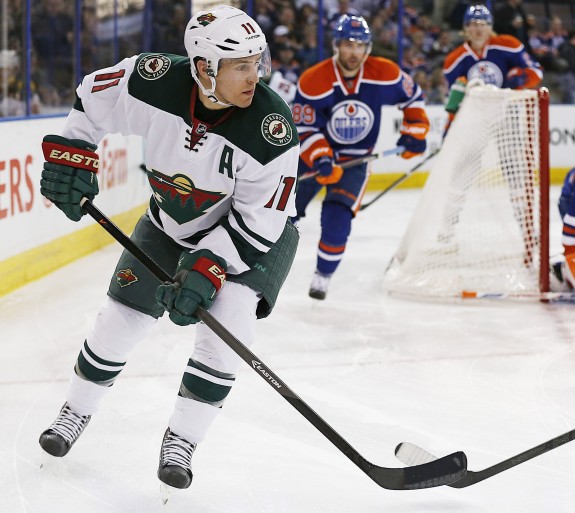 Thomas Vanek:
2013-14: 78GP, 27G, 41A, 68PTS, +7 and 46PIM
Thomas Vanek went through the rigours of playing for 3 teams last year, so the stability of playing the whole year for the Minnesota Wild should benefit him. Vanek's production has declined slightly recently and he's gone from more of a goal scorer to a playmaker however, lining up beside either Koivu or Granlund will boost his goal totals for sure. There are still a few 30-30 seasons left in the tank for this 30-year old vet.
2014-15 Projection: 76GP, 33G, 37A, 70PTS, +14 and 42PIM
Mikael Granlund:
2013-14: 63GP, 8G, 33A, 41PTS, -3 and 22PIM
Mikael Granlund was having a breakout season last year, but suffered two head injuries, in November and April, that sidelined him for 19 games. Concussions are never easy to overcome and early on it seems they may nag Granlund for quite some time. He is healthy to start this season though. He will be the 1st or 2nd line C depending on line combinations and chemistry. Be wary, but Granlund will continue to improve this year.
2014-15 Projections: 69GP, 15G, 44A, 59PTS, +18 and 24PIM
https://www.youtube.com/watch?v=WCs8yowGK5w
Jason Pominville:
2013-14: 82GP, 30G, 30A, 60PTS, +3 and 16PIM
Jason Pominville had a very solid 2013-14 campaign reaching the 30-30 mark and not missing a game. Again, with more depth on the Minnesota Wild, Pominville could cash in. He may also be accompanied with former teammate and best friend, Thomas Vanek. Look for him to settle back into his natural playmaking role a little more this year. Pominville is a fairly young veteran presence on the Wild at 32, but will still compete to lead this team.
2014-15 Projection: 81GP, 28G, 41A, 69PTS, +9 and 18PIM
Mikko Koivu: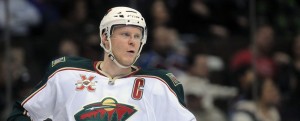 2013-14: 65GP, 11G, 43A, 54PTS, +0 and 24PIM
Mikko Koivu will benefit from Granlund's ascent as a top line center and also from the multitude of scoring wingers surrounding him this year. Koivu missed 17 games last year, missing a solid chunk of the season for the second time in three years. As the year grows on, he will likely slot into the 2nd line C spot. Captain Koivu still has the ability to put up points, but his health is always a question the Wild don't have an answer for.
2014-15 Projection: 73GP, 14G, 42A, 56 PTS, +3 and 20PIM
Nino Niederreiter:
2013-14: 81GP, 14G, 22A, 36PTS, +12 and 44PIM
Nino Niederreiter had a good first season with the Minnesota Wild, finally showing parts of his potential. The 22-year old was a 5th overall pick for a reason, and it looks like the Wild are finding out why. Expect Nino to continue to climb this year as he learns to use his incredible shot in better situations. He'll also have confidence from scoring the game tying and game winning goal in Game 7 of Round 1 last year. Look for a possible breakout here.
2014-15: 79GP, 21G, 32A, 53PTS, +15 and 48PIM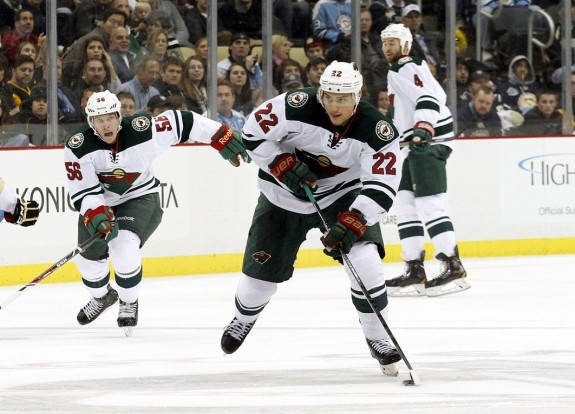 3rd Line:
Charlie Coyle:
2013-14: 70GP, 12G, 18A, 30PTS, -7 and 33PIM
Charlie Coyle took a step forward last year, albeit a small one. Saddled with expectations he couldn't reach, he settled for a fairly decent year. He played a ton better in the playoffs putting up 7PTS in 13GP, but will be battling Nino for a 2nd line spot this year. Coyle is on a slow but steady incline and should put up reasonable numbers this year, likely playing on a solid 3rd line with some time on a great 2nd line.
2014-15 Projection: 77GP, 18G, 25A, 43PTS, +2 and 28PIM
Erik Haula:
2013-14: 46GP, 6G, 9A, 15PTS, +14 and 29PIM
Erik Haula made his NHL debut a good one last year, blowing everyone away with his explosive speed. He was even better in the playoffs putting up 7PTS in 13GP while making an impact in the game every shift. He is sure to stick with the Minnesota Wild all year, barring an injury. Either he or Coyle will likely center the 3rd line to start this year. Hopefully, some chemistry will form quickly between this line and have some good production.
2014-15: 72GP, 15G, 19A, 34PTS, +12 and 38PIM
Matt Cooke:
2013-14: 82GP, 10G, 18A, 28PTS, +8 and 54PIM
Matt Cooke played his role extremely well for the Minnesota Wild, cutting back on his 'pest days' and playing more of a shutdown role as well as one of the top penalty killers on the team. His totals may have dropped slightly but the Wild love how he plays. He will be looked upon to mentor Coyle and Haula on the 3rd line, so he will need to be on his best behaviour. At 36 years old, Cooke may be declining a bit, but nothing too worrisome.
2014-15: 82GP, 14G, 18A, 32PTS, +6 and 46PIM
Overall, the Minnesota Wild boast quite an exciting style of offence and have the ability to be a high scoring team. If they can come together and find chemistry between each other, as well as the young guys continue to improve, it could be a very exciting year for Wild fans. Later on, we'll take a look at the Wild's defence, as well as goaltending projections. Stay tuned!
Feel free to express your opinion and/or your projections for the Wild!