When people mention the Florida Panthers, the majority of hockey fans instantly count them out of any playoff contention. They are considered to be one of the worst teams in the NHL alongside the Buffalo Sabres. However, do they deserve this same criticism heading into the 2014-15 season?
I say no. They are developing into a team that has the ability to make a playoff push. In the wide open Eastern conference, they could really turn some heads and impress with a turnaround season.
Impressive Acquisitions
The Florida Panthers made some very solid adjustments to their lineup during this off season. They improved almost all aspects of their team, and look to be in shape to solve their issues from last year. They were bottom of the league in goals for and really struggled defensively due to inexperience.
The signing of Jussi Jokinen will seriously improve their offensive touch as he adds some nice scoring punch to their top six. Shawn Thornton and Dave Bolland help round out the bottom six of the forward lines bringing both experience and an edge to their game. The experience that both players bring to the forward group is irreplaceable.
Bringing in a veteran and two time Stanley Cup champion in Willie Mitchell will really help the inexperienced Florida defence. Coming from the Western Conference Mitchell is used to playing against much tougher opponents in comparison to that of the East. Drafting Aaron Ekblad first overall in the 2014 NHL entry draft was definitely a good decision. In my opinion he is NHL ready, both mentally and physically. His offensive mindset will really help quarterback the second powerplay unit.
With Roberto Luongo starting in net, I think Florida will be a difficult team to play against and in a wide open Eastern conference they have the talent available to make a real push for the playoffs.
The Power of Youth
Florida is a very young team. This year they will  be relying on certain youngsters to step up and take on a larger role with the club. Jonathon Huberdeau and Aleksander Barkov should be looking at first line minutes and will be counted on to lead the team offensively. Nick Bjugstad and Brandon Pirri are two young guns I can also see bursting onto the scene and solidifying themselves as key players in Florida.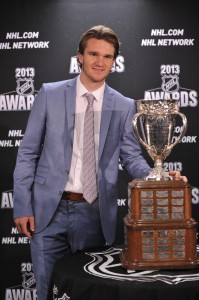 On the back end, there are quite a few players who have the chance to take on a top four role. Dmitry Kulikov has a new contract and needs to prove himself as the offensive threat that many ranted and raved about. Erik Gudbranson will be coming into the season as the fourth defenceman, and will have some competition with Aaron Ekblad for that role. Ekblad has stated that he believes he will make the Panthers out of camp, and he is the type of person to follow through with his own expectations.
All of this competition amongst the young players should add some fuel to the fire. Young players in today's NHL work harder than anyone else and will do anything they can to solidify a permanent role with an NHL club. Expect these young guns to rise to the occasion, elevate their game, and bring Florida into the playoff picture.
Coach Gallant
New head coach Gerard Gallant has something to prove. After being a part of a successful Montreal Canadiens squad that made the Conference finals in last year's playoffs, Gallant is ready for a new challenge. Taking over a bottom-two team is a challenge for any coach. Gallant knows he has all the tools in his lineup to be competitive, and after taking part in the Canadiens turn around season, he has the experience necessary to tackle this Panthers rebuild.
Most of Gallant's coaching knowledge is on the offensive portion of the game, especially the powerplay. Considering the Panthers were bottom of the league in goals for and powerplay percentage last season, his expertise in this area will certainly help.
What's Missing?
If you ask me, the Panthers are missing one key ingredient to becoming a cup contender. That is "Young Veterans". What I mean by this is they are missing young players (in their twenties) that have a good amount of experience in both regular season games as well as playoff games. One common factor among elite teams is that their younger players have had the opportunity to play in all situations and in all games. Florida needs to continue growing as a team and allowing the young players a chance to gain this valuable experience.
My Opinion
Rebuilding a team is a very difficult task. You need to have the perfect mix of veterans and young players, some confidence in your goaltending situation, and some prospects in the pipeline. The Florida Panthers are a team that have all the right pieces to become a competitive team that can make a cup run. I believe they can make the playoffs this upcoming season.
With the excellent veteran additions, they now have some solid leadership to lead this team in the right direction. They have several young guys who have potential to become elite players. They have a franchise goalie who has proven that he can win and steal games whenever necessary.
Overall, I believe that Florida will make the playoffs this season. It will be a tight finish but they will squeeze into the eighth spot in the East. Call it a bold prediction if you wish, but I have confidence in this underdog team from the sunshine state.
Now tell me, what do you think?