This one hurt. When Alec Martinez was left all alone to tap in the Stanley Cup winning goal for the Los Angeles Kings, it was deja vu all over again for New York Rangers fans. For a team whose stats portray them as a strong defender, this year's Rangers have made a habit of committing horrible defensive lapses at the worst possible times. We talked about this before the playoffs even started:
When a team is at even strength in the defensive zone, each player has responsibility for one player on the attacking team (referred to as the player's "check").  Somehow, the Rangers consistently forget that… It's not necessary to always be right next to your check, but you should always know where he is.
Breaking it Down
So, what happened on the cup winning goal? How did three Blueshirts (John Moore, Kevin Klein, and Mats Zuccarello) converge on two Kings, leaving Martinez a clear path to Henrik Lundqvist–and history?  The play starts out bad for the Rangers, and goes downhill from there. Trevor Lewis lays a moving pick on Benoit Pouliot, allowing Martinez–along with Tyler Toffoli and Kyle Clifford–to break out of the zone in a 3-on-2 against Klein and Moore.  The play is not yet going off the rails, though, because Zuccarello is coming back with speed to help out.
As the trio of Kings get to the Rangers' blue line, however, things get worse in a hurry. Notice below that both Klein and Zuccarello begin to shade towards Kyle Clifford in the middle of the ice, losing Martinez.  Klein continues to move towards Clifford, and appears to be motioning for Zuccarello to pick up Martinez.  But Zuccarello is in a tough position, because he is the first forward in the zone, most defensive schemes make him responsible for the attacker furthest from the net (Toffoli, in this case). At any rate, it doesn't look like he sees Klein directing him to Martinez, because he continues on towards Toffoli…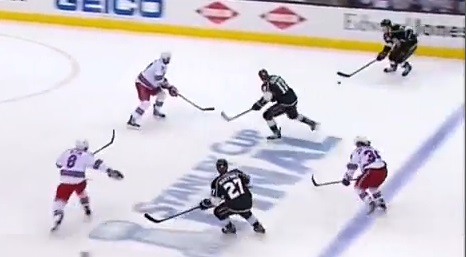 …And things start to come unglued even faster. All the Rangers need to do at this point is stay with their checks. Klein should be responsible for Martinez, Moore needs to stay with Clifford, and leave Toffoli to the onrushing Zuccarello. But only one of those three things happens. Zuccarello is still moving towards his check (Toffoli), but now John Moore steps up towards Toffoli as well, letting Clifford skate right past him in the process.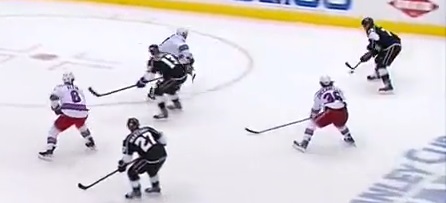 Toffoli now sees that Klein is outnumbered down low and knows he is about to get hit by Zuccarello, so he makes exactly the right move–he shoots the puck low on net. By keeping the puck low, even though there's little to no chance of the shot going in, he maximizes the chance of a rebound. And a rebound will more than likely end up on the stick of one of his teammates.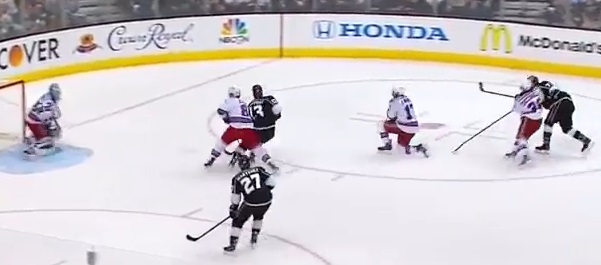 This last picture tells it all. Zuccarello does hit Toffoli, but only after the shot is on its way. John Moore tries to block the shot, but can't get a piece of it. And Kevin Klein, while tying up Clifford, has no chance of getting to Martinez behind him. All three Rangers were drawn to the puck, and nobody looked back at any point to pick up Martinez. Lundqvist was able to direct the rebound to the side, but not enough. The puck winds up on Martinez' stick, and he has all the time he needs to score the goal, finishing the 2014 Stanley Cup Playoffs and the Rangers' season, and bringing the Cup to Los Angeles.
If the Rangers are to have any hope of getting back to the Stanley Cup Final anytime soon, their play in the defensive zone must improve. Basic mistakes like these should be the exception, not the rule. Unfortunately, that hasn't been the case for the Rangers this year. Henrik Lundqvist can make up for a lot of these mistakes, but not all of them. He deserved better than to have the season end like this.