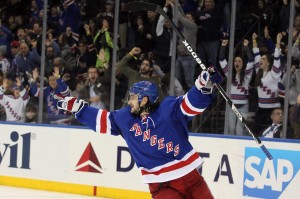 Here We Go Again
The Stanley Cup Playoffs are almost upon us, and the New York Rangers are fighting to the bitter end to get a playoff spot. Surely it's folly to think that they would be running away with the Metropolitan Division, but at this point, given their talent level, they should not be this close to ending their season on April 12.
To be fair, the Rangers appear to be peaking at the right time.  They are currently riding a four game winning streak, and have retaken second place in the Metropolitan from the Philadelphia Flyers with 84 points (though Philly still has two games in hand). With a 5 point cushion, and 9 games left to play, at least they no longer need to treat every remaining game as a Game 7 . The question then becomes whether they can turn around their recent sub-par playoff performances. Other than two years ago (2011-2012), the Rangers have not reached the Conference Finals in any of their last 15 seasons.
The Story So Far
This season could hardly have started any worse for the Rangers. Due to renovations at Madison Square Garden, they played their first 9 games on the road, going 3-6 and getting outscored 33-13 over that stretch. The low point was a pair of back-to-back blowout losses to the San Jose Sharks (9-2) and the Anaheim Ducks (6-0) where the Rangers just appeared lost.  The game against the Sharks made Tomas Hertl a household name, with his incredible between-the-legs, top shelf goal on Martin Biron to cap off a 4-goal game.

Even with that start they have now compiled the second best road record in the NHL at 23-13-0.  Throughout the season, there have been flashes of brilliance, and streaks of awfulness. This is surely an exciting team to watch–much different than they were last year under then-coach John Tortorella. New coach Alain Vigneault has given this team license to be offensively creative in a way that Tortorella would never have allowed. Thus far, it's been both a blessing and a curse. That ability to create offense has come at the expense of defensive responsibility. Their defensive numbers look fine at first glance–after all, they've only allowed an average of 2.41 goals per game so far. But that number is deceiving–they have made a habit out of defensive lapses, and once again they are relying on Henrik Lundqvist, and backup Cam Talbot, to bail them out.

Here's one of the goals against from their most recent game versus the Phoenix Coyotes, and it's a great example of what ails the Rangers this year.  Watch it now. Yes, it'll be painful.  And no, I don't care. Okay, if you did watch the video, then the first thing that probably comes to your mind is, "how on earth was Halpern able to get so wide open?"  The quick answer is that none of the Rangers were looking at him.
In the video, you can see that four out of the five Rangers skaters are either behind or within ten feet of the net, and none of them are looking at anything but the puck. When a team is at even strength in the defensive zone, each player has responsibility for one player on the attacking team (referred to as the player's "check").  Somehow, the Rangers consistently forget that, and you see four Rangers blindly pursuing two opponents–and never even looking around to find the others.  It's not necessary to always be right next to your check, but you should always know where he is.
This isn't an isolated incident.  There are breakdowns like this in nearly every game. Even when they win, there are defensive breakdowns.  During Henrik Lundqvist's recent record-breaking 302nd win against the Ottawa Senators, coach Vigneault referred to their play as "sloppy", and many (NY Daily News reporter Pat Leonard among them) wondered if Lundqvist had some choice words for his teammates afterwards:
AV can't stop laughing, says Lundqvist "seemed real happy after the game," sarcasm about sloppy D. Wonder if he gave it to teammates after

— Pat Leonard (@PLeonardNYDN) March 19, 2014
This was not Henrik acting like a diva.  This was a message–and the message was that there is no way the Rangers can win in the playoffs if they continue to commit these kinds of unforced errors.
Playoff Potential?
Whether the Rangers can advance in the playoffs will be dependent on two things: their series matchups and their defensive responsibility.  We've already discussed the latter–and during the playoffs, when games get tighter, you will not be able to win when you give your opponent "free" goals. If the Rangers continue to do that, then this will be a very short run for them.
The matchups are trickier to predict.  The worst case scenario for the Rangers is facing the Boston Bruins in the first round. First, because they have yet to show that they can consistently match the B's intensity, depth and skill.  In three games so far against Boston, they have lost them all–the last by a convincing 6-3 margin where they were outmuscled from the opening faceoff.  And second, because that matchup would mean that they have slipped down to the final playoff spot–and would not be carrying their recent strong play into the post-season.
This isn't to say there's an "easy" first round matchup possibility.  Not when the other options are the Pittsburgh Penguins and the Philadelphia Flyers. The Flyers, like the Rangers, have put their early season struggles behind them and are playing their best hockey of the season.  The Rangers were able to beat the Penguins earlier, but bear in mind that the Pens have lost the most man-games to injuries of any team in the NHL this year. They also have probably the most fearsome offensive weapons, and it's chilling to think of what Crosby and Malkin could do to the Rangers defense if they continue their sloppy play.
The road ahead does not look promising–though the Rangers' recent play is at least some reason to be (cautiously) optimistic. The Rangers could definitely be the team to get hot at the right time and be the first to 16 wins…  But I'm not betting the farm on seeing the Cup paraded down Broadway this year.