Dallas Stars fans can be forgiven for thinking they've seen this movie before. The Stars began the 2015-16 campaign at home with a 3-0 win over the Pittsburgh Penguins, sending their fans home happy. Two nights later, the team traveled to Denver, where they received a 6-3 beat-down at the hands of the Colorado Avalanche.
As the moon rose over the American Airlines Center last Thursday, the Stars shone brightly (aside from the first period, anyway) in a 4-2 victory over the Anaheim Ducks. Two nights later, they traveled to Denver and, well, you know the rest. "The sequel is completely different," some might argue, since Dallas scored five goals this time around. Take that with a grain of salt, as those are the same people who consider Ocean's Eleven (starring Frank Sinatra) and Ocean's Eleven (George Clooney) two entirely unrelated movies.
Like the two films, the 2015-16 and 2016-17 Stars have much in common. Given the off-season personnel changes, it's a bit surprising that the new Dallas blue line looks so much like the old.
Dallas' Highly Offensive Defense
With the July 1 departures of Alex Goligoski, Jason Demers and Kris Russell and the acquisition of a more stay-at-home sort of defenseman in Dan Hamhuis, many pundits speculated the Stars blue line would be bigger, younger and adopt a more defensive approach this season; in other words, Dallas would both score and allow fewer goals in 2016-17.
Early results indicate otherwise. Between the final pre-season game in Las Vegas and Saturday's "Disaster in Denver," defensemen have scored five of the Stars' last fifteen goals, including this scintillating season-opening tally from Stephen Johns:
Over the summer, the general consensus was that John Klingberg would provide offense from the back end while the rest of the defense corps focused more on shutting down opponents. So far, that hasn't been the case.
"I think it's surprising, the guys that did score," said head coach Lindy Ruff. "You know, it's not your Klingberg, it's different guys that have been jumping in."  Added Ruff, "Really, if you want to create a little extra offense in the game, there's some situations that we want our defense involved in. That back-door play [Johns' goal], if we can catch a weak-side forward where he's locked onto the puck carrier, that opens up the back side, and that's a situation where they've got the green light to go."
Despite the personnel changes, the Stars defense continues to generate offense. Has the Stars' coach changed tactics this season to get more out of his "more defensive" defensemen? Veteran blueliner Jordie Benn was quick to torpedo that notion.
"There's nothing special going on. We're just trying to contribute when we can," said Benn, who has two assists through two regular season games. "No, it's just 'right place, right time.' We know our spots and our structure, and how Lindy wants us to play the game. I guess…we've been helping out. Hopefully, we can continue to do that. Obviously, we're concentrating on defense first, but when we can contribute up front, it's just a bonus."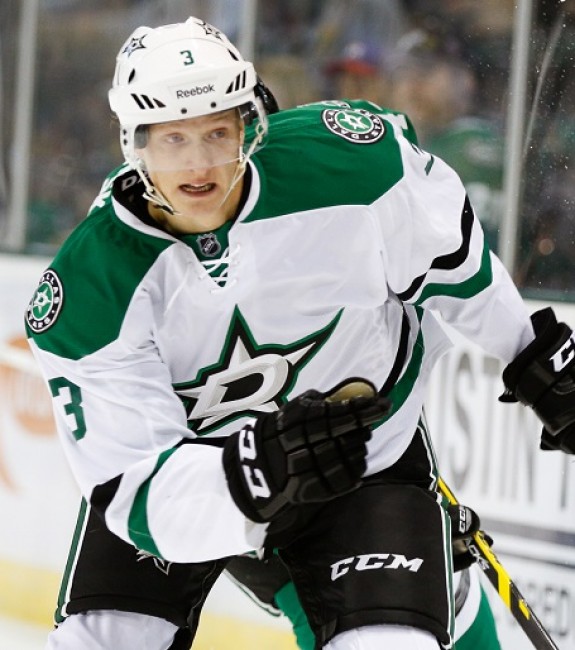 Stars Still "Ruffling" Defense Pairs
While the defense continues to generate offense, Ruff continues to tinker with his D-pairs as he seeks a balance between puck-moving skill and defensive responsibility, between speed and strength, on each pair. The Stars used this lineup through the first period against Anaheim:
Benn-Klingberg
Oduya-Johns
Hamhuis-Nemeth
After Dallas was out-shot 17-1 in the first 20 minutes, Ruff put Nemeth on Klingberg's left side and Benn on Hamhuis' right.
The new duos lasted roughly 63 minutes, from the start of the second period against Anaheim to roughly three minutes into the second period in Denver. After the Avs took a 3-2 lead, the Stars defense changed again, as the coach paired Hamhuis with Klingberg and Nemeth with Benn.
---
Complete Stars Coverage From THW
---
If Monday's practice was any indication, the third game of the season will feature Dallas Defense version 3.0:
Defense pairs:

Hamhuis-Klingberg
Oduya-Johns
Nemeth-Benn
Lindell-Oleksiak

— Mark Stepneski (@StarsInsideEdge) October 17, 2016

Will these pairs last the full 60 minutes in Nashville? The Magic 8-Ball says, "Cannot predict now." We'll all just have to tune in Tuesday night to find out.