The 2015-16 season was a year to forget for Buffalo Sabres forward Zemgus Girgensons. He missed some time with injuries and had a career low in offensive production in his third season. After signing a one-year "prove-it" contract this offseason the 22-year-old hoped to get off to a hot start and have a bounce back 2016-17 season.
Unfortunately for Girgensons, the struggles have continued through the first two games of the season. Sure, the season is still very young, but the same issues seem to be occurring with the former first-round-pick.
Failure to Make an Impact
In the first two games of the season, Girgensons has yet to produce a point and has registered three shots. He's begun the season as a bottom six center on the Sabres roster. This is the position he believes is the best fit for him and Buffalo is giving him that opportunity. Girgensons has failed to take advantage of the opportunity so far. He's been non-existent offensively and hasn't been a standout defensively with a -3 rating.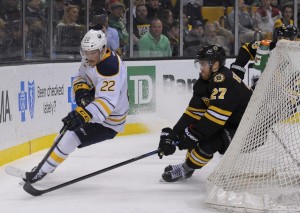 The more concerning stat and perhaps biggest indictment of his poor start is the ice time he's receiving. Last season, in Girgensons first season under Dan Bylsma, he finished the year averaging 15:02 time on ice per game, which was a career low. In two games this season, he's average 11:56 per game. The reduced ice time brings up the question if Bylsma is giving Girgensons a legitimate opportunity to be successful? During his big season, Girgensons averaged 19:02 time on ice per game. However, the roster was not nearly as talented as the current one. Bylsma also believes in the philosophy of players earning their ice time. He showed a similar stance with $5 million forward Matt Moulson last season.
It appears the 2012 14th overall pick may have been passed on the roster by John Larsson and newcomer Derek Grant. Girgensons started on the fourth line against Edmonton with Matt Moulson and Hudson Fasching on his wings.
It's official: Kyle Okposo & Dmitry Kulikov make their Sabres debuts tonight.

Here's our full lineup in Edmonton. pic.twitter.com/4vReudwGMw

— Buffalo Sabres (@BuffaloSabres) October 16, 2016
With the injury to top center Jack Eichel, many, including myself, believed this was the perfect opportunity for Girgensons to step up and show his value. Instead, Larsson has been the one to step into the second line center position. How quickly Girgensons appears to be falling out of favor is alarming considering his hopes of having a bounce back season.
The club recalled young forward Nick Baptiste for their Western road trip and Bylsma indicated he would play on the trip. Bylsma could look to send a message early to Girgensons and scratch him in favor of Baptiste in one of these games. He's been one of the worst performing players on the team so far. It's more likely rookie Hudson Fasching is scratched for Baptiste, but a message to Girgensons wouldn't shock me.
---
Complete Sabres Coverage From THW
---
Girgensons has the potential to turn it around, but he needs to be more of a presence in the offensive zone. He's proven the ability to be at least a 15 goal scorer at the NHL level as he did back in the 2014-15 season. If he is able to turn it around, it could go a long way to helping the Sabres staying afloat while Eichel and Evander Kane are on the shelf with injuries.